The Falcons have completed two three-day blocks of AT&T Atlanta Falcons Training Camp and have only one three-day block remaining before camp ends. With a handful of practices already completed and a few practices yet to come, atlantafalcons.com writers Matt Tabeek, Kelsey Conway and Will McFadden convened to share their thoughts on what they've seen and what they need to see during the final three practices.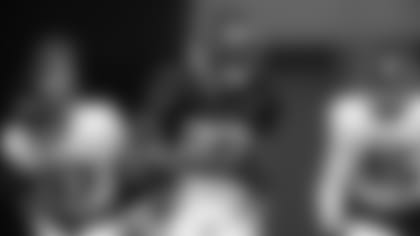 Which player has surprised you the most with his performance so far in camp?
McFadden: I worry that we're getting into the over-hyped zone with Isaiah Oliver, but he has looked pretty comfortable on the field. He had a much better second half of the 2019 season, and that appears to have carried over through the offseason. Whether lining up in a press alignment or shading back off the line of scrimmage, Oliver has shown patience and trust in his footwork. His best moments have come when carrying a defender deep downfield, and he does still struggle at times with quick, sharp routes, but even in that area he has improved. We won't be able to actually tell whether his play in camp is as impressive as it seems until real games begin, but he's doing all the right things in camp.
Conway: Brian Hill continues to improve. I wasn't sure what to make of him after last season. During training camp in 2019, he talked about making the most of his second chance in the NFL. But the Falcons run game really never got going last year and neither did he. It could have been his chance to take the job and run with it and that never really happened. This year, behind Todd Gurley, it appears Hill is someone the team is going to count on to help carry the load. He's worked hard on becoming a better receiving threat for offensive coordinator Dirk Koetter to utilize and he looks more confident than ever.
Tabeek: I've written more than a few times since camp has started and, what the heck, I'll write it again: First-round pick A.J. Terrell has made his presence known in just about every practice since training camp started. Yes, the No. 16 overall pick in last April's draft has made a habit of knocking down passes and picking off passes – which is a welcome sight for a defense that ranked No. 22 against the pass and 19th in the league forcing turnovers – but the confidence and swagger Terrell brings to the practice is also readily apparent. The No. 1 concern heading into the draft was secondary. Even coming out of the draft, many questioned whether the Falcons were still too young and inexperienced back there. Terrell has not only quieted a lot of the skeptics, he's looking and playing like a No. 1 cornerback right now. I'm not surprised he's playing like a first-round pick, but I didn't think he'd look this good so quickly.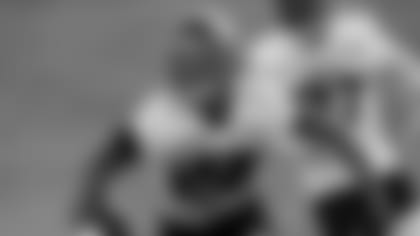 Among the rookies in camp, who stands out to you?
McFadden: The man most often lined up on the other side of the field as Oliver: First-round pick A.J. Terrell. I've noticed that with rookies you can tell pretty early on whether they have what it takes to be a contributor on an NFL team. You can also tell if a player seems capable of becoming a star in this league. Calvin Ridley fell into the latter category, and I believe Terrell does as well. For not one single moment has Terrell looked in over his head on the field, even when lining up against Julio Jones and Ridley. He seems to know his assignments and uses his athleticism in the right moments to make plays on the ball without fouling the receiver. Again, cornerback play can be tricky to evaluate without real games, but Terrell looks every bit the player the Falcons need him to be.
Conway: I agree with Will here, A.J. Terrell has been impressive but I'm going to go bring up Mykal Walker here. The rookie linebacker has made a ton of plays on the ball and was even getting reps with the first-team defense on Monday in the Falcons' second scrimmage. I think he'll be a nice rotational player for the Falcons to have at linebacker behind Deion Jones and Foye Oluokun. He has a knack for making plays and seems very mature. He's definitely one I've had my eye on.
Tabeek: Aside from A.J. Terrell, I'd have to go with rookie linebacker Mykal Walker. The Fresno State product is always around the ball when he's on the field and continues to make plays day in and day out. If Walker is on the field and there's picked off a pass, a tipped ball, or a fumble, there's a good chance he's in the middle of it somehow. That's really good news for the turnover-challenged Falcons and their fourth-round pick.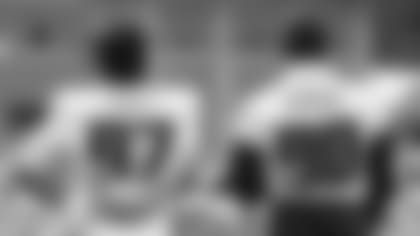 Is there a player you need to see more from during the final stretch of camp?
McFadden: I need to see more from second-round pick Marlon Davidson, but that's not an indictment of his play just the result of him missing several practices due to a knee strain. When on the field early in camp, that knee strain seemed to be limiting Davidson so I don't know if we've yet to see what he truly looks like as a player. For me, Davidson showed enough at Auburn that I'm not too worried about him missing some time in camp. He's still able to learn from Grady Jarrett while sitting out of practice, and he still figures to be a factor for Atlanta's defense in 2020. It's still unclear when Davidson will return, but Dan Quinn doesn't seem too concerned by the injury. I just hope we get a chance to see Davidson up close before the season begins.
Conway: Kendall Sheffield. He missed some time at the beginning of camp with a foot injury and I'd like to see more of him on the outside. He's been back the last few days rotating with Isaiah Oliver on the right side and we know he can play nickel, but I'm curious to see where he'll land for Week 1. The Falcons have more depth and talent at cornerback this year and it's certainly a good thing.
Tabeek: I'm not too concerned about seeing the starters taking a lot of reps during training camp. So, no, I don't get concerned at all when the Falcons are monitoring reps for perennial Pro Bowlers like Alex Mack or Todd Gurley. But for rookies like Marlon Davidson or even second-year guys like Jordan Miller or Qadree Ollison, I want to see a lot of those guys in different situations. Davidson was a second-round pick and he's been somewhat limited in camp. I'm not worried about him but would like to see some more of that explosiveness we saw in his Auburn highlights – and how he meshes in that Falcons defensive front. We've still got some camp left to go, and I'm hoping to see more from Davidson and those second- and third-tier guys. Depth, as we all know too well over the last couple of seasons, is crucial.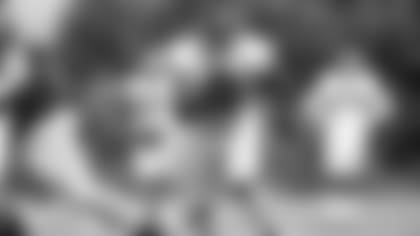 Which star player already looks like he's in mid-season form?
McFadden: Julio Jones is already doing Julio Jones things, but I honestly don't know if I've ever seen him look rusty. Because he's a little obvious as an answer, I'm going to say Grady Jarrett continues to be one of my favorite players to watch in all of football. There are these little moments off on the sidelines where you can tell just how dedicated he is to his craft, whether it be practicing a rip move on a coach or running a gasser on an adjacent empty field while not in a scrimmage. Jarrett has been as effective as ever in full-team drills, exploding into the backfield and stopping running backs in their tracks or affecting the quarterback. He's gotten better with each successive NFL season, and I don't think that trend will end this year.
Conway: Dante Fowler looks better than advertised. He's more explosive than I thought and he's a leader. Multiple players from Takk McKinley to Walker have mentioned how much Fowler has taught them and why they enjoy playing with him. He has the energy and talent the Falcons need up front and I think he's elevating the play of the entire group. He doesn't take plays off in practice and you can tell he's mentally and physically prepared to build off his play in the 2019 season with his new team.
Tabeek: Pick one: Julio Jones. Calvin Ridley. Deion Jones. Grady Jarrett. Todd Gurley. Dante Fowler. I could go on … but the stars of this team all look crisp to me in camp, for the most part. If I had to pick just one, then I'd go with Jones. It's tough for the best receiver in the league – and maybe this generation – to not stand out and remind everyone else that he's impossible to cover at times.