Entering the NFL as a first-round pick comes with a lot of expectations. Through the first handful of on-field practices for the Falcons, rookie cornerback A.J. Terrell looks more than capable of meeting and exceeding those expectations.
Throughout the rest of AT&T Atlanta Falcons Training Camp, we'll be spotlighting one notable rookie who has performed well on the field. To kick off this series, there's no better place to start with the player Atlanta selected with the No. 16-overall pick in April's draft.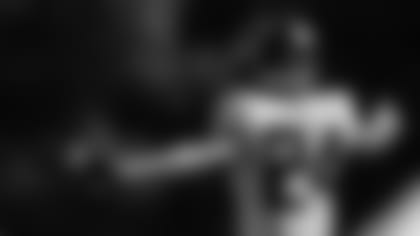 Notable college stats: Started all 30 games, including two national championship games, in his two seasons as a starter.
Second opinion: "He's everything a coach really wants as a player, because he's like a sponge. Anything you give him, he soaks it up and then he goes out there and he tries to do it exactly the way that you asked him to do it. And that's what will give him a great opportunity to be a great player, because he has a skill set that is unique. If he can get his skill set to match the hunger that he has and the drive that he's been putting forth to learning this package and being part of this team, we could have a really good football player." – Joe Whitt Jr., Falcons secondary coach
It didn't take Terrell long to make his presence felt with his new team. The former Westlake High School star lined up against Calvin Ridley during one of Atlanta's first days of competitive on-field activities and stayed right in his hip pocket before leaping to snag the ball at its highest point.
Through the first two official days of camp, Terrell has maintained a high level of play. He lined up against some of the best receivers in college football while at Clemson, and he's not backed down from the challenge that Ridley and Julio Jones present.
Atlanta will play some truly elite wide receivers in 2020, so facing Jones and Ridley each day in practice will help Terrell's preparation if he does indeed take on a starting role for the Falcons out of the gate. And, thus far, he's provided no reason for the coaching staff to doubt his readiness.
Terrell possesses smooth hips, patient feet and an aggressiveness that defines some of the league's best cornerbacks. In his interviews with the media, Terrell has described himself as hungry to get better and challenge himself against the best. He's lived up to those comments so far out on the field, and that should give fans a sense of comfort.
All NFL cornerbacks, especially young ones, take their lumps throughout the course of a season. The best ones, however, shake off the mistakes and come back to meet the next challenge. Terrell looks like the latter type of cornerback through Atlanta's first two practices.
Among Falcons' first-round picks, Terrell is looking more like Ridley than Jamaal Anderson at this point, which is exactly what Atlanta needs.
Rookie cornerback AJ Terrell made his presence known on Saturday. Take a look at the best images from Day 10 of AT&T Atlanta Falcons Training Camp.