FLOWERY BRANCH, Ga. – The Falcons' mandatory minicamp continued on Wednesday and much like the post-practice media session the day before, there was no shortage of Julio Jones-related questions.
On Wednesday, it was quarterback Matt Ryan's turn. And Ryan, to no one's surprise, pretty much echoed what his GM and coach said about Jones.
"I understand that there's a business side to this sport, too," Ryan said. "I don't like getting involved in other people's business. I know I don't like speaking about my business, so it's not my place to get into that."
And as far as the football side of things go, Ryan did not sound like he was too concerned about Jones picking up where he left off. In fact, Ryan said that he and a dozen or so other Falcons players are planning pre-training camp get-together at an undisclosed location for a passing camp.
"He such an incredible player, such a talented player," Ryan said of Jones. "And he's been working hard; he's in great shape. You know I think he'll pick those new things up really quickly. And he's got a lot of time on task with 95 percent of our system. He knows this system inside and out. He's always extremely well-prepared and I'm confident he'll be ready to go."
Ryan also noted that he's "been through this before with other players" and that he thinks the two sides will resolve Jones's contract dispute "and get those things worked out."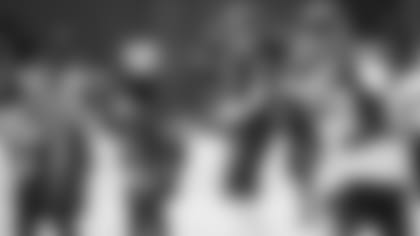 In the meantime, the Falcons are focusing on the players who are in Flowery Branch. And that means extra reps for other receivers – and opportunities to impress the coaching staff. While the Falcons already know what they have in veterans Mohamed Sanu, Justin Hardy and Marvin Hall, there are several young receivers currently on this roster eager to show off their wares.
"We've got a lot of young guys with opportunities to get snaps, to get reps," Ryan said. "I think they've come along in the last couple of weeks they've improved quite a bit – which is good for us. It's going to make us a better football team."
Seven of those young receivers are rookies, including first-round draft pick Calvin Ridley and sixth-round pick Russell Gage.
"All in all, I'm really happy with how the offseason has gone," Ryan said. "I'm looking forward to getting a little bit of a break but also, you know, getting back here in the next five or six weeks and getting training camp started."