FLOWERY BRANCH, Ga. -- Since the moment Josh Andrews was placed on IR, Arthur Smith has been quite candid about the expectations on Jalen Mayfield. He mentioned last week that he and the staff understand that when it comes to this rookie class - whether it be Mayfield, Drew Dalman, Richie Grant or even Kyle Pitts - growing pains come. They happen. It's limiting those growing pains when they pop up that really counts early.
In real life, childhood growing pains aren't particularly painful. More annoying. More aching. If we're using Sunday's loss to the Eagles as an example of football growing pains, the Falcons' 12 penalties for a loss of 99 yards was painful. Matt Ryan would likely never say so, but the sacks he took when the Eagles' defensive line pinned their ears back in the second half was probably pretty painful, too.
It's normal for growing pains to arise, sure. But what's the difference between a growing pain that is acceptable vs. one that is not? What constitutes a correctable growing pain vs. a sign of inadequate growth? When asked, Smith dove in with an answer.
In Smith's mind, issues in technique are acceptable. They're teachable. You get ahold of a guy early and you rework him to have more technical precision. The unacceptable growing pains are the penalties, particularly the pre-snap penalties. Those are the issues that cause you to shoot yourself in the foot. It's the act of being unable to "get out of your own way," per Smith.
"That's the stuff that keeps me up at night," he said. "That's what looks like an amateur performance to me."
False starts, illegal formations and missed assignments all fall under this "unacceptable" category. While footwork, hand placement and body positioning fall under all things "acceptable" because they are reworkable. You can move through the acceptable. The unacceptable stings.
Even in this breakdown, though, Smith said he isn't the type to write someone off based solely on one performance.
"I am always going to give guys the chance to correct themselves," Smith said, "but if somebody is a repeat offender in that? Then you have to make a decision."
We see this unfolding in the current week as the Falcons prepared to face Tampa on Sunday. We don't need to rehash Mayfield's performance against the Eagles, but we do need to discuss what has unfolded since. Smith said at the beginning of the week that there are options on the table in regards to what the Falcons do at the left guard position.
Dalman played in a series against Philadelphia, and Smith said even with a false start the Falcons fourth round pick "competed" well. Dalman actually has an opportunity to potentially slide into a new role this week. He was working at both center and left guard throughout training camp, but is he ready to take over at left guard full-time? Is it crazy to think he could beat out Mayfield for the starting spot? No, not really. It's not outside the realm of possibility.
One also has to consider the moves the front office made this week to bring in offensive guards. Making some adjustments to the practice squad, veteran linemen Danny Isidora and Bryan Witzmann were at practice on Wednesday. Both have a bit of experience playing said position in various offenses. Isidora has appeared in 25 games (six starts) for the Vikings, Dolphins and Chiefs. Witzmann has appeared in 40 games (20 starts) for the Chiefs, Bears and Panthers. That is experience what Mayfield and Dalman do not currently have.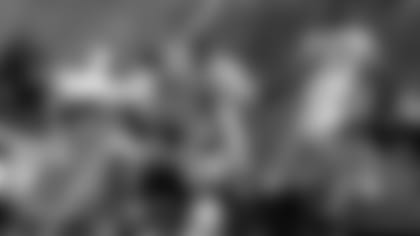 The new linemen are on a short week, though, with the weight of the Buccaneers defensive front weighing down on them at the end of said week. The Falcons have a lot to figure out before Sunday. Mainly: Would the Falcons rather play a rookie who's been engrained in this system for months, but showed too many mistakes in Week 1 to feel comfortable? Or, do the Falcons take a chance on a veteran with a limited grasp on the offensive scheme?
Then, there's also the question of whether or not you stick with Mayfield for the sake of getting him where you want him to be in the future. Almost allowing him to take his bumps and bruises now in hopes that it helps him later in his career.
Smith said there is a fine line between jerking the wheel and giving someone the chance to improve. At what point do the Falcons reach that line with Mayfield? One game may not be that point.
"With some of these rookies, in my experience, if they are in there in their first NFL start and you're going against a pretty good front and some pretty good players, let's see if we can go in there and correct it," Smith said, "but we also have options, too, if that doesn't work."
So, when all is said and done this week, what will be the Falcons decision when it comes to limiting both the acceptable and unacceptable growing pains? Do they wait out the growing pains, or start someone who's already grown?