AT&T Atlanta Falcons Training camp is rapidly approaching and the players have already begun on-field strength and conditioning work. The 2020 season is an important one for the Falcons, who have playoff aspirations after back-to-back 7-9 seasons.
Atlanta has revamped a few of its key position groups this offseason, adding both big-name talent and solidifying its overall depth. With the Falcons returning to action, let's take a closer look at each position group and its status heading into the fall.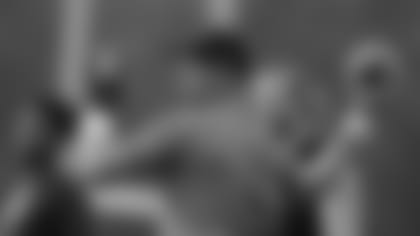 Quarterbacks
Matt Ryan
Matt Schaub
Kurt Benkert
Danny Etling
Although Ryan and offensive coordinator Dirk Koetter previously worked together in Atlanta from 2012-14, the coaching change last offseason was the fifth coordinator change Ryan has endured during his 12-year run with the Falcons. During the second half of his career, Ryan has had a noticeable jump in play during his second season working with an offensive coordinator compared to his first.
In his second year working with Kyle Shanahan, Ryan was the NFL's MVP and rebounded from perhaps the worst season of his career. In 2018, his second with Steve Sarkisian, Ryan again reached numbers similar to the ones he posted in 2016, and he had the second-highest passer rating of his career. Part of the reason the Falcons brought Koetter in was the comfort and familiarity between Ryan and him, but he supposedly has a new level of comfort in the type of offensive scheme the Falcons want to run.
Whether it's Ryan or Koetter, any improvement from the two offensive decision-makers will benefit the Falcons greatly.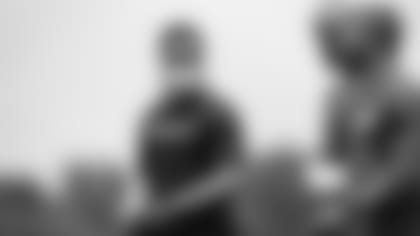 Running backs and fullbacks
Todd Gurley
Brian Hill
Ito Smith
Qadree Ollison
Keith Smith
Mikey Daniel
The discussion surrounding the status of Gurley's knee has been ongoing since he entered the league. He recently passed his physical with the Falcons, indicating the team feels comfortable with his health, but the version of Gurley who shows up in 2020 will go a long way towards determining the team's success.
At his best, Gurley is one of the most dominant players in the NFL. A two-time All-Pro and a legitimate MVP candidate in 2017 when he gained 2,093 yards from scrimmage and a league-high 19 touchdowns, Gurley has been one of the most productive running backs since entering the NFL in 2015. While undergoing load management in 2019, Gurley had one of the least productive seasons of his career, but the 25-year-old may benefit from that lighter load in 2020.
After holding the No. 2 job for a good portion of the 2018 season, Smith entered 2019 as Devonta Freeman's primary backup after Tevin Coleman left in free agency. Smith was an efficient runner during the first half of the 2019 season but never had a high volume of carries prior to sustaining a season-ending injury in Week 7.
Once Smith was sidelined, Hill took over as Freeman's top backup. He ended the year as the Falcons' second-leading rusher and averaged more than 4 yards per carry. Hill has shown the propensity to rattle off some long runs when he gets a head of steam, and his running style is more similar to Gurley's than Smith's. Both Hill and Smith have a good case for being Gurley's primary backup, and it will likely be one of the most competitive camp battles.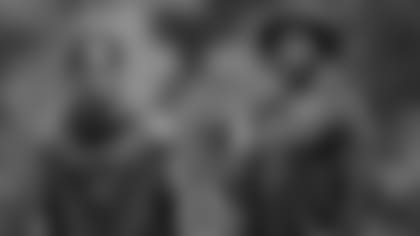 Wide receivers
Julio Jones
Calvin Ridley
Russell Gage
Laquon Treadwell
Christian Blake
Olamide Zaccheaus
Devin Gray
Brandon Powell
Chris Rowland
Juwan Green
Jalen McCleskey
Led by Jones, the Falcons have had one of the NFL's better receiving corps in many seasons over the last decade and that should remain the case in 2020. Jones continues to perform as one of the very best wide receivers in the league, and Ridley looks capable of becoming one of the best No. 2 options.
No Falcons player has received as much attention as a possible breakout star in 2020 as Ridley. The third-year receiver has played really well since entering the league in 2018 and has the third-most touchdown catches among all receivers in that time. He was on pace for his first 1,000-yard season last year before an abdominal injury cut his season short.
Koetter is among those who believes fans will see "a jump" in Ridley's game in the near future, which would make the Falcons' offense all the more dangerous. With Mohamed Sanu no longer on the roster, Ridley figures to see even more targets next season. How well he's able to take advantage of those increased looks will ultimately determine whether or not a breakout year is in the cards.
No other receiver benefitted from Sanu's departure as much as Gage. In his second season, Gage really picked things up in the back half of the year after getting more opportunities on the field. Gage is a fluid route runner who can be dangerous with the ball in his hands. Although he's not as polished a receiver as Sanu was, Gage has plenty of exciting traits to offer and could have an inside track at taking over in the slot next season.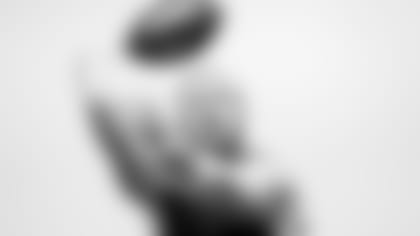 Tight ends
Hayden Hurst
Jaeden Graham
Carson Meier
Khari Lee
Jared Pinkney
For the better part of the past four seasons Austin Hooper has been the Falcons' primary tight end, but after he departed in free agency, Atlanta traded for a player it believes can thrive in that role. Hurst, a former first-round pick who was in a crowded position group in Baltimore, now has the chance to break out in an offense that has been a great spot for tight ends.
Hurst was one of the top tight end prospects in the 2018 NFL Draft, but he got lost in the shuffle a bit during his first two years in Baltimore. By all accounts, though, Hurst has all of the physical tools to replace Hooper in this offense. The 6-foot-4, 245-pound tight end ran the 40-yard dash in 4.67 seconds at the NFL combine, which was faster than Hooper's time of 4.72 seconds.
Hurst also received some major praise from quarterback Matt Ryan this offseason. The two have worked together on the field some already, and Ryan called Hurst "one of the fastest and most athletic tight ends I've ever played with." As a reminder, Ryan played with Hall of Famer Tony Gonzalez. Now, nobody is saying Hurst is ready to fill those shoes, but he should be a welcome addition in Atlanta in 2020.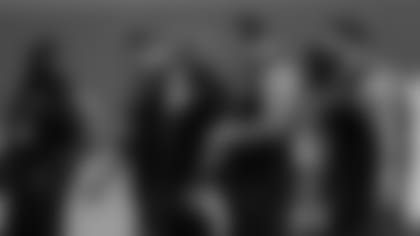 Offensive line
Jake Matthews
Alex Mack
Chris Lindstrom
Kaleb McGary
James Carpenter
Jamon Brown
Matt Hennessy
Matt Gono
Justin McCray
Sean Harlow
John Wetzel
Justin Gooseberry
Evin Ksiezarczyk
Hunter Atkinson
After making a handful of moves to retool their offensive line last offseason, the Falcons stood relatively pat at the position this year. Atlanta is banking on improvement from last year's first-round picks, Lindstrom and McGary, as well as the addition of Hennessy, who figures to be a key figure in the left guard competition. One thing remains true; the performance of the offensive line will be important for the team's overall success in 2020.
Perhaps the most important thing for Atlanta's offensive line next season is just how big of a leap Lindstrom and McGary can make. Lindstrom missed 11 games as a rookie due to a foot injury, but he showed a lot of promise in the five games he did play. Touted as a very polished prospect coming out of college, Lindstrom was certainly missed while out of the lineup last year. Having him for a full 16 games would probably, in itself, give the line a boost.
McGary did start all 16 games as a rookie, which was undoubtedly important for his development. He notably improved during the second half of the season, especially in pass protection. As the Falcons seek to include more outside zone runs in their offense next season, the ability of Lindstrom and McGary to lock down the right edge and protect Matt Ryan in the passing game will be vital.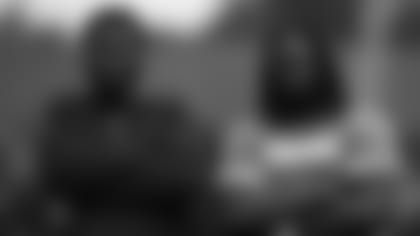 Defensive line
Grady Jarrett
Dante Fowler Jr.
Takk McKinley
Tyeler Davison
Marlon Davidson
Allen Bailey
John Cominsky
Charles Harris
Austin Edwards
Jacob Tuioti-Mariner
Steven Means
Deadrin Senat
Hinwa Allieu
Sailosi Latu
The Falcons recorded only 28 sacks in 2019, the second-fewest in the NFL. This fall, the pressure will be on Atlanta's defensive line to, well, generate more pressure. Pressure isn't only measured in sacks, but for a defense that wants to put offenses off-kilter and create opportunities for turnovers, the Falcons didn't do that frequently enough last season. In an effort to help remedy that, Atlanta parted ways with Vic Beasley in free agency and swapped him out for Fowler.
In 2019, Fowler showed the potential he possesses. He had a career-best 11.5 sacks and 16 tackles for a loss in his first full season with the Rams and looks like a player on the ascent. It shouldn't be overlooked that Fowler is rejoining Dan Quinn, who he worked with in college at Florida. The two have a close relationship, which should help Fowler get acclimated and understand his role sooner rather than later.
As one of the top interior defensive linemen in the league, Jarrett has improved with each season upon entering the league as a fifth-round draft pick. The only question now is: After making his first Pro Bowl, what does Jarrett have in store for an encore?
After entering the league as a first-round draft pick in 2017, McKinley has just 16.5 sacks and is coming off a season in which he recorded a career-low 3.5 sacks.
McKinley's play on the field often surpasses his box-score stats, but he simply hasn't made enough impact plays for the Falcons. Perhaps the addition of Fowler on the opposite side will help him finally put everything together as an impact pass rusher, but the 2020 season will undoubtedly be an important one for McKinley's future in Atlanta.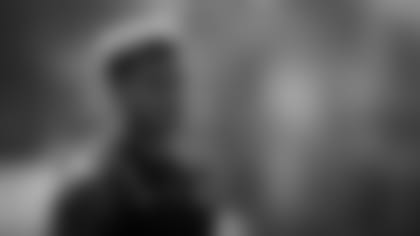 Linebackers
Deion Jones
Foye Oluokun
Mykal Walker
Deone Bucannon
LaRoy Reynolds
Edmond Robinson
Ray Wilborn
The linebacker position in the NFL has undergone a transformation unlike any other. Speed and versatility are now trademarks of modern linebackers, and the Falcons' unit is a testament to that approach. De'Vondre Campbell is no longer on the roster, but Oluokun is expected to take over his role alongside Jones. There are some new faces among this group, but the approach should stay the same.
More than ever, NFL defenses – especially at the second and third levels – seek to put athletes on the field as opposed to defined positions. Defenses operate out of nickel packages more frequently than base packages, and we're beginning to see teams experiment with the players on the field in those looks. Jones and Oluokun are the returning Falcons linebackers with any serious experience, but that isn't reason to panic. With a deep group of safeties on the roster and the addition of another hybrid player in Bucannon, the Falcons have plenty of athletes to keep up with the trends.
The Falcons selected Walker in the fourth-round of this year's NFL Draft, and he offers the same type of physical skillset that Campbell did for Atlanta. With plenty of length and range, Walker could have an early-down role for the Falcons fairly early in his career. He's certainly a player to watch when he gets reps on defense, and he figures to be a key part of Atlanta's special teams units.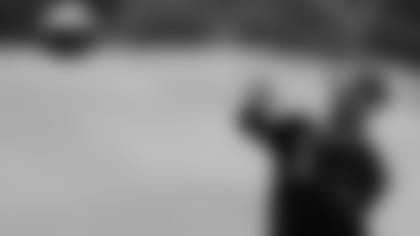 Cornerbacks
A.J. Terrell
Isaiah Oliver
Kendall Sheffield
Darqueze Dennard
Blidi Wreh-Wilson
Jordan Miller
Josh Hawkins
Tyler Hall
Delrick Abrams Jr.
If the offensive line is the make-or-break unit for the Falcons' offense, the cornerbacks are that group on the defensive side of the ball. Desmond Trufant is gone, and the cornerback youth movement is in full swing in Atlanta. Terrell, a first-round pick, is expected to take over Trufant's starting spot opposite of Oliver, who is entering an important third season. Sheffield impressed during his rookie year, and the coaching staff is optimistic for what he can do in Year 2.
If Terrell is not out there with the defense for the first game of the season, something has gone wrong. Teams don't use the No. 16-overall pick on a player without the intention of placing him in the starting lineup, and that's the mindset the Falcons have with Terrell. Fortunately, he seems to have the right mindset to handle that responsibility. The top corner at Clemson, Terrell has played in some of the biggest environments college football has to offer and matched up against the very best players in the country.
As was the case with his first year, Oliver got better down the stretch in 2019. He allowed a 63-percent completion rate when targeted after the bye week, surrendering just 29 catches for 363 yards and giving up no touchdowns. Oliver has shown flashes of becoming the player the Falcons thought he could be, and his size is an important tool Atlanta wants to use against some of the bigger receivers in the division.
Sheffield's speed is apparent on the field, and he plays with a high level of confidence. It's certainly possible that the Falcons give him a look as the other outside corner opposite Terrell and shift him inside in nickel packages, but that would be asking a lot of a young player. How they handle him in camp will give us a clue into what they have in mind.
Safeties
Ricardo Allen
Keanu Neal
Damontae Kazee
Jaylinn Hawkins
Sharrod Neasman
J.J. Wilcox
Jamal Carter
Chris Cooper
The Falcons' safety unit is as deep and diverse as it has been in quite some time. Injuries in recent years have allowed a number of players on the roster to receive playing time, which has helped clarify roles and improved the quality of depth. How to maximize that various skill sets at the safety position will certainly be a challenge for defensive coordinator Raheem Morris, but it's a good problem to have.
If Neal can stay healthy for the majority of the 2020 season, the Falcons will have three starting-caliber safeties on the roster. Kazee has emerged as a great centerfielder and ballhawk in Atlanta's Cover 3 scheme, and Allen is a versatile leader on the back end of the defense. Kazee has proven that he's best suited to play safety instead of slot corner, but Neal and Allen formed a good starting tandem in 2016 and 2017.
It's possible that Neal begins to operate more in a de-facto linebacker role closer to the line of scrimmage, which would allow Allen to play strong safety and Kazee to play free safety. Ultimately, it's important to get the best 11 players out on the field, and it will be interesting to see how the Falcons approach the safety position.