FLOWERY BRANCH, Ga. -- Drake London and Desmond Ridder's relationship reaches far beyond the football field. They're like brothers if you ask them. The two became close during rookie minicamp in May when they were roommates, and they shared a commonality from training with former NFL quarterback Jordan Palmer during each of their college years and leading up to the draft.
Now, the two rookies will have the opportunity to share the field together as Ridder makes his NFL debut on Sunday, December 18 against the New Orleans Saints.
London is elated to play with Ridder for the first time on Sunday.
"Oh yeah, that's my boy," London said on Wednesday. "Like you guys are saying, I came in here with him, built a relationship with him and just been grinding ever since and to see him finally get his shot is really really cool to see, just to see that smile again."
Over the course of the bye week, Ridder rallied a few offensive players together to help establish familiarity and trust amongst each other. Getting in these extra reps outside of practice goes a long way, London said.
"It helps a ton, you know," he said. "Those are just timing throws that nobody can cover. No matter if a guy is face guarding you or not, those are the types of throws that keeps drives alive, keep games alive so I'm excited."
London added: "We got the news that No. 4 is going to be up, so we had to get some extra work with him out there."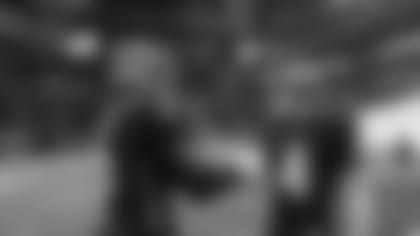 When asked about the vibe of the locker room with a new quarterback, London said, "it's something new and it's something that we're all [interested in] and we're excited to see what can come from it. I think Desmond is excited, the wide receiver's group is excited, everybody's excited so we're ready to get it rolling."
Arthur Smith, quarterbacks coach Charles London and several players have all talked about Ridder's growth as a player throughout the course of this season.
Mainly, speaking about how his mindset has grown more than anything. London sees Ridder becoming more comfortable with the system and how he's been fully immersing himself into that starting quarterback role.
"I think he's adjusting just fine and he's a vocal leader," London said. "He's been like that ever since Marcus was here too, so I think he's just fully immersing himself into the role.
"He's done a great job and he's still progressing. I'm just excited to see what he does with it."
Facing the Saints at Caesars Superdome is a challenge for any quarterback, let alone a rookie. But playing through pressure in hostile environments isn't foreign to Ridder.
The Louisville native has done it all his life in both high school and college. London's confident in Ridder and knows that the rookie quarterback was made for this exact moment.
"Just his demeanor and who he is," London said. "He's a guy that just lets it hang and just does what he does at the end of the day and I'm excited to see him showcase that in front of everybody."
The whirlwind of emotions of playing in your first NFL game can be a lot for any rookie but when asked about what advice he would give Ridder for this Sunday, London's answer was simple.
"Just go out there and be yourself," London said. "That's what got you here at the end of the day and that's what's going to keep pushing you forward so I think go out there, be himself and like I said, he just lets it hang so he's going to do that."
Send Our Squad To The Pro Bowl
Vote now to send your favorite Falcons' players to the 2023 Pro Bowl!