Showcasing some polished route-running and impressive speed, Gage made some tough catches last season when the opportunities arose. That experience should greatly benefit him heading into his third year with Atlanta, and offensive coordinator Dirk Koetter thinks Gage's best football is ahead of him.
"I think Russ is very very talented, and I think we will see a jump in his game," Koetter said.
Gage started four of the final six games of the season, and he saw a drastic uptick in production during the nine games after Sanu was traded. Prior to Sanu's trade to the New England Patriots, Gage saw just eight targets and caught four passes for 44 yards. Gage topped each of those marks in just the Falcons' first game without Sanu, snagging seven balls for 58 yards on nine targets.
Over the final nine games of the Falcons' season – when Atlanta went 6-3 – Gage was targeted 66 times and caught 45 passes for 402 yards and a touchdown. He finished the year with four 50-plus-yard games and caught at least five passes in six games.
"When Russ got more opportunities, his talent started to show up," Koetter said. "I think part of it is his confidence grew, and as his confidence grew he got better. Just for any player that goes from a role player to at least a part-time starter, I think consistency is the next phase."
That Gage blossomed so quickly as a receiver in 2019 is quite impressive, given his past production at LSU and in his rookie season. Gage finished his college career with just 347 receiving yards and four touchdowns on 26 catches; he did not have any receiving stats during his first two years at LSU. In fact, he had nearly as many rushing yards (232) as he did receiving yards (285) during his senior season.
The Falcons used Gage sparingly as a receiver in his first season as well, and he caught just six passes, mostly on shorter routes. Instead, he became a standout on Atlanta's special teams coverage units.
But Gage's emergence in his second season indicates there's much more potential as a receiver for the team to tap into.
Since the Falcons signed former first-round pick Laquon Treadwell in free agency, there have been some who have penciled him in as the team's de-facto third receiver. Despite his high draft status, Gage appears to be the player who offers more upside and has built chemistry with Ryan. In none of his four season with the Vikings did Treadwell match the production Gage showed during the second half of 2019.
Gage's skillset also translates nicely to the slot position, where the Falcons will need someone to replace Sanu over the long term. During his audition, Gage showed everything he needed to get the first crack at that job and impressed head coach Dan Quinn in the process.
"I thought [Russell] Gage was another one that could play in the slot and be effective, and you saw the production that took place into that one," Quinn said.
In just two NFL seasons, Gage has shown immense growth. With even more opportunities potentially in line for him next year, it's very possible that we see him take his game to another level, entirely, just as Koetter predicts.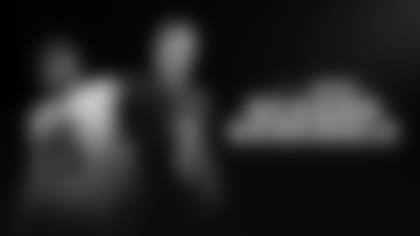 2020 Falcons Schedule
Click below to view the full schedule and learn more about ticket options for the 2020 season.