One game shouldn't overshadow an entire career, but A.J. Terrell's performance against Ja'Marr Chase in the College Football Playoff National Championship Game had a massive impact on the public's perception of him.
It also had a pretty big impact on Falcons defensive coordinator Raheem Morris, who knows a thing or two about coaching cornerbacks at the highest level. But while public opinion soured on Terrell because of his play against LSU, Morris came away with an entirely different reaction.
"The things that people didn't like about him was his LSU game that he got beat on a couple of times, but that was what made me like him probably the most," Morris told AtlantaFalcons.com. "In that game, I saw a guy go out there and challenge a guy. Get beat, not be afraid, make a play. Get beat, not be afraid, make a play."
It's true that Terrell did get beaten by Chase, who finished his sophomore season with 84 catches for an NCAA-best 1,780 yards and 20 touchdowns, in the title game, but practically everyone did in 2019. A mere glance at Chase's stat line from that game – nine catches, 221 yards, two touchdowns – might leave Falcons fans anxious, but there are two important things missing from those raw numbers.
The first, Clemson had so much faith in their top corner that they tasked Terrell with shadowing Chase around the field and often asked him to cover him one-on-one. Seeing how Terrell didn't back down from that challenge and seemed to relish it gave Morris even more belief in the player he can become.
"That's kind of our game, that's kind of the life we live, especially when you live at corner," Morris said. "People call it an island, but when you have the ability to go out there and play in a big-time game and be competitive that way and not be afraid to lose sometimes, which is going to happen, to be able to come back that next play to really make a play, those are the kind of guys that I love."
The second aspect of Terrell's performance against LSU that's important to consider is that he played much better than the stat line reflects. Terrell was in position to make a handful of plays against the nation's leading receiver, who also benefitted from having Heisman Trophy winner Joe Burrow throwing him the football. On a couple of occasions, Terrell was in the right place at the right time only to have a Burrow dime make the difference.
When you're playing in the title game, that's how life is sometimes.
However, that performance doesn't change what the Falcons like about their newest first-round corner, namely: his speed, length and competitive attitude. It's not as though Terrell hasn't proven he can play against top competition, either. If he had ended his college career after returning an interception for a touchdown against Alabama in the 2019 College Football Playoff National Championship Game, Terrell would have been riding high heading into draft season.
Instead, he enters the NFL coming off that LSU performance, but it might work out in the Falcons' favor. Terrell now has a chip on his shoulder that will motivate him to prove he's more than one game.
"You know, I always carry a chip on my shoulder, but that one game definitely gave me a chip on my shoulder," Terrell said after the draft. "… For me, that game was definitely a learning experience of just never being satisfied. I'm just ready to get back to work, get back in the lab."
That's the kind of mindset Morris can't wait to work with.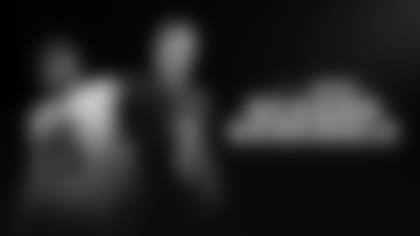 2020 Falcons Schedule
Click below to view the full schedule and learn more about ticket options for the 2020 season.