Arthur Smith was candid after practice that just because Jones is back on the practice field does not mean he immediately slots back into a starting spot. No one is going to forget the work that Rashaan Evans and Mykal Walker have put in through camp to earn those spots.
"I'll give Deion credit, because he's going to come out here and he's going to compete," Smith said. "He's going to work his way back in. It's going to be hard to get on the field in that room. And that's what you want with that competition. Rashaan and Mykal Walker are doing a great job. We gotta see what Troy (Andersen) can do. (Nathan) Landman, Dorian (Etheridge)? They've had good preseasons… It's going to play itself out."
That hierarchy was obvious during practice, too, as Jones spent the practice's entirety working with the third- and fourth-team defenses. He worked alongside Nick Kwiatkoski, who is also working back from injury. Jones played a role in punt coverage during the special teams periods as well.
After practice, Jones faced the media for the first time in 2022. When asked if he had any reserves about returning to Atlanta - with rumors swirling for months that the Falcons would want to shop Jones on the trade market - he said he didn't.
"I had no question about me being back here," Jones said. "I figured I was going to be back here, and I was just getting my mindset ready. Getting my body ready to come back."
Jones said he's stayed constantly up-to-date with the install process for the defense, saying when the team went through an install, he was right there with them, "going over the same routine."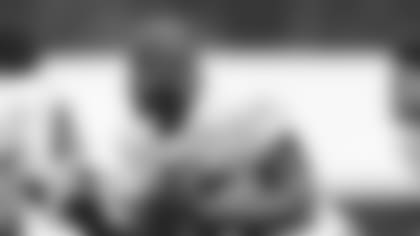 When asked how he felt about going into 2022, Jones said he is actually more optimistic than he was last year.
"I definitely have a better outlook on the defense this year," Jones said. "I had a chance to look back and figure out where I can help, where I can get better and just being honest with myself."
And exactly where did he think he could improve?
"Working on more space in the sidelines," Jones explained. "Being outside of the formations it's a little different feel than being in the middle. It was basically the angles of the adjustments... (It's) something I worked on in the offseason."
There's a lot more Jones needs to do before anyone even thinks about seeing him on the field come the regular season.
Smith concluded by saying he'll give Jones credit for the mindset he knows he has to have to work back into this lineup as he knocks the rust off.
"He has the right mindset to get out there and prove something," Smith said. "He knows what he has to improve from last year. That competition (in the inside linebacker position) is real. I appreciate him. He wanted to be back. He wants to compete. We'll see where it goes."
Notes, observations from practice:
London update: Drake London was still absent from practice on Wednesday. He did not participate in either joint practice with the New York Jets last week, nor did he play on Monday night. Smith said last week that London's injury was not an issue they are concerned about "long-term," but they are entering into the final week of the preseason without London. It's something to monitor with two weeks to go until Week 1.
A.J. Terrell on the back burner: Though Terrell was at practice with pads on during the entirety of Wednesday's practice, he did not participate in hardly any of the 11-on-11 team periods during the back half of practice. In his spot, the Falcons ran out Darren Hall opposite Casey Hayward. Though Hall held his own, he's similarly built to Hayward, and the Falcons missed Terrell's long and rangy presence at times.
Slot switch up: As we've reported numerous times over the course of the last week-and-a-half, Dee Alford has risen up the 53-man depth chart. On Wednesday, he took a vast majority of his 11-on-11 reps as the first-team nickel. That's been a spot reserved for Mike Ford since camp began.
However, it's not that Ford didn't have a good day himself. He definitely did. Ford worked more on the outside on Wednesday than we've seen him do up unto this point. And I'd argue it's the best he's looked all preseason. During one redzone 11-on-11 period, Ford consistently had himself in the right position, breaking up two passes in the endzone. The most impressive one coming against former Falcons Laquon Treadwell in the front corner of the endzone. Here's the other one, though, which watching over was pretty impressive, too.
The "contingency plan": For the first time all preseason, Avery Williams took some 11-on-11 reps at cornerback. Williams has been with the running backs since mandatory minicamp. He's spoken a number of times this preseason about making the switch. On Wednesday, though, he went back to the defense for a period. He still ran running back reps, even catching a couple passes out of the backfield from Desmond Ridder. But when he ran to the defensive field for a redzone period with the defense, it was quite the surprise as he hasn't taken a single defensive rep since last season. Asked about the in-practice switch, Smith said it's a contingency plan in case numbers in the secondary take a turn as the roster shrinks.
Clean pocket, tipped balls: Marcus Mariota stepped back into the pocket in one of the final periods of practice. He had time in the pocket. It was clean as he went through his progressions. He then found an open receiver, tossed the ball in their direction... and it was promptly batted down by Trevon Walker. This wasn't the only time this happened to Mariota or Ridder, either. The Jaguars have a long and tall defensive front, and they use it to their advantage. I'm actually going to go ahead and say they're going to get their hands on a lot of balls this season. It's something Smith said he specifically wanted Mariota and Ridder to go up against.
"We felt like we were solid in the pocket, but their counterpunch is their length," Smith said. "That's what I wanted to see out there… It'll make us better."
Separation at receiver: For the last few weeks, we've wondered 1) how many receivers the Falcons will carry on the 53-man, and 2) who they'll be. As we wrote yesterday, competition should be at an all-time high at this position group as final cuts draw near. The Falcons have already announced the cuts of Geronimo Allison and Auden Tate. We're coming down to the wire to fill in the final open spots in the room, and Smith said when it comes to seeing separation between the individuals in this group that he's looking for something specific to be able to tell where that separation lays.
"Consistency is what we're looking for," Smith said. "Guys we can trust."
With London, Olamide Zaccheaus and Bryan Edwards locks for the 53-man, that leaves two - maybe three - spots up for grabs. Right now, KhaDarel Hodge seems like a front-runner to earn one of those spots. For the other one or two spots, though? It's a toss-up right now between Frank Darby, Damiere Byrd, Jared Bernhardt and Cameron Batson. All four are getting significant special teams reps, so it may come down to who has the highest value there, too.
Bernhardt continues to be a very interesting preseason development. He's continuously made plays in practices and games. He worked with the first-team offense on Wednesday, too. Has he done enough to earn one of those coveted roster spots? We'll see next week. Interested in Falcons tickets?
Join us in 2022 for 9 Regular Season home games! Let us help you find the seats and benefits that interest you!