EAST RUTHERFORD, N.J. -- After two joint practices earlier in the week, the Falcons and Jets faced off on Monday night. The Falcons lost 24-16.
Arthur Smith said earlier in the week to take everything throughout this week of joint practices with a grain of salt. And that's how the Falcons second preseason game should be taken, too. The Jets didn't play hardly any of their starters at all on Monday night. The Falcons did throughout the first quarter. The final quarter and a half of the game, though? That time was primarily used for all reserves of both squads.
So, with all of this in mind, who stood out for the Falcons and what does their limited evaluations mean for the overall scope of where this team is in the preseason?
Marcus Mariota
Against Detroit last week, we saw Mariota for a single drive. On Monday night against the Jets, we saw a lot more of the Falcons starter. He finished the first quarter connecting on 6-of-10 passes for 132 yards. He looked well under control of the offense, connecting with Kyle Pitts for a 52-yard catch and later Olamide Zaccheaus for a 13-yard touchdown reception that saw Zaccheaus run a beautiful concept of a route.
If we're nit-picking Mariota's performance, it would be that a few of his passes were under thrown. His 53-yard pass to Pitts had the tight end slowing down in his route to time up his catch. In the second drive, Mariota did something similar with a pass to Anthony Firkser that went for a 39-yard pick up. If these throws are out in front of Pitts and Firkser we may be talking touchdowns. Mariota's final drive of the first quarter wasn't as productive as the first two. He threw a ball into the ground intended for Qadree Ollison on second down, and followed it up by missing Zaccheaus on third down, too.
It's the preseason, so timing will come, and it's not something to be overly concerned with, just something to note. But hey, 132 yards for Mariota in one quarter isn't too bad of a night. There are just some things timing-wise to clean up for the veteran quarterback moving forward.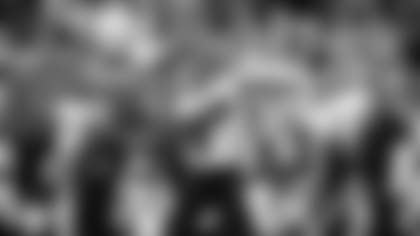 Desmond Ridder
Let's talk the rookie now.
Something Arthur Smith has spoken at length about throughout training camp and the preseason is wanting to see how players respond to failure. He wants to see players bounce back when things break down, and in the second quarter of Monday night's game, things did break down.
Penalties rained down on the Falcons offense in the second quarter. Jalen Mayfield was called for a false start when the Falcons were looking at a fourth down situation from the Jets one yard line. It was a moment that saw Smith heatedly get after Ridder and the offensive line as they made their way to the sideline afterwards.
The Falcons defense got a stop, though, and the second-team offense got the ball back with two minutes left in the half. Ridder bounced back from the previous drive well. He looked crisp with his passes and saw success finding Jared Bernhardt for three passes for 67 yards. Again, penalties accumulated, though. Offensive holdings and an illegal shift kept the Falcons out of the endzone, and they settled for a short field goal from Younghoe Koo to end the half.
Despite the errors, it should be noted that Ridder continued to respond with the penalties by making something happen to move the ball downfield. Feleipe Franks came in at quarterback halfway through the third quarter, so Ridder's night ended with the rookie quarterback going 10-for-13 through the air with 143 yards. Not a bad stat line overall.
Ade Ogundeji
One of the biggest compliments I could give someone is that I notice when they're not on the field. I felt that way with Ogundeji on Monday night. He only had two tackles, one for a loss, in his appearance, but he made things happen when he was in. Ogundeji was always around the ball throughout the three series he was in for.
He got solid penetration a few times, and put a bit of pressure on the Jets tackles. Ogundeji was called for a roughing the passer call as he fell forward into Mike White's legs on third down. He - and Smith - didn't particularly like the call, but the defense held up afterwards, and Ogundeji finished his night solidifying - in my mind at least - that he's an important part of not just this current defense but what the outside linebacker position is actively trying to grow into.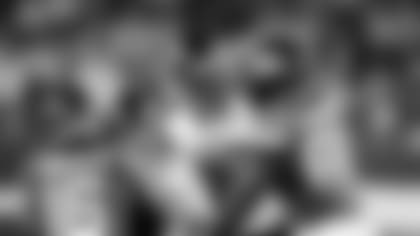 Tyler Allgeier
We saw quite a bit of Allgeier early against the Jets on Monday. He played late against Detroit, with Ollison getting majority of the first team reps. However, Allgeier got a lot more work with Mariota and the rest of the first team offense. He stayed in throughout Ridder's reps in the second quarter, too.
Allgeier ran hard, gaining noticeable yards after initial contact on a few of his six runs. He only had 17 rushing yards, but they seemed to be yards well-earned and well-timed. Smith also had him catching a few passes out of the backfield, too. He had three catches on four targets for 12 yards. In all, it was a nice performance by the rookie running back.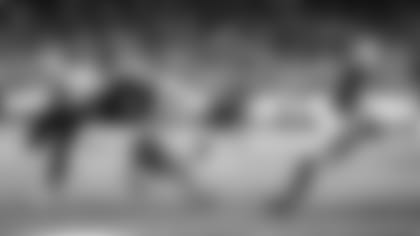 Not one person, but the entire defensive interior
Grady Jarrett was held back on Monday night after two productive days of work during the Falcons and Jets joint practices earlier in the week. This was good for two reasons: 1) no one needed to see Jarrett. He's Jarrett. Keep him healthy and ready for Week 1. And 2) we need as many evaluations of the depth of the defensive interior as we can get.
Injuries have shrunk this position group significantly throughout training camp and the preseason. The Falcons are looking for players to step into more prominent roles because of it. On Monday, we saw a plethora of defensive linemen take the field. Ta'Quon Graham and Anthony Rush continue to feel like the ones best suited to slot in beside Jarrett come Week 1 of the season, but the Falcons first team defense also saw players like Jalen Dalton, Abdullah Anderson and Timothy Horne rotate in at times throughout the first half. They consistently stayed in throughout the second half, too. There were a lot of reps given to these guys on Monday.
There's a 53-man roster cut down that's coming soon. Do the Falcons have the needed depth at this position to lead them into the regular season? Or do they need to hit the free agency market to bring in more reinforcements? It would seem the Falcons coaching staff is doing their due diligence during these first two preseason games to find out.
Call for questions
Submit your post-Jets-game questions right here for inclusion in the next installment of Bair Mail.