FLOWERY BRANCH, Ga. -- The Falcons have signed running back Bijan Robinson to his rookie deal, the organization announced on Friday morning. The Texas product was the Falcons No. 8 overall pick in the 2023 NFL Draft.
Robinson's rookie contract is estimated to hold a total value of $21.96 million, with a cap hit of $3.99 million in 2023. These estimations are according to OverTheCap.com. NFL Network's Ian Rapoport also reported the same total value for Robinson's contract, adding that it is fully guaranteed and includes a fifth-year option.
A three-year starter at Texas, Robinson established himself as not only the best running back in the 2023 class, but arguably the best offensive weapon of the entire first round. Robinson was the first player in Texas history to rush for more that 1,500 yards and accumulate more than 300 receiving yards in a single season. He finished his career as a Longhorn with 3,410 career rushing yards, which ranks fourth in school history.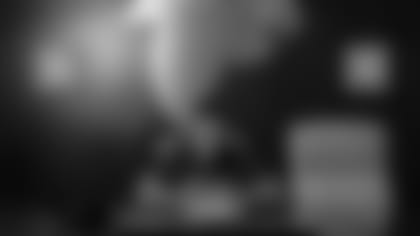 More so, and likely most impressive to the Falcons, Robinson led the FBS in forced missed tackles in 2022 with 104. He joins the previous 2021 FBS forced missed tackles leader, Tyler Allgeier, in the Falcons backfield, as well as offensive weapon Cordarrelle Patterson.
Though Patterson and Allgeier have been successful in Atlanta in their own right, Robinson isn't being brought in to counteract their success but to support it while he finds his own role in Arthur Smith's offense, too. Speaking of, there's likely no one in the organization who's as excited about Robinson's role in Atlanta as his head coach. As an offensive play caller, Smith has made a name for himself creating a dynamic run scheme for the Titans and Falcons. Robinson only adds to the dynamics.
"Some of the things that we were going to ask him to do, you see it on the tape, with his background, not just at running back, the running back stuff was obvious on the tape, but the versatility part where you use him and where he has been effective," Smith said of Robinson after the Falcons drafted him. "I mean, he did that at Texas at times, but his background, playing in the slot, was another big piece of it. That's intriguing. We feel he is an explosive weapon, a home run hitter however he gets the football in his hands."
Talking to Falcons running backs coach Michael Pitre, he echoed the sentiments of Smith regarding their newest addition to the running back room.
"On the website, it may say running back, but he's more than a running back. He truly is," Pitre said. "He has an ability to change and affect the game anywhere he's lining up on the field, and that's what I think makes us excited about him, because of all the things we can do from an offensive scheme standpoint."