Coming off of their best performance of the season, the Atlanta Falcons will try to avenge one of their worst performances, a 24-9 loss to the New Orleans Saints in Week 11.
Matt Ryan was sacked eight times in the loss, and the offense converted just two of its 14 third-down attempts. After a much better showing against the Las Vegas Raiders, however, the Falcons are riding high as they prepare to welcome the Saints to Mercedes-Benz Stadium.
Not much has changed in the two weeks since these teams last faced off, but I reached out to ESPN's Mike Triplett (@MikeTriplett) to get a better sense of how things stack up for the Saints heading into the rematch.
Was there any flukiness in the Saints' defensive performance in the last game or should the Falcons expect another tough day on offense?
Triplett: Maybe the Saints' defense will come back down to earth at some point – but that game was hardly an isolated incident. The Saints have the NFL's No. 1-ranked defense in total yards allowed this season after a torrid stretch over the last month that included last week's lopsided win over the QB-less Denver Broncos. The Saints have only allowed one touchdown in the past four games combined. And since the start of Week 8, they lead the NFL in yards allowed, points allowed, rushing yards allowed, opponents' passer rating, interceptions, third-down defense and red-zone defense. They've been thriving at every level, including that pass rush that sacked Matt Ryan eight times in Week 11 (and nine times last Thanksgiving).
How effective was the Saints' offense under Taysom Hill against Denver?
Triplett: Hill wasn't nearly as impressive at Denver as he was two week ago against the Falcons. He completed only 9 of 16 passes for 78 yards with an interception and three sacks (along with 44 rushing yards and two TD runs). However, coach Sean Payton rushed to Hill's defense, saying he "played this thing just how I wanted him to play it" on a day when the Saints essentially ran out the clock against the QB-less Broncos from start to finish. New Orleans ran the ball on 44 of 63 plays and wanted to take as few risks as possible while cruising to a 31-3 win. That approach helped to make Hill look hesitant in his reads and decision-making. So this week will be an important showcase for him to try and prove which of the last two performances was the anomaly.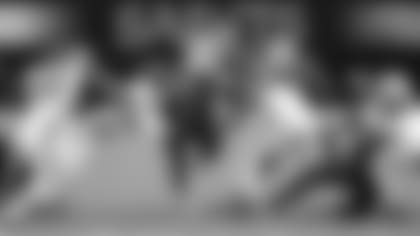 Has there been talk of getting Alvin Kamara more involved in the offense after some down weeks?
Triplett: I don't think that's a big concern (outside of Kamara's fantasy managers). Kamara has probably been the Saints' MVP this year because of how much they relied on him as both a runner and receiver while Michael Thomas was sidelined during the first half of the season. But the Saints have been winning by such big margins over their past four games that they haven't had to force anything. And as I mentioned, last week specifically they used fellow RB Latavius Murray more than usual while essentially running out the clock on Denver for 60 minutes. I don't think Kamara's nagging foot injury is a big concern, since he has continued to play through it. The only significant change for him is that he hasn't been as involved as a pass catcher with Hill behind center – both because Hill hasn't thrown the ball as much and because Hill looks to throw downfield more than Drew Brees did. So that could be a legitimate concern for those fantasy managers that I mentioned until Brees returns to the lineup.
Are the Saints confident heading into this matchup or do they think the Falcons can bounce back?
Triplett: Both. The Saints are playing with immense confidence right now, especially on defense, after winning eight straight games. However, they know they can't take the rival Falcons lightly (see: Week 10 last season). And they're well aware of how dominant Atlanta just looked last week against the Raiders.
What have the Saints been saying about Atlanta's defense after a standout performance?
Triplett: Sean Payton immediately pointed to the five takeaways against Vegas, adding that "it just looked like they were a tick step faster to the spot than Vegas." He said he has seen Atlanta's defense playing with confidence – and maybe bringing in a little bit more pressure in recent weeks. Hill also mentioned the speed of the Falcons' defense, especially in the linebacker corps, and the aggressiveness of their safeties. "That's a veteran, experienced group playing exceptionally well," Payton said.