There was a lot to feel good about in the Falcons' season-opener against the Seahawks, especially early on.
The Falcons' pass rush showed up.
Todd Gurley was off and running well.
Hayden Hurst made a diving circus catch.
But the Falcons' season-opening 38-25 loss was ultimately decided on two plays – both were fourth-down gambles. Oh, and Russell Wilson, who proved unstoppable as the game went on.
Trailing 14-3 heading into the second quarter, the Falcons managed to battle back and make it a game. A Todd Gurley touchdown and Younghoe Koo field goal made it a 14-12 game at the break. Forget how well Wilson was playing, we had ourselves a ballgame. Then things started to spiral in the wrong direction for the Falcons.
On fourth-and-5 on the Falcons' 38 with 9:49 left to go in the third quarter, Wilson found D.K Metcalf sprinting past Isaiah Oliver down the left sideline for a walk-in touchdown. Seattle went up 21-12. That one hurt, but the Falcons were hardly out of it at that point.
Then, facing a three-and-out on their very next possession, the Falcons opted to call a fake punt on fourth-and-2 from their own 33. Sharrod Neasman took the direct snap, gained a couple of yards, but fumbled on the play.
The Seahawks recovered, and Wilson put his foot on the gas pedal. Five plays later, he found Greg Olsen for a 7-yard touchdown and blew this game wide open. The Falcons tacked on a couple of scores in the fourth quarter, but never really threated the Seahawks again.
A blown coverage on fourth down and a fumble on a fake point. Those are two really tough miscues to overcome, especially in a tight game.
And the Falcons never did, never mind Wilson ...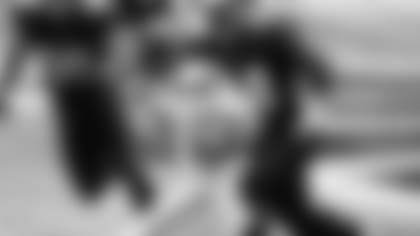 No answer for Wilson
But, in case you forgot, Wilson was one of the most-sacked quarterbacks in the league last year. Both he and Matt Ryan were sacked 48 times in 2019. Playing under duress doesn't seem to faze the Seahawks' signal caller.
And that was again the case against the Falcons as Wilson completed a blistering 31 of 35 passes for 322 yards, four touchdowns and zero interceptions. Wilson connected with nine different receivers. His favorite target was Tyler Lockett, who caught eight passes for 92 yards. Meltcalf, who hauled in the aforementioned 38-yard touchdown, had four catches for 95 yards. Wilson only ran the ball twice, but averaged a staggering 15 yards per carry.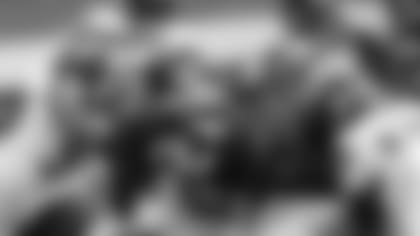 I thought it was really encouraging to see the Falcons feed Todd Gurley the ball early in this one. Gurley, who signed a one-year prove-it deal with the Falcons, ran the ball 10 times for 51 yards and scored on a 1-yard plunge to make it a 14-9 game in the second quarter.
But, in the second half, Gurley touched the ball just four times and gained only 5 yards.
In case you're wondering the last time a Falcons running back eclipsed the 100-yard mark was back on Dec. 23, 2018, when Brian Hill rushed for 115 yards on eight carries in a 24-10 win against the Panthers in Week 16.
That dry spell is now up to 630 days ... and counting.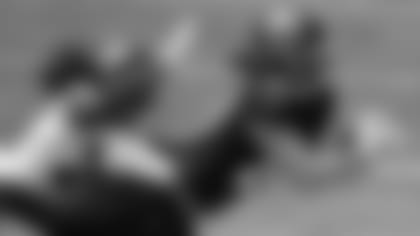 We saw the new additions – just not enough
As noted above, it was great see Hurst get off to a great start before disappearing in the second half.
We saw flashes of how special new tight can be in this offense. Did you see that nifty 27-yarder he pulled in, his first in a Falcons uniform? You can watch it below.
As good as that play was in the first half, Hurst only caught two balls for 11 yards in the second half.
Dante Fowler, another one of those big free-agent signings the Falcons made this past offseason, also made his Falcons debut. Fowler finished the game with four tackles, a half sack, a tackle for a loss and one hit on Wilson.
Fowler's performance was good but left me feeling much like Gurley and Hurst did: Wanting more.
Get an inside look at the matchup between the Atlanta Falcons and Seattle Seahawks with top photos from the field at Mercedes-Benz Stadium in Week 1.