The Falcons lost two games in five days and now enter a down weekend that will be spent reflecting on how to fix problems cropping up in recent losses.
That's the focus of your mailbag submissions as well. Falcons fans want to see a better product in the short and long term. You all also seem to understand that starts up front.
I hate bagging on offensive linemen, who get zero credit when things go right and tons of blame when it doesn't. We also can't ignore the deficiencies in that area.
We take a look at the front, the Falcons short-term plans and long-term vision in this Friday edition of Bair Mail:
Willis Walker from Montgomery, Ala.
I just watched my Falcons lose to the Pats and must be honest, it was another tough game to watch. I know that we are under new leadership and it takes time to develop their goals and agenda, but I am lost in regards to what those goals are and what the agenda for the team is. The wheels came off on Sunday and the transmission fell out on last night. Please help me understand.
Bair: The Falcons have a difficult task of trying to win as much as possible while getting right with the salary cap, while making the correct roster moves to fortify a roster thinned by some mistakes in free agency and the draft. That will take time and a lot of smart decisions to dig out of their current lot, to create the financial flexibility to supplement a young foundation with impactful free agents entering their prime.
The road to sustained success can be a bit bumpy, as you've seen here. I think your confusion – several others are wondering the same thing – is that fans are used to complete, tear-it-to-the-studs rebuilds. That's not what the Falcons have chosen to do, keeping higher-priced stars active during the process of retooling the roster. The Falcons aren't waving the white flag on this season or any others. There's honor in that, and I don't think it slows the roster restructuring down as much as some think it does.
Bryan Pool from Travelers Rest, S.C.
There is no quick fix for this team. But I feel there should be some OL men that need to ride the bench before our HOF QB GETS KILLED! And if our first two picks aren't OL in the draft next year I am going to lose it. My question is should we raid other team's practice squads for OL? Something has to be done! When you have to take your startling QB out so he is not killed. Things are not all unicorns and roses!
Bair: I agree with you, Bryan, that things are not all unicorns and roses after two losses like that. The coaches and players agree with you on that. In regard to the offensive line, the rough part is that three starters were first round picks and the other two were third-rounders. Four of them are on rookie deals. If you have to reinvest in a position, right tackle for example, before a high pick's rookie deal is up, that's a huge miss. The previous regime made the error, but that's still a huge issue as the roster gets fortified.
Head coach Arthur Smith was asked on Friday morning if there's the depth required to create competition up front. Here's what he had to say.
"All options are on the table," Smith said. "Just like with the injuries at the skill positions, where you're dealing with people out, you have to find a way. You can rationalize things and make excuses, but this is pro football. We have to play better and find a way to move the football, score points and go win a football game."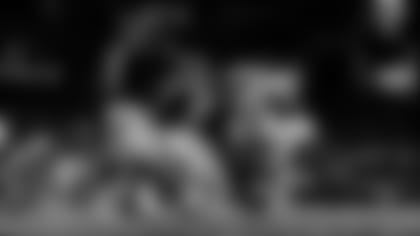 Ashleigh Coffie from Lawrenceville, Ga.
I'm just stumped. I've watched 9 seasons of Falcons football and these last two games hurt. I have to remind myself that we have these lows to really appreciate the highs. With that being said, what causes the struggles? Is it the offense or defense just not understanding the schemes? Poor in-game response to what's occurring on the field? I'm guessing Arthur kept attempting Qadree Ollison to run the ball because he was getting a little more yardage than what we've seen from Mike Davis so far, but I'm just really struggling with the basics of why these last two games have been just so painful.
Bair: There are so many who feel the way you do, Ashleigh. The frustration after losing consecutive games by multiple scores in front of a massive audience, is sky high.
The offensive line doesn't fit that narrative, however, with the group intact but still struggling mightily against better defensive fronts. New England routinely beat the Falcons front in the run game – run blocking has been an issue all season – and then made life hard on Matt Ryan.
When it comes to what must be fixed moving forward, that's atop the list. If the Falcons can't protect or create rushing lanes, they can't do anything.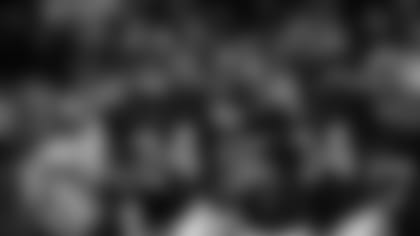 Sloan Willing from Melbourne, Australia
That was a tough couple of weeks. I must say, I enjoyed the titillation of being in the hunt for a while. However, I think now that playoffs are highly unlikely we can start to concentrate on development. I think many of the young players will benefit greatly from 7 games of going out there and learning their craft, without the pressure of must win situations. There will be many theories out there, Bair. What's your take on the rest of the season?
Bair: The Falcons are 4-6 and have fallen down the pecking order but are by no means out of it. They're going to take the weekend to reflect on what has happened and try to improve and get back in the thick of the playoff race. They're going to keep pushing for that until the math doesn't work out.
In terms of developing young guys through playing time, their young guys are getting tons of playing time as is. The entire draft class is active and playing significant snaps. Most second-year players have important roles on this team. All that is happening while the Falcons continue to push, so both objectives are being achieved here.
We'll take a little break over this weekend and then come back strong with a Monday Bair Mail that will only be awesome if you submit questions right here. Falcons Final Whistle | A Postgame Podcast
Break down the hottest topics surrounding the Atlanta Falcons and how they can impact the team's success with Atlanta Falcons Insiders Scott Bair, Tori McElhaney and Kris Rhim. Like and subscribe to join us for the lively debate on Falcons Final Whistle.
Welcome to Falcons Final Whistle – an Atlanta Falcons football postgame podcast during the season that shifts gears in the offseason to answer a pressing question about the team's future each week through free agency, the NFL Draft and the offseason program.