FLOWERY BRANCH, Ga. – The state of the Falcons' quarterback position remains a looming topic as the offseason gets underway.
Arthur Smith said on Wednesday that it's too early to make a decision on who will be the starting quarterback in 2023, but he's encouraged by the progress Desmond Ridder has made in his four-game stretch as the Falcons starter. The question remains, however: Has Ridder shown enough to be named the Falcons' quarterback of the future?
"There's a lot of work ahead of us before we're ready to declare anything like that right now," Smith said.
When asked about Marcus Mariota's status on the team, Smith said "there will be conversations" but there is "nothing to update now."
"Like a lot of our guys that are under contract, decisions have to be made," Smith said, "but nothing has been made right now."
As a starter, Mariota finished 5-8 before Ridder took over in Week 15. In those last four starts for Ridder, he finished 2-2, displaying consistent growth and promise for a young player who was thrust into the starting role late in the season.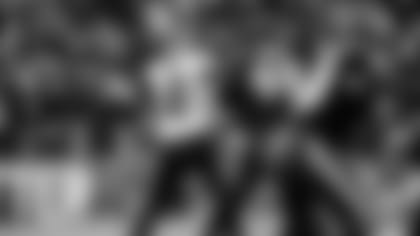 He completed 73-of-115 passes for 708 yards, two touchdowns, and no interceptions, on a 63.5 completion percentage. What stood out to Smith about Ridder is the comfortability and confidence he showed when operating within a pocket, his decision-making and the poise displayed in high pressure moments.
"(He) did change my thinking a little bit on fourth down," Smith said after Sunday's win over the Buccaneers. "I wanted to see him handle that, and I thought he did well. When you can do that and you can win third and fourth down, that says a lot about you; to be able to play, extend, look to throw, and not get rattled. Again, not perfect, but we saw a lot of progress. There's a lot you could evaluate from."
As for general manager Terry Fontenot, he appreciates the way Ridder handles himself as both a player and person.
"When he got here, the way he handled the approach throughout the week, the way he handled himself as a backup and in the games (was impressive). As well as, his poise, confidence and the type of teammate he is," Fontenot said. "From the very beginning, with reading all his reports, the toughness and the mental toughness, (he was great in) all those areas."
How the Falcons ultimately reach the decision of who their 2023 starting quarterback could likely be a long process. To help flesh out depth in that area, the Falcons may look towards free agency or the draft to acquire another quarterback, even if Ridder is named the starter heading into 2023.
There will be a lot to assess during the offseason for the Falcons, but Smith said it's healthy to take a step back to truly evaluate the position and where it's heading.
"The conversations that Terry and I will have, it just doesn't make a lot of sense right now - two days removed from the season - to make any declaration about the roster, or this guy's future," Smith said on Wednesday. "We'll take our time. I mean, we obviously had conversations but there is a lot of work to be done."