FLOWERY BRANCH, Ga. – It was Week 6 against the San Francisco 49ers when Arnold Ebiketie felt he could perform at a high-level in the NFL.
He finished with four tackles, two quarterback hits and a forced fumble against the 49ers' top-10 rushing offense. It was a confidence boost that stayed with him the rest of the season.
Ebiketie concluded his rookie campaign with 21 total tackles, 2.5 sacks, and two forced fumbles. He finished third in sacks for the Falcons behind Grady Jarrett (6) and Lorenzo Carter (4), and tallied 28 pressures and 16 quarterback hurries, per PFF.
"He's got a pretty high percentage of pressure on the quarterback," Falcons head coach Arthur Smith said of Ebiketie during a Nov. 30 press conference. "That's why sometimes sacks can be misleading, and you love to have sacks don't get me wrong but just the fact that a quarterback can be moved off a spot. He's gotten better every week and we're happy he's here."
Earlier in the season, former Falcons defensive coordinator Dean Pees said that both Ebiketie, and fellow outside linebacker DeAngelo Malone, started out slow but progressed in the fact that they began to play faster because they understood the game.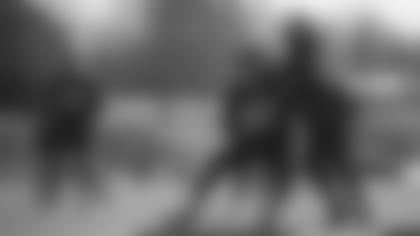 Playing valuable reps and adjusting to the speed of the game quickly, allowed Ebiketie to try new techniques as the season progressed, he said.
His rookie season was a learning curve in more ways than one, he reflected on Monday, but what Ebiketie accomplished provided confidence heading into year two.
"I think the best part about it, is that I'm not a rookie anymore," Ebiketie said. "I know what to expect moving forward, to have the whole offseason to work on some stuff, and I mean, I'm excited. I think the future is bright and I'm looking forward to next season."
Entering his first offseason will allow him to decompress and mentally recharge after being nonstop since preparing for the 2022 Draft. It's a time where he'll be able to settle down and focus on preparing for the 2023 season, he said.
One task on his offseason to-do list is to put on more body weight. The speed, agility, and elusiveness he displayed this season was evident, but gaining weight will allow him to take that next step in the upcoming season to be both, more efficient and aggressive as a pass rusher.
"I aspire in the future to be that every down guy," Ebiketie said. "I feel like you have to get a little bit bigger. That's something I'll be working on in the offseason."