FLOWERY BRANCH, Ga. -- I know. I know. The last thing you want to do is rehash the Falcons 34-30 loss to the Washington Football Team. But look, it's important to know where this team's headspace is, and to understand what coaches and players gleaned from a frustrating loss. So, that's what we are going to continue to do with this series through the good, and not-so-good.
I will preface this particular notebook by saying this: It could have been much, much longer. My actual game day notebook was filled with comments that didn't make the final cut of this published version. But just know I am saving you from having to read me ramble on for 1,000 words about that fourth quarter alone.
So, without any more preamble, let's get into it.
I wrote this as Isaiah Oliver was carted off the field on Sunday afternoon with a knee injury (and yes, it is in all caps). This note should come as no surprise considering how much I've written about Oliver over the course of the last two weeks.
I was seeing something different in Oliver this year. He was consistent and confident in a way we hadn't seen him be before being moved to nickel. I really felt like he was stepping into his own in 2021. So, for lack of a better phrase, it really sucked seeing him being helped off the field.
Smith said on Monday afternoon that he was not able to confirm the extent of Oliver's injury. He added Erik Harris (calf) and Cam Nizialek (hamstring) were also in the same boat, saying the team will be able to release more information on their status on Wednesday. However, it is important to note that there are reports that the Falcons have signed punter Dustin Colquitt to the active 53-man roster.
If Harris and Oliver are out for a period of time, the Falcons will have to rely more on players like Jaylinn Hawkins, who has seen his game reps increase throughout the last few weeks, and Avery Williams, who played inside on Sunday in Oliver's place.
Possible INT No. 1… Possible INT No. 2… Possible INT No. 3…
The more time that passed, the harder it was for me to forget these moments in the game.
I wrote after the loss that it was the accumulation of missed opportunities that led to the result. The missed opportunities that I felt like hurt the most in retrospect were the times when a member of the Falcons secondary had a pass from Taylor Heinicke in his hands but didn't actually come down with the pick.
Erik Harris had a couple of those opportunities, as did Duron Harmon. And don't even get me started on Heinicke's touchdown pass to Terry McLaurin. A play in which TJ Green got boxed out in the endzone. I have watched that play at least 10 times and it frustrates me just as much as it did the first time around. But I digress…
Harmon was very candid on Monday when asked about these moments. He said it's frustrating because getting his hands on the ball and coming down with it is something he prides himself on.
"Those are game-changing plays," Duron said. "… That's something that I pride myself on. I've been in this league long enough and made some plays putting my hands on the ball and when I get that opportunity I usually make it. We all work together. It's a team defense. So, when your number is called, you have to make that play."
Smith said the Falcons defense as a whole has to do a better job 1) containing the quarterback, but a major talking point for him on Sunday and Monday was 2) making sure the secondary comes down with those "for sure" interceptions.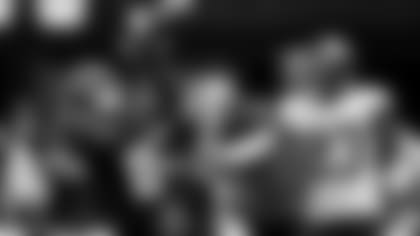 I wanted more from Calvin
I was disappointed in what I saw from Calvin Ridley on Sunday. There were just one too many incompletions that I thought he should have actually caught. Here's the thing about those dropped passes, though: If we're talking about anyone besides Ridley I don't hold onto those incompletions for long. I chalk it up to good coverage and move on, but with Ridley, we've seen him make those impressive catches in solid coverage before.
On Sunday, Ridley had seven catches for 80 yards. He was targeted 13 times. It was a fine stat line, but I couldn't let go of the fact that I thought it could have been better. There were times as I was going through the game again that I thought I was being too harsh. I am glad Smith was asked about it on Monday because it helped me come to the conclusion that no, I was not being too harsh. Smith called Ridley's performance an "up and down" day.
"We expect more," Smith said, "and Calvin knows that. I'm not telling you anything I don't tell the players. He's one of our top guys, right? He's one of our captains. Nobody has higher expectations than what he does for himself. It's why I call his number. I believe in Calvin, but like all of us, we can all be better."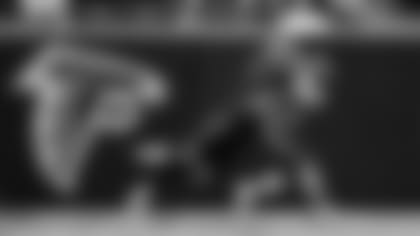 I'm going to need an explanation on that
I'm usually not one to say much of anything about a call (or a non-call) by the officials. But I will say this: I do question why there wasn't a defensive delay of game penalty called in the final seconds of the game. I don't see how a defensive lineman holding a quarterback down on the ground can be anything but a situation that I would consider a textbook delay of game call.
I couldn't see the emotion of the players from the press box as it was happening, but going back and seeing how livid Matt Ryan was? I feel as though he had every right to be.
I'll give Smith credit for his comments about that specific moment on Monday. He answered the questions with patience. And he wouldn't use that moment as an excuse. Essentially, he said the Falcons shouldn't have put themselves in that position in the first place.
"Personally, I didn't like the operation there at the end. I thought it was a cluster. The spotting, the guy holding onto Matt. That could have been even uglier. Thank God there was a second left," Smith said. "... We'll bring it up (to the league)... But you have to give Washington credit. They found a way to win that game. We didn't find a way to end it and we had multiple chances, really in all three phases."
I wrote this down immediately following the end of the game, and it is something I talked about in the Falcons Final Whistle postgame podcast. This right here is Smith and this staff and this team's chance to show that things are different than they were a year ago.
It's hard to see that things can be different when a result looks so similar to so many that came before it. So, the key for this 2021 group is to not let this loss linger. There were too many times last year where I thought a loss (especially one in this fashion) did linger.
There's a chance for things to be different, but only if this narrative gets squashed… quickly. There are different ways to approach this postmortem phase. There are many that just want to wash it, forget it and move on. And that's all well and good and if that works for some guys, by all means do it. But I think there could be value in holding onto it and using this game as an example, as motivation. It's an example of what the Falcons do not want to be in this new era. Do not make this the standard. It has been for too long.
"We feel like we're making progress in certain areas, but it obviously wasn't good enough yesterday," Smith said. "The same 'ole narrative certainly didn't hold up true last week (against the Giants) but we made it hard on ourselves yesterday and we've gotta close that game out... We have to improve and we have to improve in a hurry."
The loss happened and there's no taking it back, but there is a chance to have a different response than in years past. Have that response reverberate from the top down.
"I think the energy has been good, but we have to take it up a notch," Harmon said. "The sense of urgency has to rise because, at the end of the day, everybody keeps saying, 'You've got time. You've got time. You've got 13 games left.' The more you keep saying that you've got time, the more you're holding it off. The time is now. I'm going to make sure I do my part, as a leader on this team, to make sure the urgency level is as high as it has ever been here." Falcons Final Whistle | A Postgame Podcast
Break down the hottest topics surrounding the Atlanta Falcons and how they can impact the team's success with Atlanta Falcons Insiders Scott Bair, Tori McElhaney and Kris Rhim. Like and subscribe to join us for the lively debate on Falcons Final Whistle.
Welcome to Falcons Final Whistle – an Atlanta Falcons football postgame podcast during the season that shifts gears in the offseason to answer a pressing question about the team's future each week through free agency, the NFL Draft and the offseason program.