ATLANTA -- This notebook is a little different than the ones you've probably come to expect. Instead of taking a look back at multiple storylines and notes from the Falcons 20-16 win over Detroit on Sunday, I decided to take a look back at the performance of one individual.
It should come as no surprise to you that this is the direction of which I would go on this Monday afternoon. Pitts can't have the day he had without just a little more attention brought to it. So, with that being said, let's dive into Pitts' day and what it means for his future.
"Kyle Pitts, man, he's doing Kyle Pitts things"
I wrote this after Matt Ryan hit Pitts down the sideline on a go ball at the start of the third quarter. Ryan said after the game there are only a handful of wide receivers who can make that kind of play.
"We're fortunate to have a guy at a tight end spot that can go do that," Ryan said.
Ryan called it special. And it aligns with what Smith said earlier in the week about Pitts only scratching the surface of who can be as a professional in this league.
Pitts is coming off a stellar week in his rookie year. He was selected to his first Pro Bowl during the week and then notched his third career 100-plus yard receiving day in the win on Sunday. And that, too, is just scratching the surface of the week he had. If you want a full list of accomplishments and accolades and records broken, Kris Rhim did a fine job breaking it all down for you postgame.
But as Sunday turned into Monday, I couldn't help but think about the day Pitts had and the records that came along with it. All of this - every stellar day, every record broken, every catch made - it was all expected for the tight end in his rookie year.
There are always lofty expectations placed on a top 10 Draft pick... let alone the No. 4 overall pick... let alone the highest drafted tight end in the history of the Draft. Before Pitts had ever even stepped foot in a pro team's facility, people were (as Smith likes to say) already getting his bronze bust ready for his one-day Hall of Fame induction.
The expectation was for him to come in in Year 1 and be the "unicorn" pre-Draft analyzers everywhere called him. The expectation was for him to break these records, to be this special player for the Falcons and across the league. The expectation was for him to be the golden child of an evolving tight end position.
What's absolutely insane about all of this is that he does this, he becomes this in his rookie year, and there's almost a shrug that happens across the league. Forget that he met and surpassed some of these expectations, people simply say, 'Cool. He did it.' It's almost a foregone conclusion people already came to, that Pitts would become what he ultimately did in his first year.
It's almost like the expectations placed on Pitts have dwindled the shimmer and shine of what he actually did by meeting them. Oh, he did it? Sweet. He was supposed to.
"I think things can get lost like that because there's just so much hype to start out with," Smith said. "It does kind of jade your thought process."
And think about it in this way, too: What if he didn't meet said expectations? He would be considered a wash, a No. 4 overall pick the new Falcons front office "missed." Should have drafted a quarterback, everyone everywhere would have said.
There's immense pressure in that thinking, that if he does anything less than reach the goals others set for him, he's not worthy of the spot in which he was drafted. Good thing he did reach those goals, though, right? It follows along with the age-old notion that no one can ever do anything to please anyone. If he doesn't reach those goals, he's a wash. If he does, good, he was supposed to.
"If you're saying, 'All right, well, he was supposed to do that.' Well, it's not easy to do that," Smith said. "And there are a lot of guys throughout professional sports who have that kind of hype coming in they don't handle it well. Kyle certainly has. That's not lost on us, here."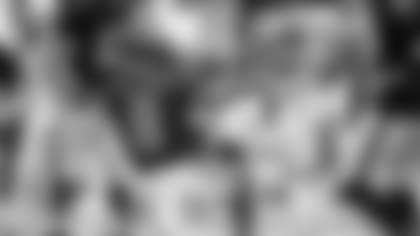 And you know what? Perhaps I am wrong. Perhaps the overall consensus of Pitts' rookie year isn't this. Perhaps there are loads of people who truly realize how special this season has been for Pitts. But if there isn't that level of thinking out there, take a moment to reflect on how many players in their rookie year actually meet the expectations placed on them?
I will tell you it's very, very few. That's why I hope you don't overlook what Pitts did on Sunday simply because it was what he was expected to do.
"It's not easy, a rookie year," Ryan concluded about Pitts. "But he's continued to push and get better and has never really hit a wall. He's just continued to excel, and I'm excited about what he can bring to this team in the future, but certainly what he's doing for us right now." Falcons Final Whistle | A Postgame Podcast
Break down the hottest topics surrounding the Atlanta Falcons and how they can impact the team's success with Falcons Insiders Scott Bair, Tori McElhaney and Terrin Waack. Like and subscribe to join us for the lively debate on Falcons Final Whistle.
Welcome to Falcons Final Whistle – an Atlanta Falcons football postgame podcast during the season that shifts gears in the offseason to answer a pressing question about the team's future each week through free agency, the NFL Draft and the offseason program.