What exactly makes a great running in today's NFL?
Well, there's really no specific formula and oftentimes much of a back's success depends on the quality of blockers in front of him.
According to at least one national writer, however, great backs must have at least three traits to even be in the conversation of being the best: they play all three downs, they can catch, run and block. And in today's pass-happy NFL, there aren't a lot of running backs who are on the field for all three downs anymore.
Still, Jason McIntyre of USA Today's The Big lead was able to find 10 backs who checked all of the aforementioned boxes and ranked them. And as McIntyre notes in this piece, all 10 are almost all under the age of 25. That latter nugget isn't so surprising, though. The NFL is a young man's game; it's definitely not a world where older running backs flourish, either.
One back who is flourishing would be Falcons running back Devonta Freeman. Atlanta's fifth-year running back had a bit of a down year in 2017, rushing for 865 yards on 196 carries and seven touchdowns. Freeman also caught 36 passes for 317 yards and a touchdown. The year before, Freeman tallied a career-best 1,079 yards on 227 attempts for 11 touchdowns. And in the passing game, Freeman caught 54 balls for 462 yards and a pair of scores.
"After back-to-back monster years (in 2015 and 2016), Freeman got a massive extension (five years, $41.25 million) and took a bit of a step back, plus had a career-high in fumbles (four)," McIntyre writes of Freeman, who comes in at No. 4 on his list.
In four seasons with the Falcons, Freeman has rushed for 3,248 yards and 30 touchdowns.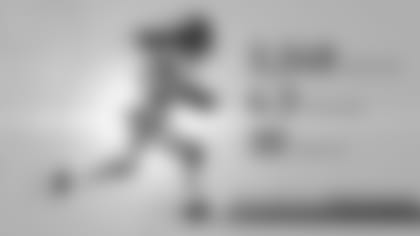 McIntyre ranks Ezekiel Elliott of the Dallas Cowboys, Todd Gurley of the Los Angeles Rams and Le'Veon Bell of the Pittsburgh Steelers ahead of Freeman, which seems pretty reasonable.
Alvin Kamara of the New Orleans Saints, who McIntyre says had "a rookie year that nobody expected," rounds out the top five.