Welcome to Straight from the 'Beek! The Falcons fell to 4-5 following a 28-16 loss on the road to the Cleveland Browns. They'll look to regroup this week as they prepare for the visiting Dallas Cowboys on Sunday – a matchup where both teams are fighting to keep their fading playoff hopes alive. In the meantime, you've got plenty of questions and comments. Just remember that all opinions here are mine unless otherwise noted.
Travis from Kaiserslautern, Germany
Hey, Beek. Disappointing loss! I felt like this was the ultimate trap game, but I digress. What is up with our Atlanta Falcons and AFC teams the last couple of years? We did make the playoffs last year at 10-6 and this loss to the Cleveland Browns is to an AFC team. Beek, you always make that point about NFC losses vs. AFC losses and how that affects tiebreakers, etc. Believe it or not, we still have a road to the playoffs with a lot of division and NFC teams left to play, but we have to beat Dallas Cowboys first.
Matt: Hi, Travis. I find it hard for any team that's sitting at 4-4, especially after going on a three-game win streak just to reach .500, to be overlooking any team. And if that was the case with any Falcons player, that would be disappointing to say the least. Every single game is important, Travis. The Falcons need to pile up wins in the second half and fell flat in Cleveland. The conference and division records come into play for tiebreakers, so if there was a loss or two, out of conference games would be preferable. But you're right regarding their record vs. AFC teams this season. The Falcons are 0-3 with losses to the Bengals, Steelers and Browns. They play the Ravens on Dec. 2. Last season the Falcons played the AFC East teams and went 1-3 against them, beating only the Jets. There's no question that the Cowboys game on Sunday is a must-win game for Atlanta. Both teams are 4-5 and trying to remain alive in the race for one of the wild-card berths at this point.
Tom from Hampton, GA
Hey Beek. Love your site. Why would Dan Quinn not challenge that touchdown call? And why with them pinned at the 1-inch line did we not bring the house? And my last comment is when are we gonna bench Desmond Trufant? He does nothing to help this team.
Matt: Hey, Tom. Thanks for the kind words. I'm assuming you're talking about the play to Austin Hooper down on the goal line. Yes, it certainly looked like he crossed or broke the plane to me, but they ruled the ball short there. When Falcons coach Dan Quinn was asked about it, he said he wouldn't challenge the call if it wasn't clear. Here is his entire quote: "We couldn't tell. We obviously don't have the view that you guys have at it, so I couldn't – from my standpoint – say for sure that it was in. If it's not really clear, it's hard for me to say to go with the challenge. It seems from a league standpoint that it better be really clear that he was all the way or was all the way in bounds. When it's not that way, we have a tendency not to go and challenge it. I thought from that spot, honestly, that we had a good chance at the next play." Regarding blitzing a team, well, you have to pick your spots, Tom. If you choose to and don't get to the quarterback (who is an elusive guy to begin with), you leave the back end of your defense exposed and vulnerable to a big play. The truth is that they didn't get to Mayfield all game long. And to your last question, if you bench someone you'd better have a better option. If you don't like something, what's the better solution, I always ask. I don't think there is a better solution on this team right now.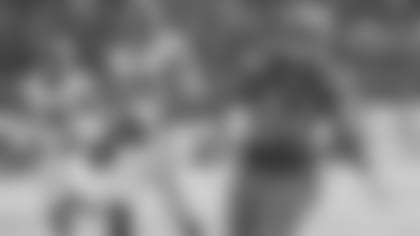 Reginald from Atlanta, GA
Please stop saying that this team can make it. I love the Falcons; it is my team, but I hate when we can't face the truth. We have a bad defense. What is wrong with Desmond Trufant?
Matt: Well, Reginald, that's not my opinion – it's a fact. The Falcons have not been eliminated from the playoff race and, believe it or not, still control their own destiny. That said, the loss to the Browns put a dent in their chances and it's not looking especially promising right about now. But they have a chance. So when people ask me that, I tell them that. Just sticking to the facts, whether you like it or not. And, yes, for a good part of the season, the defense hasn't been very good but I'd be remiss if I didn't point out that a number of key players and starters have been injured and/or lost for the season on that side of the ball. It's not an excuse, but just another fact. And on Sunday, they got run over by a rookie quarterback and rookie running back. To my knowledge, nothing is wrong with Desmond Trufant. I know some people like to have a scapegoat, but it's more than one player when it comes to the defense. And when Nick Chubb ripped off a 92-yard touchdown run, it wasn't Trufant who took a bad angle and missed the tackle or was sealed off by a blocker near the line of scrimmage.
Gwen from Decatur, GA
Hello, and thank you for taking my questions. How do the coaches (Falcons coaches, in particular) get the players prepared for teams with a losing record? It appears that for the Browns game there was a lack of effort and focus on the team's part. How do players stay motivated if they think the opponent team is subpar? Also, can you verify a quote from Campbell that the team didn't really prepare for the Browns game?
Matt: Every single game matters and in this league, the margin of victory in most games is a small one. If any team overlooks another team, they'll most likely get beat. There were a number of so-called underdogs who lost on Sunday – the Titans over the Patriots, the Cowboys over the Eagles, the Browns over the Falcons and the Bills over the Jets. And when a team is 4-4, I doubt they're overlooking anyone. The Browns have been in a number of close games this season, and the coaches know that. If any player or coach walked into Cleveland thinking that they were going to just walk over the Browns, that's a major red flag and concern. I did hear about De'Vondre Campbell's supposed comment about the Browns (on Twitter, not from anyone on or associated with the team) and cannot verify that at all.
Danish from Princeton, NJ
Hey, Beek. I'm back with my rant and question. Hope you're holding up better than I am. What a terrible, terrible loss and for me it has all but sealed our season. I don't think we can beat Panthers, Saints, Bucs and Packers on the road, if we can survive next week that is. Anyway, so my question is regarding the penalties, specifically back-to-back ones called against the Browns in their own 1-yard line in the fourth quarter. I mean what's even the point of those penalties when you're going to move the ball few centimeters (half distance from the goal)? They still had to go 10 yards for a first down even after two holding calls. Can't they move first down chains forward so the offending team then has to go 10 additional yards instead of only the original 10? That boiled my blood. And don't even get me started on our absent pass rush, ughh! Anyway, on a lighter note, I'm a big fan of Falcons Audible. I notice D.J. and Archer gang up on you all the time. You can't let them do that to you man! They take advantage of your soft spokenness (coined a word there). Love ya'll though!
Matt: Hey there, Danish. Yes, that's just the way the rule is written and has been for as long as I can remember. It's funny because I said the same thing in the pressbox Sunday about moving the chains forward. Once a team is inside their own 5-yard line, it's kind of pointless to keep moving them back half the distance to the goal line – it's not really a costly penalty any more. I'm all for moving the chains forward. But it's also a moot point – that would have to be voted upon and agreed to by the clubs in the offseason. You're right about the pass rush … the Falcons really didn't get to Baker Mayfield all game long and he had a pretty clean pocket, I believe he was for 12 for 12 for 165 yards and two touchdowns at one point in the first half. And … glad you're enjoying Falcons Audible, too. Haha – Don't worry about those two "ganging up on me." I'll push back when I have to, Danish! Appreciate your feedback! Yes, there was one episode where things got a little, uhh, awkward but everyone is just feeling their way around. I think the chemistry is getting better with each passing episode.