Welcome to Straight from the 'Beek! The Falcons and Bengals will square off Sunday at Mercedes-Benz Stadium and you've got a few questions this morning. So, I've decided to whip up a special Saturday edition of Straight from the 'Beek for all of the die-hard Beekers out there. You guys rock! Just remember all opinions here are mine unless otherwise noted.
Let's do this – and then go watch some college football. West Virginia and Texas Tech play at noon ET, so I'm going to take your 10 best questions right now.
Nick from Jacksonville, AL
Sunday will be my first Falcons game in person after being a fan my whole life. Nothing could make it better than a win. How much of a chance do we have to win?
Matt: That's awesome, Nick. Hope you have an awesome experience at Mercedes-Benz Stadium. Make sure you get there early and walk the concourses. Be sure to check out all of the restaurants and different views, too. As far as the Falcons' chances of winning go, well, the so-called experts seem to think they're very good. If you click here, you'll see that most of the major news outlets are picking the guys in the Red and Black. I think the Bengals are very balanced offensively and will pose a tough challenge. I also think Cincinnati is tough along the defensive front with Geno Atkins and Carlos Dunlap. In the end, however, I think it'll be a close game with the Falcons pulling away for a win. Something like Falcons 27, Bengals 24.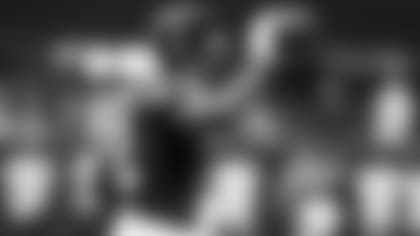 Adam from Plattsburgh, NY
Thank you for the steady read, Beek. How do you think Sanu does in the game tomorrow against his former team? I think with more teams keying in on Ridley and Julio he should be able to push out a few dominant performances in the slot. I was at Houston for Super Bowl 51 all the way from the North Country. Here's to taking it one game at a time with hopes we can get some satisfaction this year in February. Keep up the good work.
Matt: Hey, being from Upstate New York, I can honestly say you are truly from The North, Adam (a "Game of Thrones" reference for some you GOT fans). And in case you didn't know, Plattsburgh is a stone's throw away from Canada. I think with Calvin Ridley's emergence it only opens things up for Julio Jones, Mohamed Sanu, Austin Hooper and everyone else in that offense. If teams continue to double-up Jones, that means someone's either going to be open or in single coverage a lot of times. I think Sanu could have a nice day if they can get the running game going and protect Matt Ryan. And you're right, all the Falcons have to do is take it one game at a time. They're two plays away from being 3-0. But he reality is that they really need a win right now.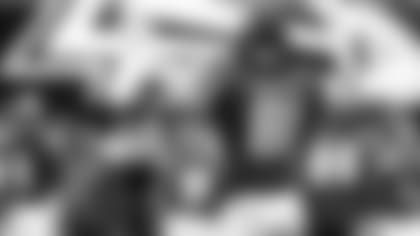 Landon from Oklahoma City, OK
Hey, Beek. I was wondering why the Falcons haven't invested in a great TE in some time now. I believe it's been five years since Tony Gonzalez. Hooper is continuing to improve (still very young, too) but I feel like this offense has been missing a great TE presence for a while now. Guys like O.J. Howard, Njoku, or even Mark Andrews would have been great additions. I know the first two guys were first-rounders and we had needs elsewhere at the time, but do you think that is an area we will likely look to improve on in the offseason or will we continue to develop Hooper and go from there?
Matt: There's no reason not to stick with Austin Hooper right now, Landon. If you missed this story I wrote on Hooper back in August, check it out. Heading into the season, Hooper caught 49 passes for 526 yards and three touchdowns in 2017 – and improved in virtually every single statistical category last year except in touchdown catches, hauling in three for the second year in a row. His arrow is pointing up and he'll only get better. Quarterback Matt Ryan seems to think so, anyway. "Well, he's gotten a lot better," Ryan said. "A lot more polished. His first two years, he was productive. I think he got like 45 catches or something, similar around that last year. While it's not a huge, huge number, with the other guys that we have, it's a pretty good fit for our system."
Nick from Snellville, GA
Hey, Beek. With Keanu, Rico and Debo out, our defense predictably had to revert to base coverages, and as a result, Drew Brees picked our defense apart. I'm confident with more practice, our defense will eventually get back to more aggressive coverages. How long do you think that process will take?
Matt: Hey, Nick. Just keep in mind that Drew Brees does that to most teams, not just the Falcons. Hopefully when he faces Atlanta again on Thanksgiving Day the team is much healthier. That said, don't be discouraged. The Falcons didn't help matters by missing double-digit tackles, either. That doesn't happen often. I think this unit will only get better, especially once players start returning from injury. Deion Jones can return in Week 10, when the Falcons host the Cowboys. And Takk McKinley is expected to play Sunday against the Bengals. That'll help.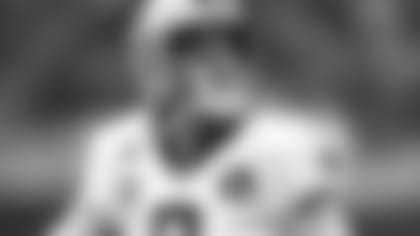 Charles from Atlanta, GA
Hey Beek! Amazingly, you posted the rebuttal from the gentleman from Evans, Ga., about Matt Ryan! Proves that you don't shy away from the tough ones! I actually agree with his assessment of our defense, especially our D-line's lack of pressure, but to say that Ryan is terrible is asinine. I'm sure he's like most fans and frustrated that we couldn't pull it out against the Saints. I personally think the defense will be serviceable, though you can't easily replace the losses we've had, so ... the offense will have to shoulder the load of this team for the foreseeable future, which means we'll need to take advantage of most opportunities to score and hope for the best from our defense!
Matt: No, I never shy away, Charles. And I agree that the offense will need to carry this team some – and score some points. Normally you'd expect to win when scoring 37, but Drew Brees is a special quarterback. That said, if the Falcons can generate some pressure up front, that will help the back end in a lot of ways. Hopefully they can get it done. Thanks for writing in and for your comments!
And speaking of the gentleman from Evans …
Clint from Evans, GA
Beek, you are a great debater. I love trading different viewpoints with you. Thank you for what you do to all of our Falcon Fans and Loyal Beekers. I do think the overtime rule needs to be re-worked. I do like your idea of the college overtime format, but why don't we play an extra quarter of football for 15 minutes. That would give both teams an equal opportunity to score. I totally disagree with the current format. If they are going to stick to that format, they might want to just flip a coin and winner takes all. Hopefully they will fix the hits on the QB, too. The way the NFL is going, in a few years we will be playing professional flag football. Your thoughts?
Matt: I'm glad we can agree on some things, Clint! Look, I think the NFL is doing its best to cut down on cheap shots and needless injuries – and I'm all for that. I think we should continue to be patient when it comes to the roughing the passer calls – they know they need to be more consistent and it'll take a little time. That said, I don't think players can change direction once they leave their feet and I definitely don't think referees should start trying to judge intent. That's a slippery slope, if you ask me. Let's all just hope this becomes a non-issue soon. I think we all know what a cheap shot looks like – and those need to stop. But football is a contact sport and guys (see quarterbacks) are going to be hit.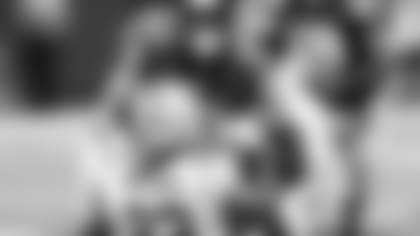 Ty'Jha from Augusta, GA
Do you think that with so many Falcons players being hurt and/or placed on IR that there's anyway in hell we can make it to the playoffs and compete? If so, why? Oh, and do you think it's possible that a trade for a DB is inevitable with so many injuries to the defense? If so, who do you like?
Matt: Hi, Ty'Jha. Yes, there's a ton of football left to play. The Falcons are only 1-2 and 1-1 in their division. There is no need to panic whatsoever right now. All of their goals are still intact. And right now, no, I do not see them trading for a defensive back. Remember, they drafted Isaiah Oliver in the second and he has all the tools to be a very good one. Right now he's just lacking experience – and he's about to get a lot more in the coming weeks. Stay tuned.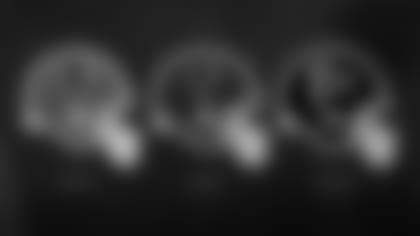 Anna from Atlanta, GA
Hi, Beek. There's been a lot of discussion here about the uniforms lately, which color combinations looked better and all of that (I prefer the red helmets, by the way!), but I was wondering how the Falcons get their nickname in the first place? I know it's a random question, but do you know how that came to be? Thanks!
Matt: Hi, Anna. Thanks for writing in – and I prefer the red helmets, too! I have a funny feeling that you might know the answer to this question because today – September 29 – is actually the birthday of the Falcons nickname. I am not kidding! Here's the backstory. After previous owner Rankin Smith bought the team, they held a contest to determine the name of the new franchise. As it turns out, several people actually came up with the suggestion to call the team the Falcons, but Julia Elliott, a teacher from Griffin, Ga., was declared the winner because of her explanation behind the name. Elliott wrote: "The falcon is proud and dignified, with great courage and fight. It never drops prey. It is deadly and has a great sporting tradition." So, exactly 53 years ago today, the franchise was branded the Falcons – all thanks to a schoolteacher from Griffin! Thanks for the question. Perfect timing and ... Happy Falcons Day!
Anthony from Palmetto, FL
How are the Falcons going to deal with the major injuries on defense? Is it true the Falcons want Earl Thomas? How with the Falcons step their game up in the end zone?
Matt: The Falcons will not change the way they play, Anthony. They will stick their scheme and philosophy on defense – and remain aggressive. They will move some guys around and others will see a whole lot more playing time – see Damontae Kazee, Brian Poole, Jordan Richards, Foye Oluokun and even Isaiah Oliver. Do not look for the Falcons to make a big-time trade, either. They're committed to the guys they have now and also want to re-sign some others in the near future. The best thing they can do to compensate for some of the losses, in my opinion, is get to the quarterback and force some turnovers. That'll help the back end and keep this unit rested and off the field. More importantly, it will be that potent Falcons offense back on it – to score points.
Da'Vonte from Douglasville, GA
Hello, Beek. Before I ask my question I just wanted to say I hope you are having a great day. My question is why do you think Vic Beasley hasn't developed a counter move? It seems that his only way of rushing is to speed past the OL and if he can't do that he gets stood up. I'm not sure if it is because of his weight, but he cannot be a Ricky Bobby rusher forever. Can he?
Matt: Thanks, Da'Vonte! I hope you're having an AWESOME day as well! You're right in that Vic Beasley's biggest asset is his speed – and when he gets a jump on the snap, boy, offensive linemen have a tough time dealing with him. He does have other moves in his repertoire (he's not a one-trick pony, a la the Ricky Bobby reference), but he's also been asked to do different things on the end in the first few games. I'm like you and would love to just see him pin back his ears and go after the quarterback more.