Welcome to Straight from the 'Beek! The Falcons are just a couple of days away from their showdown against the Bengals at Mercedes-Benz Stadium – and you've got questions. Just remember that all opinions here are mine unless otherwise noted.
Jacob from Grayson, GA
Hey, Beek! Now seeing how the Falcons have moved some players around, how do you think the defense will be able to perform against the Bengals' offense? And do you have a score prediction for this upcoming game? Keep up that awesome work on SFTB!
Matt: Thanks, Jacob. I think one of the biggest challenges the Bengals offense poses is the fact that it's balanced and has playmakers all over the field. It's not one-dimensional, pass-heavy or run-heavy for that matter. I think the Falcons' defense will have to account for A.J. Green at all times because he's a big play waiting to happen. They have other capable receivers in Tyler Boyd and John Ross, but neither are as dangerous as Green. They have a very good tight end in Tyler Eifert, too. Running back Joe Mixon might not play, but Giovani Bernard (pictured below) will, and he had career-high 169 scrimmage yards — 90 rushing, 79 receiving — in the Bengals' 24-10 win over Falcons at Paul Brown Stadium back in 2014. Has a lot changed since then? Sure, but my point is that Bernard is still a decent running back. Andy Dalton had some tough breaks against the Panthers last week but he's still a very good quarterback. The Falcons will have to account for Green and play disciplined defense – and generate as much pressure on Dalton as they can. As far as a score prediction goes, I think this one will be close, Jacob. Falcons 27, Bengals 24.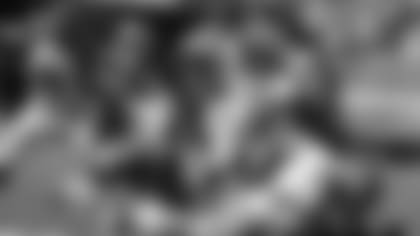 David from Haddock, GA
Don't you think the NFL should revisit the OT rules? Why can't both teams have a chance to score even if it is a TD? Both teams get a chance if the first score is just a field goal so why not, no matter how they score. Both teams should get a chance.
Matt: I've said it before and I'll say it again: I think both teams should get an even amount of offensive possessions in overtime until one team has scored more points. I know the league is cognizant of the length of the game, too, especially on a short week. I'm a fan of the college overtime rules – I think it makes those games so exciting. I've never been a fan of just one possession (should that team score a touchdown), or sudden death – which is also a bizarre term, by the way.
Damian from Chicago, IL
When a player is put on IR are there league rules that prevent them from being in meeting rooms and other team activities throughout a game week or are they encouraged to just focus on their recovery? Thanks, as always, and Rise Up!
Matt: Hey, Damian. Thanks for the question. Players are not allowed to practice but they can certainly attend meetings and be around the team when they're on injured reserve.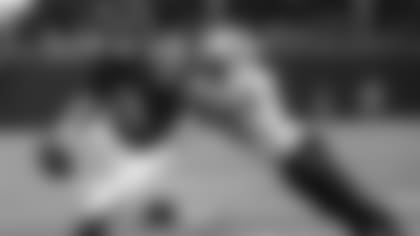 Clint from Evans, GA
Beek! I noticed in the last couple of posts that my fellow Beekers have made a reference to some of my negative comments. I love it. No brag, just facts here. I see things the way they are, not through rose-colored glasses. Our defense is what it is, mediocre. DQ talks about getting more pressure on the opposing QB, but unless someone waves a magic wand and makes them more physical and faster, it's not happening – unless we play a smaller front four. All this hoopla about Takk coming back will be good for us, but we are setting ourselves up for failure, if we think he is the missing link. Beek, to address your rebuttal about Matt Ryan, I did not question his game performance, it was one of his best. But in a key fourth-quarter situation, in a drive that he could have won it, he choked – whereas Brees delivered in two key back-to-back possessions.
Matt: Hey, Clint. Everyone is definitely entitled to their opinions, especially in this space. There's not filtering, but I can only get to so many questions every morning. That said, you should really take the fact that the team has sustain a large number of injuries – and was missing two Pro Bowlers and its starting defensive end against the Saints. And totally disagree with you on Ryan, again. On a day where he completed 26-of-35 passes for 374 yards and five passing touchdowns for a 148.1 QB rating, it's ridiculous to say he choked. The five passing touchdowns were also a career-high for most passing touchdowns in a game and tied Wade Wilson's single-game franchise record for most passing touchdowns. Ryan also surpassed Joe Montana for the most passing touchdowns against the Saints in NFL history. A lot of other factors played into how the game played out. I think most fans can see that. And to not, in their opinions, seemed a bit negative. Thanks for writing in.
Byron from College Park, GA
Hey, Beek! Thanks for your column! Our defense is pretty banged up, huh? But with the way our offense has played the last two weeks, I think we will be OK if our defense can step up the pass rush a bit. I'm looking for Takk and Beasley to make a big statement against Cincy. I think this game is a must-win. We can't afford to fall to 1-3 and have any hopes of the playoffs. If we can get into the playoffs, we can bang with anyone. What do you think?
Matt: I don't think anyone wants to fall to 1-3, Byron. But if it did happen, the season would not be over by any means. Remember last season when the Falcons started off 3-1 and then went 1-3 over their next four games? They recovered and returned to the postseason. And speaking of the playoffs, yes, all you need to do is be in it to win it. One other historical note for you to chew on: six wild-card teams have gone on to win the Super Bowl. Do you remember which teams have done it? Here you go:
1980 Oakland Raiders, won Super Bowl XV
1997 Denver Broncos, won Super Bowl XXXII
2000 Baltimore Ravens, won Super Bowl XXXV
2005 Pittsburgh Steelers, won Super Bowl XL
2007 New York Giants, won Super Bowl XLII
2010 Green Bay Packers, won Super Bowl XLV
The Giants finished the regular season with a 10-6 mark and won it all – against a Patriots team that finished the year with a 16-0 record. The Redskins also made the playoffs that season as a wild-card and they finished a 9-7 record. And for what it's worth, the Buccaneers won the NFC South that year with a 9-7 record. So, yeah, all you have to do is get in – because anything can happen.
Be sure to check catch Matt Tabeek, D.J. Shockley and Dave Archer every week during the season in the Falcons Audible podcast presented by AT&T.
Listen and subscribe to it on iTunes: _Click here_
Watch it here on AtlantaFalcons.com: _Click here_
If you have a question you'd like to submit you can choose one of the following:
email Straight from the Beek: _Click here_
Call the Falcons Audible line (leave your name, city and keep it brief): (470) 341-4177