Welcome to Straight from the 'Beek! The Falcons are deep into their game preparation for the showdown Monday night against the New York Giants – and you've got plenty of questions in the meantime. Just remember that all opinions here are mine unless otherwise noted.
PJ from Gainesville, GA
What's up with Calvin Ridley? How long will he be out?
Matt: Hey, PJ. Calvin Ridley hurt his ankle during the Falcons' win over the Bucs. As of right now, all we know is that he was held out of practice on Thursday, along with Mohamed Sanu (hip) and Matt Bryant (hamstring). Bryant has been ruled out for the Giants game on Monday night. I wish I could tell you more about Ridley, but can't. I just don't know yet. Having the extra day to heal will help the Falcons but stay tuned on that front.
Tim from Leinefelde, Germany
Hey, Beek. The trade deadline is near, and I could see some opportunities in trades. Maybe we should trade for Dante Fowler Jr., who is just backup or the Eagles D-line Timmy Jernigan who is just backup, too. Or an edge rusher – they got Michael Bennett, Derek Barnett and Brandon Graham, maybe trading for one of these players. Could that be realistic, or do you see another big trade for the Falcons? And what is your prospect in next year's draft? I would pick Devin White or Devin Bush for OLB. Regards from Germany and thanks for your hard work for the brotherhood. RISE UP!
Matt: Hey, Tim. Always good to hear from you! I really do not see the Falcons making a trade prior to the NFL's deadline, which is 4 p.m. ET on Oct. 30. They drafted, signed and believe in the players they have on this roster – right now. And they also anticipate getting players like Grady Jarrett, Derrick Shelby and Deion Jones back in the coming weeks. Jarrett and Shelby could be back in time for the Giants games on Monday night. The Falcons really liked their defense coming into 2018 and before the injury bug hit hard. They'd like to keep that group intact, and trading for any player would mean A) taking on that player's salary and cap hit, B) a corresponding roster move and C) possibly preventing them from re-signing one of their up-and-coming stars that's up for a new deal. I just don't think they'll mortgage the future in order for a quick fix. Now if they can trade for someone who won't affect all of that and will be an upgrade over at a certain position, then maybe. But who would that be? As far as the NFL Draft goes, I've been asked about that the last two or three days. If I had any say in it (which I do not), I would go defense, Tim. As I noted in a previous SFTB, the prospects who have my attention right now are defensive tackles Ed Oliver (Houston), Jeffery Simmons (Mississippi State), Raekwon Davis (Alabama) and Rashan Gary (Michigan). Defensive ends Nick Bosa (Ohio State) and Clelin Ferrell (Clemson) are likely first-rounders, too. Thanks for the questions.
John from Vermillion, SD
A 10-game projection before are big Monday night showdown? You're doing this to spite me, right Beek? LOL! Well, I guess there is also a reason why you're not a Patriots/Bill Belichick beat writer! LOL! One game at a time, Beek. To be totally honest I'm very superstitious, what works for me may not work best for everyone else. As long as they bring the loudest, craziest version of themselves to the Giants game, I'm cool with it!
Matt: John, have you not read what I've written here? I've said repeatedly that the Falcons cannot win them all at once, that they must take it one game at a time – that's what the coaches and players will always do. I've also said that things constantly change week to week in the NFL and that there is no point in trying to predict what's going to actually transpire two, three weeks from now. However, that is different than merely looking at the schedule – and the teams' records. There is a path to the postseason for the Falcons; they have not been mathematically eliminated by any means. It's way too early. As far as your remark about the Patriots and writing for that site … maybe you should take a closer look at it sometime. They actually have a piece out this week and it mentions the Falcons, looking ahead at a possible playoff push. Don Banks writes, "Atlanta has a Monday night home game next week against the reeling Giants, then gets a bye in Week 8, followed by winnable road dates at Washington and at Cleveland. So there is still time to get back over .500 by mid-November, and then see if a playoff-push can take shape." So there you have it. And for what it's worth, I worked at CBS Sports for several years, John. Thanks for writing in.
Dion from Old Bridge, NJ
Hey Beek, I enjoy your articles and representation of the fans' perspective. I also love the Falcons Audible podcast. Dave and D.J. are also great to listen to. I think the biggest issue with the Falcons is the run game – and it has been for a while. I heard you mention it, too. The run game is so important to closing out games and giving the defense some rest. Why is the run game struggling? Why can't the offense pick up a yard in a crucial third-and-1 and keep the chains moving? I know it's more of a finesse zone-blocking scheme but Alex Mack gets a lot of money. Right up the middle should be automatic for a yard. Can and will they run any power plays in the future? Or are they just too light up front?
Matt: Thanks for writing in and for listening to the Falcons Audible (be sure to subscribe and give us a five-star rating, Dion!). Yes, teams must be able to run the football in the NFL. On the flipside, it's the No. 1 priority for every single defensive coordinator every single week: Stop the run. The Falcons have a plethora a skill players on offense who are dangerous in the open field. Their No. 1 running back has been banged up since Week 1 of the season, too. They are not a power team, in my opinion. That's not their identity. But that doesn't mean they can't effectively run the football, either. The Falcons have excellent backs in Devonta Freeman (on injured reserve), Tevin Coleman and Ito Smith. I have a hard time being too critical of that offense though right now. They are absolutely lighting it up. However, if they could run the ball more, they could A) eat up more game clock (and keep the opposing offense on the sideline) and B) keep the Falcons defense on the sideline – and fresh. I know Falcons coach Dan Quinn has said repeatedly that he wants to run the ball more – and with success. Let's hope they can; I think it would really help this team overall.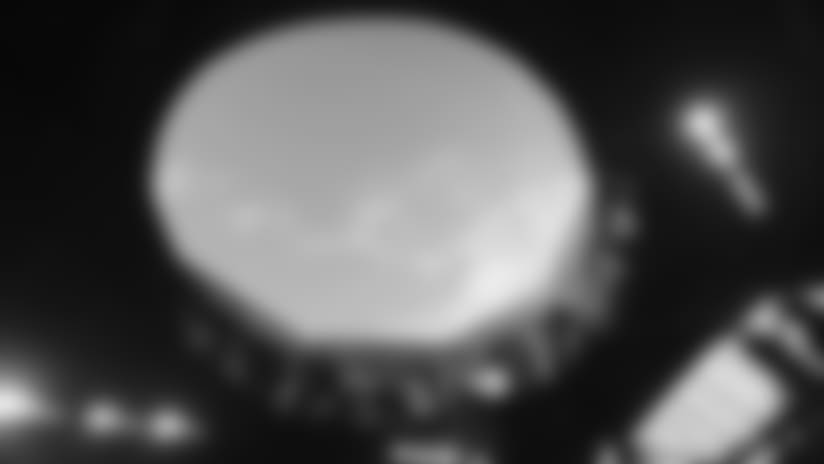 Abner from Duluth, GA
Will the roof at the Benz be open for the Monday night game against the New York Giants?
Matt: Nothing official has been announced yet, Abner. It will all depend on the weather, but I hear there's a decent chance it could be open.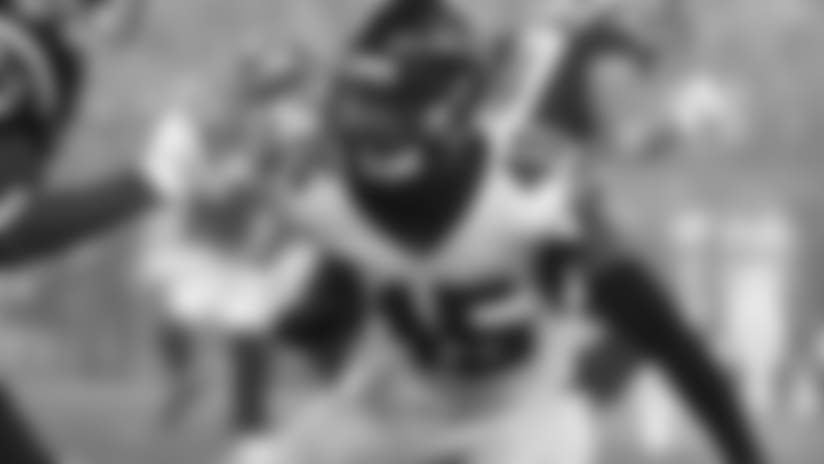 Michael from Lizella, GA
Dear Beek, I have been a Falcons fan since 1973. Living with the ups and down of our team. William Andrews was always a favorite of mine. My question is, will Deion Jones be back after the bye? The defense is beginning to come together, but I would love to see the middle solidified again. Props to the coaches also, thank you.
Matt: Hey there, Michael. Yes, right now the soonest Deion Jones could return to action is for that Week 10 matchup against the Dallas Cowboys on Nov. 18. Until them, the Falcons must make do without him for games against the Giants, Redskins and Browns – the latter two are road games. If they can somehow manage to win those games, they'd be 6-4 heading into New Orleans on Thanksgiving Day. Wouldn't that be something. Have a great weekend, y'all.
Be sure to catch Matt Tabeek, D.J. Shockley and Dave Archer every Monday afternoon on Falcons Audible podcast. Listen and subscribe to it on iTunes, Google Play or watch it here on AtlantaFalcons.com.