Welcome to Straight from the 'Beek! The Falcons are getting ready for their prime-time matchup against the New York Giants on Monday night. It'll be the second NFC East opponent they face this year. The Redskins and Cowboys are coming up in the next three weeks. In the meantime, you've got plenty of questions, so let's get to them. Just remember that all opinions here are mine unless otherwise noted.
Jesse from Smyrna, GA
Can we expect the Falcons defense to improve? Also, can the Falcons run the table?
Matt: Statistically speaking, the Falcons defense is ranked 30th in total yards allowed, 29th in passing yards allowed, 24th in rushing yards allowed and last – 32nd – in total points allowed. Those are sobering numbers. That side of the ball has been hit hard with injuries – Keanu Neal, Ricardo Allen, Deion Jones, Grady Jarrett, Derrick Shelby and even Takk McKinley missed some time. They've had to adjust with a lot of players seeing a lot more reps – all while facing some of the best receiving corps and running backs in the league during the first six weeks. Those aren't excuses, but facts. It won't be a whole lot easier with Saquon Barkley and Odell Beckham Jr. coming up, but the schedule includes the Giants, Redskins, Browns and Cowboys (with a bye week tucked in there) prior to traveling to New Orleans on Thanksgiving Day. Those four won't be easy games, but they're winnable if the Falcons continue to roll on offense and the defense does begin to improve. Will they, you ask? I think so. While certain players are taking on different roles and playing in different spots at times, they're getting more comfortable and gaining valuable experience to learn from. Plus, at some point, they'll be getting Grady Jarrett and Deion Jones back. Can they run the table? Anything is possible, and every game is winnable in the NFL, but all that matters right now for this team is beating the Giants on Monday night. There cannot be any sort of turnaround with a loss to New York. It's that simple.
Vivian from Grayson, GA
Hi, Beek. I hear that the Falcons are calling for fans to wear black. We'll be checking to see if you do, too. So far, we haven't seen your team colors on display at the games. What's up? Love you podcasts! Thanks.
Matt: Haha! Hi, Vivian! Yes, I remember running into you at Mercedes-Benz Stadium prior to one of the games this season. It was great meeting you! And just so everyone here at SFTB knows, Vivian called me out for not wearing any red or black that day. However, I did wear some pink for the Crucial Catch game (see me pictured below with Kelsey Conway of AtlantaFalcons.com). Alright, Vivian, I can tell you're challenging me to hold up my end and wear some black on Monday night. This might require me making a purchase or two at the clothing store, but you're on! See you at the game and glad you're enjoying the podcast! Please go to iTunes, subscribe and give us a nice five-star rating – it really helps!
Bill from Bonaire, GA
Any interest in bringing back the silver britches, red hats, and red jerseys?
Matt: Bill, my late mother would be proud of you (or at least smile) because you used the term britches just now. I think there's a ton of interest from fans to do that – and I certainly would endorse that change 100 percent, Bill. The Falcons pay attention to Straight from the 'Beek – and they hear you fans, loud and clear. But, no, there are no official plans or an official announcement at the moment regarding any sort of uniform change. Not at the moment.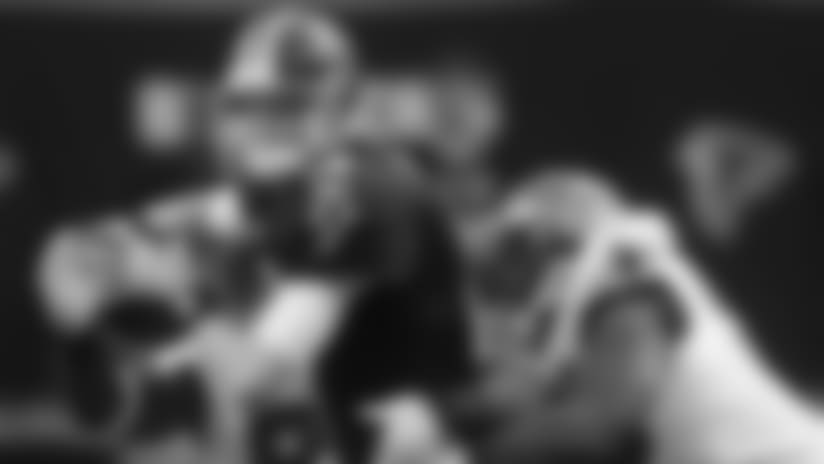 Joseph from East Windsor, CT
Do you think the no-huddle offense that was so effective over the years should be implemented?
Matt: I think the no-huddle offense – or any sort of up-tempo pace – can certainly be effective at times, Joseph. The key is practicing it so it becomes second nature (mentally and physically). Sometimes the game requires a quicker pace, so it's an advantage to be able to run it, especially if a team is short on game clock and/or timeouts.
Aaron from Simpsonville, SC
When we picked up Takk McKinley in the first round in 2017 NFL Draft, I thought for sure with him and Vic Beasley coming off of the edge and with the year that Jarrett had in '16 that we'd be one of the best teams in the NFL that gets to the QB. That just hasn't happened. Beasley doesn't seem to be half the player he was in '16 and it seems that Takk and Jarrett just disappear at times as well. We seem to only get to the opposing QBs when we blitz. Would you take a DT in the upcoming draft or at CB where it seems like we have major covering issues this year?
Matt: I totally get where you're coming from, Aaron. And you're not the only one who was optimistic about this defense and its potential heading into the 2018. Just check out this #beekpoll I ran back in July:
About 76 percent of the 2,672 people who voted predicted Vic Beasley and Takk McKinley would combine for at least 15 sacks – and more than 30 percent predicted at least 20 sacks. Right now those two have combined for six sacks, five of those by McKinley. But no one predicted the amount of injuries this unit would sustain, to be fair. With Grady Jarrett returning to practice today, there's a good chance he'll be on the field against the Giants. I still think this team will pick things up defensively moving forward and more sacks will come – provided there are no more ridiculous injuries. Let's not write off those 2018 goals just yet! Now, regarding the draft, yes, I would definitely go defense and I would definitely target the best defensive tackle or defensive end, depending on where the Falcons end up picking. I don't think any team can have enough pass rushers or just guys who can wreak havoc in the trenches, a la Fletcher Cox. I want those guys on my team, anytime and all the time. There's a reason why they say defense wins championships. It's true.
Brandon from West Valley, UT
Hey, there! It's me again, first I want to say how happy I am that we won! #WEFLYHIGH #DIRTYBIRDS #ATL #RISEUP! I will always be rooting and supporting our team win or lose! That's what true fans should do. Look at the Browns, or Eagles, they have some die-hard fans losing 13 in a row yet staying out in the freezing cold snow storm and all still rooting for their team! That is a true fan. With that being said, I understand the frustrations, however, being upset or negative should feel right at the moment but get passed it and move to the next game. Anyways, now for you ... Haha. So, we did win the Tampa game, what happened on your podcast? I thought someone was supposed to eat 'W'?! Tisk Tisk. Hope the next one he stays accountable and owns up to what ya'll said if we won Tampa! Haha. Always good to hear your podcast and insight on things. I love hearing all of you and the opinions. Also, I love this column! Thanks for everything. RISE UP
Matt: Thanks so much for reading, listening and the feedback, Brandon! Actually, Dave did eat a 'W' off the set but we didn't include it because it was kind of messy and awkward. But he did, trust me on that.
Gary from Virginia Beach, VA
Morning, Matt. Just got through looking at "Power Rankings" and usually I look for the Falcons and comments made about them. I think they are fun to read but they also seem to be indicative of current state of play in the NFL. But today something different got my attention. I noticed that the four teams we lost to are all in the top ten of the power rankings. New Orleans which was a game we could have won is #4; Philadelphia which was another game we could have won is #6; Cincinnati which was a game we could have won is #7; Pittsburgh which was a game where we got spammed is #9. So not only were we in games that could have put the Falcons at 5-1 but these are teams that are playing really good right now. If we can just tightened up on defense and keep the offense rolling, we can go on a really good roll.
Matt: Whoa, whoa, whoa, Gary. I'm not sure what so-called power rankings you are referencing here but they are clearly not the Wildly Important NFL Power Rankings (see below) – quite often the very first ones out on the internet every Tuesday morning! Take a look at these and then get back to me please, sir. Thanks for writing in!
Be sure to catch Matt Tabeek, D.J. Shockley and Dave Archer every Monday afternoon on Falcons Audible podcast. Listen and subscribe to it oniTunes, Google Play or watch it hereon AtlantaFalcons.com.