Welcome to Straight from the 'Beek! The Falcons players have the day off and then will soon turn the attention toward the New York Giants, who will visit Mercedes-Benz Stadium on Monday night. In the meantime, you have lots of questions. Just remember that all opinions here are mine unless otherwise noted.
And away we go ... but first, a question for you:
André from Fort Valley, GA
Hey, what's up Beek? I would like to first make a statement to all the temporary fans, by saying, I'm an Atlanta fan no matter who leaves or how many games they lose. I understand concern being expressed with a little constructive criticism, but to say, "I'm hanging up my jersey" means you were never a real fan and you are peacefully free to go. Now my questions are as follows: (1) Seems to me that even with all the injuries and miscommunication, we still have legitimate chances to finish a game without letting it come down to the last drive, but there's always only one half of football being executed efficiently. In my opinion, it's conditioning that isn't being taken care of. Maybe requiring a two-lap run or jog before every practice or going back to high school tactics and requiring run consequences for lack of milestones completed at practice. What is your professional take on this? (2) I love how Ryan is starting to get out the pocket and run and looking off the defense more effectively rather than staring down his predetermined target. My opinion for his personal coach is he should work on pump faking and other minor things to further distract opponents and he could be in the conversation with Tom Brady, Drew Brees and Peyton Manning. What is your opinion on this, if any?
Matt: Hey, Andre. Thanks for writing – and I think a lot of Falcons fans would agree with your take on fair-weather fans. I honestly don't believe it's conditioning. When teams are behind, they're often more aggressive, especially at the end of games when it's close. And it's not only the Falcons who find themselves in close games – just look at the scores from around league every week. There are a ton of close games – so many of them seem to come down to five to eight plays each week. Matt Ryan has always been an elite quarterback in my opinion, but he is playing really well right now. He's the type of player who seems to always be looking for ways to improve, despite his accomplishments. That's what makes him great. And I already put him up there with the great ones – but many won't until he wins a ring.
Bilal from Stone Mountain, GA
Do you think the Falcons still have a chance to make it to the playoffs?
Ray from Asheville, NC
Hi, Beek. I can honestly say that this season has been a really strange one so far. We could easily be 5-1 rather than 2-4. We have a QB who continues to deliver, there is no quit in this team, and Julio Jones is not only a threat offensively but defensively, too. If Matt Bryant doesn't play against the Giants who will our placekicker be? Of all the players on the team, Bryant is like "Old Faithful" and his presence will be missed.
Matt: Hey, Ray. All we know regarding Matt Bryant's playing status for "Monday Night Football" against the Giants is what Falcons coach Dan Quinn told us – and that it's unlikely he will play. In case some of you were under a rock and missed it, Bryant injured his hamstring during a 57-yard field goal late in the Falcons' win against the Buccaneers. Quinn said the Falcons will likely add somebody to the roster in time for Thursday's practice. Among the kickers the Falcons are looking at is Giorgio Tavecchio, who spent time with the team during the preseason. Regardless, no one will be able to fill "Money" Matt Bryant's shoes. Let's hope he gets healthy in a hurry.
Sloane from Melbourne, Australia
G'day, Beek. Nothing better than a divisional win. I must say that I think I would have burst into tears if the Bucs had of manufactured a TD with all that improvising on the last play. I am not writing off divisional success, however the Saints are running hot. How many games do you think will be needed to wrap a wild-card spot this year? Keep up your good work. #Riseupdownunder
Matt: Great to hear from you again, Sloane. Yes, division win are always crucial – and, as we found last year, so are conference wins. Right now the Falcons are playing catch-up but everything is still on the table, too. I don't have a magic number, but they do need to keep winning. Who knows what will happen with the Saints and Panthers in the meantime. If Atlanta can win its next four games, it will go into New Orleans with a 6-4 overall record and a 2-1 division mark. If the Falcons can do that and then pull out a win, they'll be sitting at 7-4 overall, 3-1 in the South and 6-2 in the NFC. That, my friend, is also known as the driver's seat.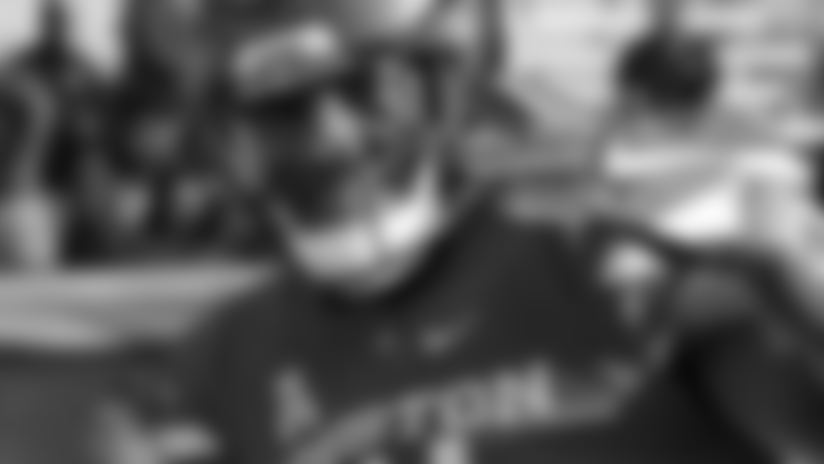 Kenyon from Cayce, SC
Hey, enjoying SFTB and the feedback. My question is on our defense and the draft. With the way our defense has played and the injuries that occurred, do you feel we should add depth with some promising players in the draft? In my opinion we could use more help at linebacker and some more pass rush to get the ball out of the quarterbacks' hands quicker. Maybe in the offseason we can sign a good player valuable to the defense. If so would you have any suggestions? Rise up Falcons!
Matt: Love the draft questions, Kenyon. While some of my colleagues think it's too early to be talking draft, I disagree! Look, in order to be successful in this league, teams must be strong – check that, dominant – in the trenches. Games are won and lost up front, along the offensive and defensive lines. If you can't block, you can't pass or run. If you can't put any pressure on quarterbacks, they'll pick you apart at this level – and I don't care who is sitting in the pocket. I think you can see where I'm going here, right? Get me some dawgs, some maulers, guys who will wreak havoc up front, Kenyon! I'm not saying the Falcons don't have a few now, but they could use some more – especially some game-changers. Those guys will make their teammates playing behind them so much better. I'd go defense right now and the prospects who have my attention right now are defensive tackles Ed Oliver (Houston, pictured above), Jeffery Simmons (Mississippi State), Raekwon Davis (Alabama) and Rashan Gary (Michigan). Defensive ends Nick Bosa (Ohio State) and Clelin Ferrell (Clemson) are likely first-rounders, too.
Rebecca from Woodstock, GA
Hi, Matt. I don't really have a question just want to say that I love the Falcons. Sunday's game was great. I 100 percent agree with you about one game at a time, just like living life one day at a time -- that in both aspects is enough to handle. Looking forward to "Monday Night Football" and supporting the Falcons. RISE UP. I so much enjoy your work and effort you give us Falcon fans.
Matt: Thank you so much, Rebecca! I really appreciate the kind words. You can't win 'em all at once, right? See you on Monday.