After four straight days of practice, the Falcons players are taking Tuesday off and training camp will resume Wednesday morning. In the meantime, you've got plenty of questions – so let's get right to them. Remember, all opinions here are mine unless otherwise noted.
Also, if you want to talk about some topics that we haven't covered or just have some general thoughts you want to get off your chest, send them my way and we'll discuss it here.
Good morning, Beek! I just had a couple of questions to ask, like how is Austin Hooper coming along? Do you see him taking advantage of the mismatches that these receivers will demand? Which rookie has your attention at this point in camp? And who do you expect to make an immediate impact for the team?
Matt: Hey, Daniel. Wow, some good questions there. If you've read this space at all during the offseason, especially during free agency, you know that I've pointed out countless times that all Austin Hooper has done in his first two seasons with the Falcons is improve – in virtually every single statistical category. The only area he didn't go up in is touchdown receptions (he's scored three each year), and that needs to improve. Keep in mind, too, that Hooper is young – he's only 23 years old. My point is, the arrow is pointing up for him; he's got a ton of upside and I think he's only going to get better. You're right about the offense, Matt, there are a lot of weapons who will create some mismatches and it'll be up to Matt Ryan to find those open receivers and make defenses pay. With Julio Jones, Mohamed Sanu, Calvin Ridley, Devonta Freeman and Tevin Coleman out there running around (just to name a few), Hooper must take advantage of every single opportunity that comes his way. The more he does, the more Ryan will likely look his way. And that'll just create more headaches for opposing defenses. I think Hooper can do it and so far in camp he's looked pretty good. It's too early to start making any sort of projections regarding the rookies, but some are hard to ignore. The one player I'm most intrigued with so far is cornerback Isaiah Oliver because of his size, length and speed. It'll be interesting to watch him learn and adapt to the speed of the pro game. I think he has the tools to be a Richard Sherman type of a corner, but, again, it's really early. And as far as making an immediate impact, I'll go with Calvin Ridley here simply because he's a skill-position player and will get the ball in his hands more often. Keep an eye on Deadrin Senat, too.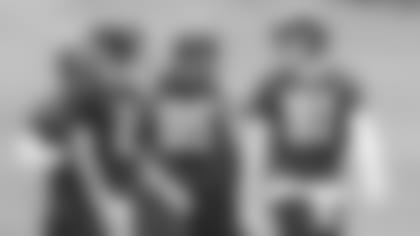 There is a lot of chatter around Steve Sarkisian and his play calling. Do you think he will be on the hot seat if the offense starts slow?
Matt: No, I do not and here's why. Should the offense get off to a slow start, I think it'll have to do more with the who the Falcons are playing in those first five games than the play calling, Derrell. Think about that opening slate for a moment: The Eagles, Panthers, Saints, Bengals and Steelers. Four of those five teams won at least 11 games last season, including the Eagles and Steelers, who finished 13-3. Cincinnati went 7-9, in case you forgot or didn't know. Now, do I think the Falcons offense will get off to a slow start? No, I don't; not if everyone is healthy heading into the regular season. By the way, I answered your question during one of my pre-camp videos recently and you can listen to my response here at the 1:44 mark (below), Derrell.
Hey, Beek. I can't say how excited I am to see this young defense dismantle our opponents' offenses. From our front line to our defensive backs, I think we are poised to have an awesome year (knock on wood). I am also glad to see Vic "Beastley" move back to defensive end, this is going to open so many doors. The other thing that I enjoy watching is No. 22 Keanu Neal, who I might say reminds me a lot of a young Ronnie Lott. It's one of those things where you hope someone slips through the cracks just to watch him lock in and take them out. I guess my question for you is, with what we have on defense do you think we could be the next Doomsday Defense (pictured below)?
Matt: Wow, it's been a while since I've heard (or read) anyone bring up that Cowboys defense from the late 1970s and then Doomsday II in the 1980s. Harvey Martin, Randy White, Bob Bruening, John Dutton and Ed "Too Tall" Jones – I remember them well, Matt. They were fun to watch, especially the Manster. Look, the way you earn nicknames like Doomsday, the Steel Curtain and the Legion of Boom is by dominating consistently and winning at the same time. The Cowboys had a run of 20 consecutive winning seasons and a couple of Super Bowl titles under the late Tom Landry. The Steelers and Seahawks also enjoyed Super Bowl runs thanks in large part to their suffocating defenses. I think the Falcons have a nucleus in place for a defense that could be special; we started to see it come together last season. But they've got to prove it on the field by wreaking havoc – creating turnovers, getting to the quarterback, being stingier in the red zone and doing it on a consistent basis. In his pre-training camp press conference, coach Dan Quinn identified two areas where the Falcons must improve in if they want to take the next step: turnover ratio and overall consistency. If they can achieve that – oh, and win – then this defense could very well carve out its own place among the great defenses of all time. So, I have to ask … do you have a nickname in mind for these Falcons?
Hi, Beek. Not so much of a question but more of an observation, if you will. Now that Julio Jones is back in the house, things are really looking up for this team. An old proverb came to mind: "To win a thousand battles is good but to win the one battle over ourselves is great." RISE UP!!!
Matt: I've read that saying before, Dan, or at least something similar to it that goes "It is better to conquer yourself than to win a thousand battles." Correct me if I'm wrong, but I think your point here in the case of the Falcons is to focus within, to focus on the team and not what everyone else is doing (or saying). And by and large, the Falcons try to do that. Just listen to Dan Quinn some time, Dan. He constantly talks about finding ways to be the best version of yourself. And if everyone can do that and, at the same time, come together working toward a common goal, think about how powerful that could be. That's the goal for any team. Wow, who says we don't have any deep thoughts here in Straight from the 'Beek? I think we just went deeper than Jack Handey from "Saturday Night Live."
Great to have you back in the mix, Beek! Your insights on all things Falcons are extremely helpful. My question has to do with Takk McKinley. Shoulder issues (right last year, left this year) concern me. I even read an article recently that had his name and the PUP in the same sentence! I had no idea that was even a consideration for him. He is such a key piece of our defense and his ability to rush the QB is a difference maker. What do you hear on his status? Will he be held out of training camp and work with the trainers on the sideline as he did in offseason workouts or actually be a full-time participant? Thanks again for your insights.
Matt: Hey, Jim. Training camp can be a real grind. It's quite common for players to sit out from time to time for precautionary reasons – or simply to rest. If you've ever been stepped on (by someone wearing cleats), sprained an ankle, or just twisted something the wrong way and couldn't compete at a high level and needed a rest, you know what I mean. I'm not making any excuses whatsoever, but when you think about training camp, preseason and the regular season, the NFL season is a marathon and players have to pace themselves. My point is, every time you see a player sit out a practice or two during camp, don't over react or overthink it, Jim. Until you hear something official from the club, it's likely speculation. Regarding Takk McKinley, he's going to be fine and coach Dan Quinn said it was "nothing serious."