FLOWERY BRANCH, Ga. — It's time for the Dirty Birds to fly across the pond.
The Atlanta Falcons will depart Atlanta on Thursday afternoon and arrive in London come Friday morning. A direct flight is little more than eight hours long. But there's a five-hour time difference between the two cities, with the international one ahead of the home base, that will really throw internal clocks for a loop.
"I know how it is once you get across the pond: As soon as we land, we'll go and practice to kind of get our bodies adjusted to that time," Falcons safety Jessie Bates III said. "But, at the end of the day, I think our mindset on this team is: Put the ball down anywhere, anytime, we'll be ready to play."
For the Falcons' Week 4 game against the Jacksonville Jaguars, anywhere just happens to be Wembley Stadium and anytime is 2:30 p.m. locally in the U.K. but 9:30 a.m. back in the U.S. Both teams will have Friday and Saturday to adjust and prepare.
The Falcons have played in London twice before, going 1-1. Atlanta most recently defeated the New York Jets at Tottenham Hotspur Stadium in 2021. Going further back, the Falcons lost to the Detroit Lions at Wembley Stadium in 2014.
A fair bit of the veterans in Atlanta have played overseas, whether with the Falcons or another team.
"It's a cool experience because you get fans that love the game in another county," said defensive lineman Grady Jarrett, who went in 2021 with the Falcons. "But they're going to rep every jersey that the NFL has got to offer. They're going to be cheering just because. Some people know what's going on. Some people might just be learning. But the fact that they show up to an NFL game and I get to be a part of it — me and my teammates get to be a part of it — is something that we'll remember forever."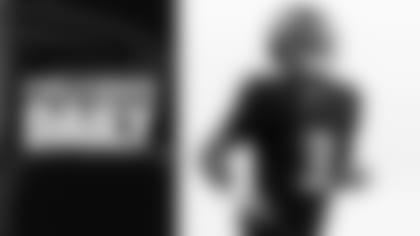 Said Bates, who went in 2019 with the Cincinnati Bengals: "I remember the fans just yelling at everything. Honestly, it's a really cool experience where it's gonna be 80,000 fans, maybe 5 percent of them may know football and the other majority probably know nothing about it. They just want to go there and support."
Said linebacker Kaden Elliss, who went in 2022 with the New Orleans Saints: "The excitement that everybody had, not only on game day but walking around with different guys and getting to just see the NFL logo out there, it's kind of crazy. Because to (the fans there), it's pitch and it's fúbtol. That's what they love, and that's what is special to them. But also knowing that they'll welcome us over for a pretty fun game is special."
The Jaguars have played in London an NFL-high nine times already, compiling a 4-5 record. Eight of those games were at Wembley Stadium, including last year's loss to the Denver Broncos. Jacksonville's sole visit to Tottenham Hotspur Stadium was in 2021, a win over the Miami Dolphins.
Jacksonville will actually remain in London after Sunday's action for its Week 5 game against the Buffalo Bills at Tottenham Hotspur Stadium. The Falcons will return to Atlanta and immediately begin prep for a home game against the Houston Texans. Business as usual.
"When they first did it, everybody was hysterical, remember?" Falcons head coach Arthur Smith said. "'How could you ever play a game over there?' Now, it's pretty common."