The 2020 season brought a lot of people a plethora of conflicting emotions. With COVID-19 protocols becoming a new normal for every one across the country, getting back to the old normal of NFL games being played was a long-awaited excitement for many. You could include Lorenzo Carter in that group.
Carter was entering into his third year in the league in 2020, and he - as much as anyone - was ready to get things going.
Year 3 is what many players hope are their year. There's a certain jump players continue to make in their first three years in the league. By the third, they're fully established, fully engrained in the system and fully ready for the NFL season ahead. Carter was no different. Even in the chaos and confusion of the 2020 season and if it would even happen in the first place, Carter felt as good as he ever had before heading into that season.
After graduated from the University of Georgia, Carter was drafted in the third round of the 2018 NFL Draft by the Giants. His first two years in New York saw him start 14 games, accumulate 55 solo tackles (13 for a loss with 23 quarterback hits) and tally 8.5 sacks. In Year 3, as a full-time starter by that point, Carter felt like 2020? Yeah. It was his year.
"For me, specifically, I was like, 'All right. Let's go. It's time to make this big step,'" Carter said to AtlantaFalcons.com in his first interview after signing with the Falcons last week, "to become the player I know I can be."
Instead, five weeks into the season, Carter ruptured his Achilles, ending his third year in the league just as it was getting started.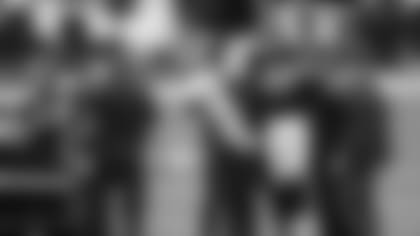 "For that to happen," Carter said, "it was a little soul crushing."
Carter was placed on injured reserve for the remainder of the season.
"It was tough. I had never really had to deal with a major injury like that. I had to sit back and trust God," Carter said. "... It's always going to seem like it's the darkest before the sun comes up."
And in his final year with the Giants in 2021, it seemed like that sunrise was slowly burning away the fog of injury.
Carter said he went into last season feeling 100 percent, physically, after tearing his Achilles the year before. However, anyone coming off a major injury like a ruptured Achilles will likely tell you the same thing: It's sometimes not the physical health that gives you pause. Sometimes, it's mental. For Carter, it was no different.
"For the first couple of games it's like, all right, you actually have to learn to trust yourself again so you can take on all of this pressure of a 350 pound man pushing against you on this one tendon you just got repaired less than a year ago," Carter explained. "It came down to trust and realizing that I put the work in. Once you put the work in it's like, all right, just go out there and do it now."
Carter didn't feel like he really got to that point until the last half of the 2021 season. And when the mental trust clicked for Carter, things started happening physically.
He finished the season with five sacks, one interception and two forced fumbles. All of Carter's sacks came in the final four games, as did six of his eight quarterback hits and five of his six tackles for a loss. Those two forced fumbles? They also came during that stretch of games, too.
It was in those final games that Carter said he truly felt healthy, both mentally and physically.
Now, he comes to the Falcons on a one-year deal.
When asked whether or not this one-year deal is a prove-it deal, ultimately indicating to the league that he can consistently be the guy he was through the final five games of last season Carter said yeah, sure. But it's also about just getting back to his game, playing fully the way he knows he can.
"I guess I have to prove it to the other people in the league but I am not worried about them," Carter said. "My teammates know what it is. My coaches know what it is. We'll put it out there on the field."
And Carter will get to do so in the red and black once again.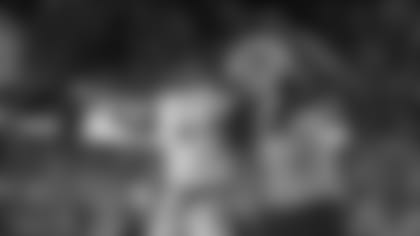 "Coming back to Georgia is big. It's huge for me," Carter said. "I am super excited to come home, be home, and get to play in front of my home crowd. Get to win games. Make those big impacts for the home team... It was crazy. It was a dream." Interested in Falcons tickets?
Join us in 2022 for 9 Regular Season home games! Let us help you find the seats and benefits that interest you!