FLOWERY BRANCH, Ga. – Training camp kicks off in exactly two weeks for the Atlanta Falcons.
And even though Julio Jones has yet to sign a new deal – something that Falcons general manager Thomas Dimitroff said is a top priority this offseason – don't count on the star receiver holding out or missing any practice time.
And for good reason. Both the Falcons and Jones want to get a new deal in place.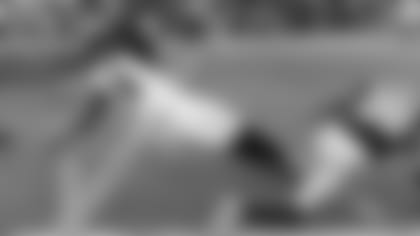 And Jones has since reminded those who've asked about the contract about Blank's words.
"Nah, man, as far as the contract thing, Mr. Blank has spoken," Jones said during an interview with _The Atlanta Journal-Constitution_ in early June. "At the end of the day, his word is gold. He said they are going to get something done between them and my agency. As far as me, I just hold up my end and stay ready."
Jones, 30, enters training camp coming off one of his better seasons as a pro. He was targeted 170 times in 2018, the most in the NFL, and he responded with an NFL-best 1,677 yards on 113 receptions. Jones accounted for nearly 46 percent of Matt Ryan's targeted air yards, meaning nearly half of the of the downfield yardage the Falcons attempted to gain was aimed at Jones.
"For me, I haven't felt like I've lost a step," Jones told TMZ. "But, as soon as I feel like I'm losing a step or I'm slowing down or I can't produce or I can't help my teammates or things like that, that's when I will slow down."