Every NFL season offers a player the opportunity to further his legacy and cement his name among the all-time greats. The Falcons have a few players on their roster who should continue to rewrite both team and league record books this fall if they maintain the level of play they've shown throughout their careers.
Some records are virtually guaranteed to fall in 2020, barring any unforeseen circumstances, while there are others that could be challenged if the right Falcons players have truly exceptional seasons. Not every category on this list is a record that will be outright broken. Notable jumps up all-time rankings have also been included to provide further perspective on historical achievements.
Here are the Falcons and league records that are within reach for Atlanta players, as well as the likelihood those milestones are hit.
Falcons records
Current record-holder: Roddy White (808)
Player to break it: Julio Jones (797)
This is the record that is most likely to fall, and it could very well be broken in Atlanta's first game of the season. Jones needs just 12 catches to set the new franchise mark for career receptions, and he would surpass White, whom he played with from 2011-15. Jones averaged 6.6 receptions per game last season, but he did record 13 catches against the San Francisco 49ers and he's capable of going off on any given day.
How likely is it this record will be broken in 2020: Guaranteed.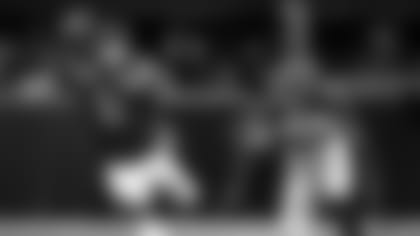 Career receiving touchdowns
Current record-holder: Roddy White (63)
Player to break it: Julio Jones (57)
While not a virtual lock like the first record on the list, this one should be well within reach for Jones. Although he came under fire for his low touchdown total in 2017, Jones bounced right back to catch eight touchdown passes in 2018 and six touchdown passes last season. If he falls in between those two numbers, he's the new franchise leader for touchdown receptions.
How likely is it this record will be broken in 2020: Good chance.
Current record-holder: Roddy White (63)
Player to break it: Julio Jones (58)
Essentially the same challenge as the record previously listed, but because Jones does have one fumble recovery touchdown, it's actually an easier record for him to break in 2020.
How likely is it this record will be broken in 2020: Good chance.
Career scoring (non-kickers)
Current record-holder: Roddy White (382)
Player to break it: Julio Jones (348)
Boy, there's a bit of a trend to this list so far, huh? The top five players on the Falcons' all-time scoring list are kickers, but Jones could take his place as the non-kicker to score the most points in Falcons history this season. Jones needs just 35 points to surpass White this season, which would equate to six touchdowns – the number he had in 2019.
How likely is it this record will be broken in 2020: Good chance.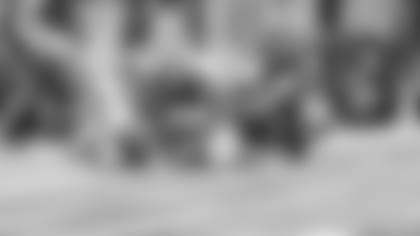 Current record-holder: Steve Bartkowski (20)
Player to break it: Matt Ryan (18)
It's surprising to see two quarterbacks at the top of this list, but given that they touch the ball on every offensive play, maybe it shouldn't be. Ryan averages 1.5 fumble recoveries per season, and he's recovered two fumbles in six of his 12 NFL seasons. It's possible Ryan gets three and surpasses Bartkowski to own this record, but a tie seems more likely.
How likely is it this record will be broken in 2020: 50-50.
Most touchdowns in a season
Current record-holder: Michael Turner (17)
Player to break it: Todd Gurley
This one is a bit of a long shot, but Gurley's history at least shows that he's capable of it. Gurley scored 19 combined touchdowns in 2017, and he topped that number with 21 total scores in 2018. Now, people are questioning whether Atlanta's new feature back is still the player that he was during those two seasons, but Gurley still scored 14 touchdowns last year. The biggest obstacle for Gurley might not be his health but rather his share of the offense's total production. With Julio Jones and Calvin Ridley on the offense, Gurley might have a ceiling on his touchdown potential. If he can have even a slight uptick on his scoring from last year, however, this record is in play.
How likely is it this record will be broken in 2020: Unlikely.
Most receiving touchdowns in a season
Current record-holder: Andre Rison (15)
Player to break it: Calvin Ridley
Ridley has shown a remarkable knack for finding the end zone in his young NFL career. He scored 10 touchdowns as a rookie and was on pace to come very near that number again in his second year; he still scored seven touchdowns despite missing the final three games. With many, including himself, expecting big things from Ridley in 2020, could he make a real run at Rison's franchise record? It would be tough to do with the other options in this offense, but Ridley is the player most likely to accomplish this.
How likely is it this record will be broken in 2020: Unlikely.
All-time NFL records
It doesn't seem possible for any Falcons player to end the year atop any all-time NFL lists, but there are two players who can continue to climb up those lists and build their cases for eventual enshrinement in the Hall of Fame.
No. 8 Ben Roethlisberger (56,545)
No. 9 John Elway (51,475)
No. 10 Matt Ryan (51,186)
Ryan has a legitimate chance to bypass Elway and climb to No. 9 on the NFL's all-time passing list in the season opener against the Seattle Seahawks. He needs fewer than 300 yards to achieve that milestone, and he threw for 300 yards in 11 of the 15 games he played in 2019. It would take one of the greatest seasons by a quarterback in NFL history for Ryan to catch Roethlisberger next year, and given that the Steelers quarterback is set to return and continue to build on that number, that seems virtually impossible.
Fourth-quarter comebacks:
No. 1 Peyton Manning (43)
No. 2 Tom Brady (36)
No. 3 Drew Brees (35)
No. 4 Johnny Unitas (34)
No. 5 Dan Marino (33)
No. 6 John Elway (31)
No. 6 Ben Roethlisberger (31)
No. 8 Matt Ryan (30)
There was a chance for Ryan to really add to his total in this category last season with the number of games the Falcons trailed in early, but he still managed to have three fourth-quarter comebacks in 2019. If the list remains unchanged, three more this fall would leave Ryan tied with Marino for the fifth-most all-time. The majority of Ryan's fourth-quarter comebacks came early in his career, which may say more about how the game has changed than Ryan has, and he's got just nine over the last four seasons. We've seen Ryan get hot down the stretch before, however, and if does so many times in 2020, he could shoot way up this list.
No. 13 Cris Carter (13,899)
No. 14 Anquan Boldin (13,779)
No. 15 Henry Ellard (13,777)
No. 16 Torry Holt (13,382)
No. 17 Andre Reed (13,198)
No. 18 Steve Largent (13,089)
No. 19 Jason Witten (12,977)
No. 20 Irving Fryar (12,785)
No. 21 Art Monk (12,721)
No. 22 Brandon Marshall (12,351)
No. 23 Jimmy Smith (12,287)
No. 24 Charlie Joiner (12,146)
No. 25 Julio Jones (12,125)
There's not a player in NFL history who reached 12,000 career receiving yards in fewer games than Jones did. Now, he's looking to get to the 13,000-yard mark and continue to rocket up this list of all-time receiving greats. By duplicating his 2019 season, Jones would end the year ranked 16th between Torry Hold and Henry Ellard. Jones has gained more than 1,600 yards once in his career, however, and he came close to 1,900 yards in 2015, which is why it's at least conceivable he could push for Carter's spot at No. 13.