Atlanta Falcons interim coach Raheem Morris said on Monday that Ito Smith will be the lead running back for the remainder of the season.
Smith ran the ball six times for 24 yards in the Falcons' 31-27 loss on Sunday. The third-year back out of Southern Mississippi has rushed for 213 yards and a touchdown on 50 carries this season.
As for the decision to go with Smith over Todd Gurley and Brian Hill for the rest of the way, Morris said it came down to Smith's performance.
"Ito has played so well," Morris said. "When he's gotten opportunities, he's made yards. He's made hay. He's made some of the runs look a little bit better. He's actually gone out there and having a little bit better production when he's running the football, so he's been the runner the past couple of weeks and we've kind of put him in that role a little bit more and more as he's been growing."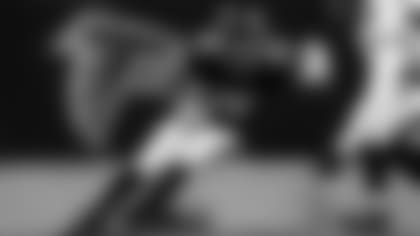 Gurley, a three-time Pro Bowler and a two-time All-Pro, ran it once against the Bucs for a loss of 1 yard. He also had two receptions for 15 yards. Hill had five carries for minus-2 yards and two catches for 9 yards.
The Falcons agreed to a one-year deal with Gurley back in April and expectations were high for the former AP Offensive Player of the Year. His best game was in a 23-16 loss to the Panthers back in Week 5 when he ran for 121 yards on 14 carries and scored a touchdown. He also had four catches for 29 yards in that game, which ended up being Dan Quinn's final one as head coach.
Since then, Gurley's production has steadily declined. In the Falcons' last three games, Gurley has combined to run for 34 yards on 15 attempts. For the year, Gurley has totaled 644 yards on 182 carries and nine touchdowns on the ground. He has 21 catches for 113 yards.
Hill, a fifth-round pick in 2017, has rushed for 335 yards and one touchdown on 84 carries this season. He also has 19 catches for 132 yards. Hill's best performance this season came back in Week 3 when he ran nine times for 58 yards and a score in a 30-26 loss to the Bears.
"Ito, right now, is our lead dog runner," Morris said. "Brian Hill, we tried to get some carries in there. Then, definitely, Todd is going to have his role as a protector for us."
Get an inside look at the matchup between the Atlanta Falcons and Tampa Bay Buccaneers with top photos from Week 15.