Inside Tori's Notebook is a weekly series where Tori re-opens her game notebook to look back at her notes, questions and observations from the Falcons most recent game. Tori breaks down her thoughts and gives her analysis on what happened, and why it's notable. Inside Tori's Notebook is sponsored by Microsoft Surface.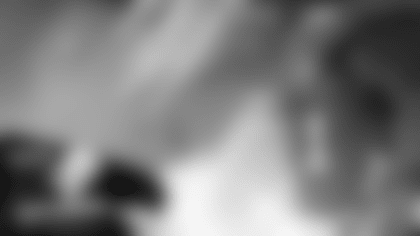 REV COFFEE ROASTERS; Smyrna, Ga. -- As I sit in a busy corner of one of my favorite coffee shops, drinking my s'mores latte with almond milk, if I am being honest with you and myself, I can't get one singular thought out of my head. That thought is this:
The Atlanta Falcons are fun again.
I said this on our Falcons Final Whistle podcast after the game and I'll say it again here. I've been covering the Falcons since 2020. I've been a consumer of Falcons football for much, much longer, having been born and raised in the state of Georgia and attending the University of Georgia not too far down the road in Athens. I can't claim to be an expert on the history of the Falcons organization, but I can claim to know a thing or two about the organization in the modern era. And what I'll say is that this 2022 team may be pieced together with rookies brand new to the league and veteran players on cheap, short-term contracts and they may also carry a dead cap hit of over $70 million, but gosh darn it if they aren't interesting to watch.
The Falcons win over the San Francisco 49ers was just the manifestation of that fun in win form.
So, without further preamble, let's take one final look back at it.
Supplement. Supplement. Supplement.
Sometimes my brain gets stuck on a word and I can't let it go. I use it in every other sentence. Well, over the last week, that word is the word that showed up not once, not twice, but three times in my notebook scribblings. And yes, it is the word written three times above.
The Falcons struggled to produce positive yardage on first and second down against Tampa Bay last Sunday. It was something I wrote about and asked about (a lot) all week. I did so because I felt like it was one of the main issues the Falcons had offensively in the loss. They weren't staying on track. They were giving up too many negative plays. It kept them in too many third-and-long situations, of which they struggled in, partly because they became too one-dimensional. That is not who the Falcons are.
Atlanta is a team that thrives when they're picking up three or four yards pounding the ball on the ground. They're a team that has a foundation in its physicality as an offense. They've become a team that relies on using the run game to supplement its ability to stay on track and keep the chains moving.
Asked about this postgame, Arthur Smith said when the Falcons are doing what they did on Sunday (which was running the ball 40 times for an average of 4.2 yards a pop), he noted they become a team with "a lot to defend." It particularly worked in Marcus Mariota's favor, who finished the game with 50 rushing yards on top of a very efficient 13-of-14 day through the air. Smith and Mariota both said that was a layer of the game that the 49ers opened up for the Falcons.
"Some of them were designed quarterback runs, some of them where he was able to extend the plays – (with that) huge third-down conversion (before the half) – because of the way they like to attack the pocket, and if they drop out of there, there's a lot of room for him," Smith said.
And that play at the end of the half Smith is referring to? When Mariota scrambled for a pick up of 15 yards on third and long? It's a play Kyle Shanahan said changed the game.
"I thought the biggest play of that game was in the second quarter, that 3rd-and-13," Shanahan said. "We had finally gotten them in a third down and long. I don't know what happened, but we got free in the middle and Mariota was allowed to scramble for the first down and ended up getting a seven-point lead to go in at halftime."
Mariota's ability to extend plays and escape the pocket is another layer to the Falcons offensive success.
Whether it's Mariota, Tyler Allgeier or Caleb Huntley (more on those young backs later), their production is something that - yes - supplements the Falcons pass game, and overall ability to move the ball downfield.
Well, that was wild
I'm talking about the sequence of events early in Sunday's game that saw Rashaan Evans punch the ball out of Jeff Wilson's arms on a one-yard run. A.J. Terrell picked the fumble up and returned it 20 yards. As he reached the ball out for the touchdown, he was jostled by George Kittle and the ball fell from his hands. Jaylinn Hawkins fell on it, and he was rewarded the touchdown.
After the game, there were jokes about the moment.
Smith said he was going to have to get the defensive backs in the ball handling drills that assistant coach Michael Pitre does with the running backs.
Hawkins was asked if he stole Terrell's touchdown from him. He laughed.
"I was like, 'Bro that's your touchdown!'" Hawkins said. "You know what I'm saying? Like that was your turn. I mean at the end of the day, though, I always got my dawg's back, so it's all good."
That wasn't the only time Hawkins had someone's back, either. At the start of the fourth quarter, Darren Hall tipped a pass and Hawkins was right there behind him to come down with the interception. This was the second pass break up in a row for Hall to start the final quarter. Hall played well in relief for Terrell, who missed the majority of the second half with a thigh injury.
In all, the Falcons accumulated three takeaways against the 49ers, and that's not even including an important turnover on downs in the redzone in the fourth quarter.
When you break down the 49ers drive summary of the second half, it's actually a very impressive look for this defense. Don't believe me? I'll show you. Here's the break down of every ending to every drive for San Francisco in the second half:
Third quarter begins: Punt... Punt...
Fourth quarter begins: Interception... Turnover on downs... Game ends
Evans said after the game that the Falcons played their most complete game of the season. This defensive performance was a big reason why.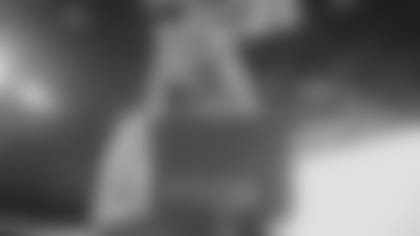 I really don't wanna hear it
I started seeing the same thing over and over again in the final minutes of Sunday's win: This win for the Falcons wasn't a big deal because of the injuries sustained to the 49ers not just in the last week but over the course of this year. And look, I get it. San Francisco is the most injury ridden team in the league right now. And I hate it for them, because I like what they're doing holistically as an organization. You hate it for the players, too.
However, even in saying this, I don't agree with the sentiment that this win wasn't a big deal for the Falcons or that it "doesn't count" because the 49ers were without some of their top defensive playmakers. I saw that a lot during the game and after the game, and I just don't buy into it.
Were the 49ers without a significant number of players on Sunday? Yes. They were, and no one is excusing that fact. But I will say that this is the reality of the NFL. We just wrapped up Week 6 of the season. Injuries happen every year at this point and this year is no different. Teams have to figure out the best way to contend not only with their weekly opponents but the injuries that are going to accumulate. Some teams are hit with the injury bug harder than others, and it changes the way they operate.
Again, it's the reality of the league. But it's also a reality that the Falcons played well on Sunday. And they did so without some of their own weapons, too. Their names may not carry as much weight in the national media's attention span as that of Nick Bosa but that doesn't make them any less important to the Falcons operation.
One of my Twitter followers (and I apologize because I forget which one) responded to a tweet of mine saying the same thing. They said something along the lines of you can only play the team in front of you. I liked that, because the Falcons did that, and came out with a win. It's as simple as that.
At the end of the year, no one cares how many starters a team was without when they won or lost a game. That's just the truth.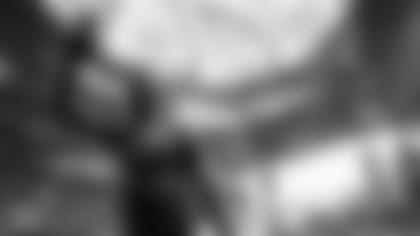 Returning to their roots
I wrote this at the beginning of the third quarter, in the middle of the Falcons first drive of the half. It was the drive that ended with Kyle Pitts scoring his first touchdown on U.S. soil. In said drive the Falcons handed the ball off to Allgeier and Huntley six times nearly consecutively. Sandwiched in the middle of those six carries was a 20-yard scramble by Mariota.
In the moment, that drive - to me - was the Falcons returning to their roots.
Can you believe it? These "roots" of which I am referring to take hold in the run game. I don't think I am overstating this by saying it's been a decade since the Falcons so-called "roots" where in the run game.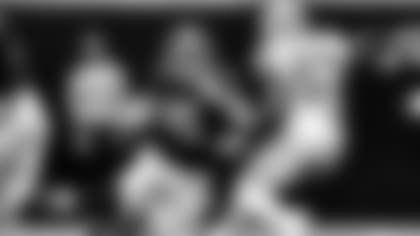 It's interesting, too, that they're doing so with Allgeier (a rookie) and Huntley (a former practice squad player). And talk about fun? They're fun to watch when the ball is in their hands because they run hard, and hard in the sense of physicality.
When Cordarrelle Patterson was placed on IR a couple weeks ago, I'm not going to lie, I thought the Falcons run game could potentially take a hit. That doesn't seem to be the case, at all, though.
After the game, Mariota was asked about replacing Patterson's production, and I thought his answer was very telling about 1) how much this offense does value Patterson but also 2) how solid of a job Allgeier and Huntley are currently doing in making up for his loss.
"When you have a guy like CP he does so many different things for you, right?" Mariota said. "He's a great receiver out of the backfield. He's a great runner. And it really takes a good group of guys to be able to fill that position when he's down, and our young backs have done an unbelievable job finding ways to get tough yardage."
The Falcons have a top-5 rushing offense currently. It's a part of who they are, and they're not shying away from that.
"I truly believe that when we're able to run the ball the way that we do and make some plays in the pass game that we're tough to defend," Mariota said. "The more that we can do that, the more that we can show our versatility I think is going to be beneficial the rest of the year."