FLOWERY BRANCH, Ga. – When Falcons rookie linebacker Foyesade Oluokun steps onto the field at MetLife Stadium on Friday night for Atlanta's first preseason game against the New York Jets, he will have one goal in mind.
"To show how much I've improved since I've gotten here," Oluokun said. "And to go against another team will be nice, because we get to go full-out, tackles and everything. I'm excited for it. I think I'll keep a level head, I don't think the lights or whatever will get to me. I'm pretty level-headed when I get to big stages. I'm just going out there to prove to myself that I've improved and play my game and show what I know now."
Like all Falcons rookies, Oluokun will get his first taste of live NFL action on Friday night. A sixth-round draft pick in April's NFL Draft, Oluokun has quickly had to transition to a new position with the Falcons.
After spending much of his career at Yale playing safety, Oluokun is now learning how to play linebacker and the knowledge he's gained thus far will be put to the test against the Jets. Although the doesn't have experience playing a true linebacker position, it's understandable why the Falcons, who desire speed at the position, would envision Oluokun in that role.
"I think they knew about my athleticism," Oluokun said of why the Falcons drafted him. "First and foremost, they believed in me to be able to compete with all of these guys here. My coaches must have told them I was a hard worker and just willing to do anything to get myself to where I need to be. The [draft-day] phone call was all about, 'Enjoy it right now, but get ready to work immediately.'"
Hybrid players are more common in the NFL today than they were a decade ago. Players like Deion Jones and Grady Jarrett, who were considered undersized at their respective positions coming out of college have now become part of a new-prototype at linebacker and defensive tackle, respectively.
Given Oluokun's size – 6-foot-2, 215 pounds – and his speed – he ran a 4.48-second 40-yard dash at his Pro Day – he appears to have the tools needed to succeed as a linebacker in a league that has become pass-oriented. Before he has success, however, he has to prove he can handle the new responsibilities that come with his new position.
"I guess seeing formations is something linebackers have to do but coming from safety you can anticipate motions really well," Oluokun said of his position change. "There are a lot of calls that come off of motions, so lining up is a big part of being a linebacker. If you're expecting someone to motion and you have a different alignment off of that motion, it's really advantageous if you can kind of expect or know where that's going to come from.
"What I've had to learn, we're still working on it, is just how to move inside the box. At safety, I've got a lot of space I can work with. As long as I can get to my position I can kind of anticipate where the running back is going to go. At linebacker you kind of have to be on the prowl the whole time and move swiftly into your gap while staying low. I'm working on that still, but it's coming along."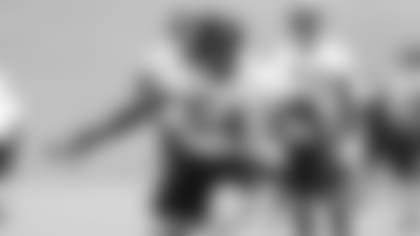 It will take more than just flashing as a linebacker in the preseason, though. Like most of the Falcons' rookies, Oluokun will be asked to perform on special teams as well.
Given the changes to the kickoff rules the NFL made this offseason, we may see more teams employing linebackers, tight ends and fullbacks in that aspect of the game than in years past. If that is indeed the case, head coach Dan Quinn will certainly be looking to see which players can step up and claim that role.
"Can some of these guys make an impact on special team," Quinn asked of his new defensive players after Wednesday's practice. "Guys like Foye, who's going to have that kind of role. (Emmanuel) Smith, (Emmanuel) Ellerbee and that group. Those are a handful to keep an eye on for the first game."
Coming from the Ivy League, Oluokun says he's definitely noticed an increase in the level of talent around him. But instead of allowing himself to be intimidated by that, he says it's forced him to pick up his level of play as well.
He's had some help along the way thus far from a linebacker room that he describes as "the perfect environment for a young guy," but he will have to continue to absorb their knowledge and showcase his skills on the field to earn a role with this team.
In training camp, Oluokun was often among the first players to rotate in at linebacker and he received reps with several of the starters on defense at various points. Oluokun was listed as a second-team linebacker on the Falcons' first preseason depth chart behind De'Vondre Campbell, Atlanta's starting SAM linebacker.
With his first NFL preseason game quickly approaching, Oluokun appears to be focused on just one thing – the same focus he's had since he joined the Falcons.
"As soon as I came here I was just ready to improve myself," Oluokun said. "I feel like I had to prove to myself – the coaches believed in me – that I belonged here. It's been my mission to get better and better every day. That's my focus: come in and improve myself and in time I'll be where I need to be."