The Falcons organization announced on Tuesday they were making changes to their coaching staff, naming T.J. Yates the team's receivers coach and Mario Jeberaeel the assistant offensive line coach.
Yates came to Atlanta in 2021 as Arthur Smith's passing game specialist. Originally from Marietta, Ga., Yates' seven-year playing career brought him to Atlanta once before as a backup quarterback for Matt Ryan in 2014. After his last season in 2017, Yates jumped into coaching, working with the Houston Texans in 2019 and 2020. The Falcons parted ways with former wide receivers coach Dave Brock in February. The Falcons will fill the vacated role by shifting Yates over to coach the wide receivers.
At the time of Brock's release, the Falcons' then-assistant offensive line coach - Chandler Henley - left for a job as an offensive analysts with the Miami Dolphins. This opened the door for Jeberaeel to join the Falcons coaching staff in a new role. In 2021, Jeberaeel served as the Falcons' diversity coaching intern, working primarily with the offensive line. Prior to that, Jeberaeel spent three seasons as the offensive line coach at Abilene Christian University.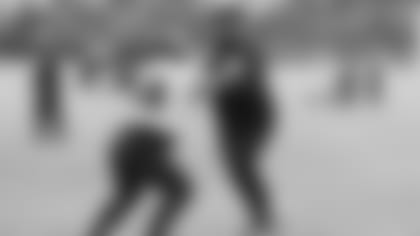 Along with Yates' and Jeberaeel's appointments, the Falcons have also hired Steve Jackson as a senior offensive assistant, Shawn Flaherty as a football analyst, Steven King as the diversity coaching intern and Nick Edwards as an offensive assistant.
Jackson comes to Atlanta from the Bengals (secondary/cornerbacks coach), Flaherty from the Dolphins (assistant offensive line coach), King from the University of North Carolina (special teams quality control coach) and Edwards from Cal Poly University (offensive coordinator and wide receivers coach).
The Best Season Ticket Member Benefits are Back
We're offering our best season ticket benefits packages ever this year! Find the season ticket benefits that are most attractive to you.