FLOWERY BRANCH – Today's Early Bird Report includes a column on the announcement Julio Jones would be attending Falcons training camp as well as the lost part of the offensive identity and questioning whether or not the Bucs would draft Jameis Winston again.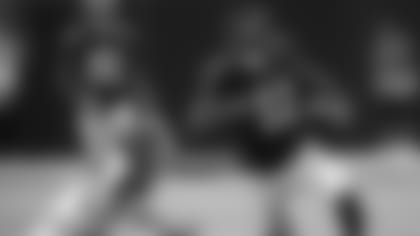 Late Wednesday night, the Falcons announced an adjustment to Julio Jones' contract that would lead the star receiver to report to training camp with the rest of the team on Thursday. The resolution seems agreeable to both sides, giving Jones the adjustment he sought while not impeding the Falcons' ability to work out extensions with other key members of the team.
"This was always going to be the way it ended," Bradley writes. "That it ended the night before the Atlanta Falcons were to report to training camp seems a victory, and not just a symbolic one. Julio Jones mightn't be completely happy, but he's happy enough that the withholding of his presence is no longer an issue. He's back. The Brotherhood has held. Can world domination be far behind?"
Bradley notes that the Falcons have always been mindful of the long haul and not just short-term success and the adjustment of Jones' contract rather than a full renegotiation is further proof of that.
With Jones expected to be back for the start of camp, the team can now move forward together and work towards achieving their goals this season.
Here are some other articles for Falcons fans to check out today:
AJC: Falcons lost big part of offensive identity in Sarkisian's first year
Although the Falcons still looked like one of the most potent offenses in the league at times in 2017, they didn't dominate as consistently as they had in their record-breaking 2016 season. According to Michael Cunningham of The Atlanta Journal-Constitution, the Falcons lost a big part of their offensive identity in their first year with Steve Sarkisian as offensive coordinator.
Cunningham's main argument in that lost identity is the lack of play-action passes the Falcons had last season compared to 2016. To see the other points Cunningham makes, as well as the stats he uses to back up those arguments, click here.
ESPN: Given another chance, would Bucs draft Jameis Winston again?
Jameis Winston was coveted by many teams coming out of Florida State in 2015, but the debate between whether he or Tennessee Titans quarterback Marcus Mariota should have been the first pick in the draft hasn't subsided. Now, three years later, ESPN's Dan Graziano wonders whether or not the Bucs would draft Winston again if they had the chance at a do-over.
"The Bucs knew when they took Winston that he came with red flags and could land in more trouble, given the kind of trouble that followed him through college," Graziano writes. "They took him anyway. Looking back, it's easy to say they should have taken Mariota instead, but if you think that, you probably thought the same at the time. The Bucs didn't, which is why, if you asked them honestly, whether they'd do things differently if they had the 2015 draft to do again, I'd be surprised if they answered yes."
CBS Sports: Sean Payton on why the Saints could pass up Marcus Davenport
The Saints made one of the more baffling trades during April's draft, trading their 27th overall pick and first-round pick in 2019 to move up to pick No. 14 to select pass rusher Marcus Davenport. At the time, many questioned the move, but CBS Sports' Jason La Canfora spoke with Saints coach Sean Payton on why the decision was made to trade up and get Davenport.
"It's something we felt that could help our team right now," Payton told La Canfora. "And obviously there is downside and you give up some compensation and you give up some flexibility next year. But we are worried about this year, too, and our focus is on winning this year, and that was the cost to move from where we were in the first round to getting really into a different part of that round."
To see the rest of La Canfora's conversation with Payton, click here.