MIAMI GARDENS, Fla. -- We didn't see Falcons presumptive starters play Friday's preseason opener against the Miami Dolphins. That created a great opportunity to evaluate players on the roster bubble over a longer term.
We've got position battles raging on the back end of several key spots, from the defensive line to the secondary to the receiver corps. Spots won't be decided after one preseason game. Coaches will look at an entire body of work before making tough choices, after which they'll be armed with practice squad spots to keep worthy contenders around.
But, now that we have two joint practices and a preseason to reflect upon, Tori McElhaney and I will take a close look at five perceived bubble guys and how they did, and possible improved their standing, over the last week.
S DeMarcco Hellams
The only time it felt like Hellams wasn't on the field was when he was a little shaken up after laying down a massive hit on a Dolphins receiver in the first full Miami drive of the fourth quarter. He returned to the game when Miami got the ball back a few minutes later and finished out the game at safety. When the playtime percentages came out on Saturday morning, it confirmed the feelings of the night before. Hellams played in 92 percent of the defensive snaps on Friday night (61 snaps to be exact). In terms of a workload, Hellams had the most of any Falcons defender against Miami. The coaching staff now has nearly four full quarters of work from a rookie safety fighting for a roster spot after being drafted in the seventh round of the 2023 NFL Draft.
After the game, head coach Arthur Smith was asked about Hellams performance. He said it confirmed what they knew about him.
"It's the same thing we saw (when he was at) Alabama," Smith said. "The guy is around the football."
In a crowded secondary with a bunch of high-end talent ahead of him, this could go a long way for someone like Hellams. -TM
WR Zay Malone
There's not a whole lot of elbow room for a guy like Malone to wiggle his way into the five or six receiver spots on the 53-man roster. One would assume the Falcons locks are Drake London, Mack Hollins, KhaDarel Hodge and Scotty Miller. That leaves Frank Darby, Penny Hart and - perhaps - Malone in the running for a final spot or two. Darby didn't play too much on Friday night, with Smith saying after the game that he's working through a soft tissue issue. Hart played quite a bit more, 41 percent of the offensive snaps to be exact. But it was Malone who flashed the most with a couple splash plays. Malone had two explosive catches of over 20 yards, picking up 50 receiving yards in total on Friday night. It'll be interesting to see if we see more of Malone as the preseason continues. -TM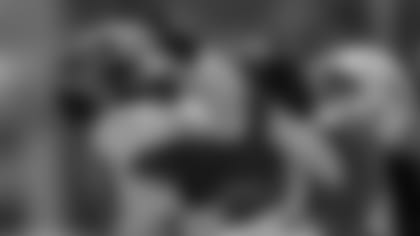 S Breon Borders
Borders is a name that kept coming up throughout the week, even during joint practices. He was consistently getting his hands on the ball in the Falcons secondary on Tuesday and Wednesday, breaking up passes in key situations in the red zone and in end-of-game scenarios. That, and Borders made one of the top defensive plays of the game: A pick-six on a tipped ball in the final minutes of Friday's game.
After the game, Borders said his personal goal is twofold: "A. Make the team, and B. Make the team better." -TM
DL Joe Gaziano
There are more qualified defensive lineman than there are 53-man roster spots. If you assume that Grady Jarrett, Calias Campbell, David Onyemata and Ta'Quon Graham are virtual locks, then there are likely two more spots for Albert Huggins, Timmy Horne, Justin Ellis and the gentleman we're talking about now.
Free-agent addition Joe Gaziano had a strong week in South Florida, with a standout Wednesday at joint practices and a good game on Friday night. He played 30 defensive snaps and six more on special teams. He finished with two tackles and a batted pass on 4th-and-2 that fell incomplete.
Huggins had a good game against the Dolphins. Horne also flashed and is more of a known commodity after player here last year. Ellis' size makes him unique.
Gazaino is a big, strong dude who can hold up at the point of attack, occupy blockers and let others make tackles. Being a solid run defender and doing the little things right will help develop and inside track to the roster, but he'll have to be consistent over the next few weeks to earn the regular-season spot he certainly covets. He's also going to have to edge out other worthy competitors. It might be an uphill slog, but this week certainly helped.
RT Jalen Mayfield
This one comes courtesy of Dave Archer, who's sitting with me during the longest flight delay, like, ever. He's a much better authority on offensive line play than I am, so I asked the Falcons radio analyst about guys who stood out off of his initial impression while calling the game. He mentioned a few folks but thought the right side of the line was knocking people back in the run game. Jonotthan Harrison was over there on the side, and Ryan Neuzil worked both center and guard during the game.
I watched some of the first-half tape and Dave was 100-percent right. Mayfield was pushing people around, during the first half. Like, into the second level. The Falcons ran well to the right and Mayfield played a big part in that. I know fans get an eye twitch when Mayfield gets mentioned, but he played well Friday and looks pretty good in Year 3.
Let's focus on Mayfield here, a 2021 third-round pick who is back at his natural position after playing his rookie season at left guard and spent 2022 on injured reserve. The Falcons need a quality swing tackle, and Mayfield can play both tackle spots and guard. That makes his valuable. I talked to him last week and he talked a ton about feeling comfortable working on the outside. If he can string some good weeks together, he could emerge with a roster spot on a deep line.