There's no game upcoming for the Falcons in Week 10, so I decided for a little internal review of the team's performance through their first nine games. Who better to ask than The Beek himself?
Matt Tabeek (@MatthewTabeek), the proprietor of Straight from the Beek, and apparently the world's biggest West Virginia football fan, answered some of the key questions for the Falcons entering their bye week.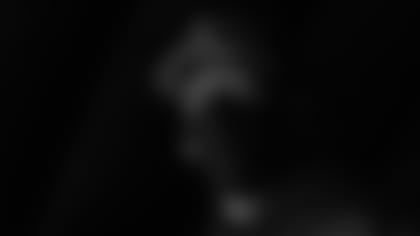 How much stock should we put into the team's performance under Raheem Morris?
Tabeek: A ton. I think too many people are focusing on the Atlanta Falcons' overall record right now, which is 3-6, as opposed to what they have done since Raheem Morris took over the day after losing to Carolina on Oct. 11.
Since that day, the Falcons are 3-1 and are one Todd Gurley misstep from being 4-0 (although Morris later took full responsibility for it). That's pretty remarkable, especially when you consider that Morris is getting it done with virtually the same coaching staff and roster.
Not everything is the same, however. One of the first things Morris did was shake up the coaching staff. Morris made Jeff Ulbrich the defensive coordinator, Bernie Parmalee took over as special teams coordinator and Will Harriger now coaches the running backs. Morris also parted ways with Ben Kotwica, the former special teams coordinator.
The players have also noticed and reacted. As edge rusher Dante Fowler put it, "Raheem's just doing it his way a little bit, adding his spice little spice to it and things like that." Fowler also noted that Morris was "making us a little bit uncomfortable and making us be able to practice really well in practice."
Morris also moved swiftly with former first-round pick Takk McKinley, too, who criticized the team on Twitter following the trade deadline. Six days later, the Falcons released McKinley.
In short, Morris is doing more with less – and it's been effective through four games.
With the toughest part of the schedule ahead, what should fans expect from this team after the bye week?
Tabeek: The Falcons' next seven games certainly look more difficult than the first nine games, but that could change. I say that because based on the alarming number of injuries and the fact that we're still in the midst of a pandemic, a player's status can change at any moment because of COVID-19.
Regardless, it's a daunting slate of games.
If there's anything we've learned over the years in this league (and we saw it again in Week 9) is that all teams are beatable, as cliché as that may sound.
I think fans should expect to see the Falcons improve under Morris, function at a high level on offense and score points. With a productive offense and a (more) stingy defense, the Falcons will at least have a chance to win a handful of games down the stretch.
The Falcons are 2-6 vs. NFC opponents and 1-1 against their NFC South foes. That hurts, especially the conference mark. I think they'll need to win at least nine games to have a chance at getting into the postseason. That means winning six of their final seven games.
That's a tall task and seems unlikely. But if they somehow finish 8-8 or 9-7, it would be even more impressive than last season's turnaround.
Who have been the most impressive offensive and defensive players this season?
One of the best stories of the season on the offensive side of the ball has been the emergence of tight end Hayden Hurst, who is proving that he's more than capable of filling Austin Hooper's shoes – and then some.
In case you missed it, I was a guest on CBS Sports back in August and was asked about what to expect from Hurst in his first season with the Falcons. Here's what I said:
Midway through the season, Hurst has 37 catches for 411 yards and three touchdowns. He's on pace to finish with 730 yards receiving and maybe 6-8 touchdowns. If you recall, it took Austin Hooper four seasons to eclipse the 700-yard mark before he signed with the Browns via free agency.
Just like Hurst on offense, linebacker Foye Oluokun has emerged as one of the top linebackers in this league, especially with his play as of late. Oluokun, the NFL Defensive Player of the Week after the Broncos win, leads the Falcons with 64 combined tackles and has tallied four quarterback hits, three tackles for a loss, one interception and a sack. Not bad for a sixth-round draft pick out of Yale.
Make the case for an improbable playoff run and make the case against it.
OK, I'll try not to repeat anything I've written already and keep this response to the point.
Case for a playoff run: The Falcons sweep either the Bucs or the Saints and split with the other. That's three wins and one loss so far. And then they must beat two of the remaining three AFC West teams on their schedule: Raiders, Chargers and Chiefs. That would put them at 8-8 and give them a (very slim) shot at the postseason. I think nine wins would probably get them in with the expanded playoff format. And, as the league announced on Tuesday, if the season is cut short due to COVID-19, the number of playoff teams would increase to eight teams from each conference – and they'd get in, I believe.
Case against a playoff run: This is pretty obvious and, at this point, the most likely scenario. If the Falcons lose more than two games down the stretch, they're done. If they lose only two games, it's iffy. If they lose just once, which will be truly remarkable and the talk of the league, they'll have a shot. But they're in a deep hole right now. And look at the records of their coming opponents:
Saints: 6-2
Raiders: 5-3
Chargers: 2-6
Chiefs: 8-1
Buccaneers: 6-3
The odds are stacked against the Falcons, but I think they could make things very interesting if they can play well against the Saints and Buccaneers.
Get an inside look at the matchup between the Atlanta Falcons and Denver Broncos with top photos from Week 9 | Salute to Service game