The Atlanta Falcons (0-4) begin division play against the Carolina Panthers (2-2) on Sunday, and it will be the first time this team faces a Panthers squad led by coach Matt Rhule.
Atlanta needs a win badly, and while there is an opportunity to get their first one on Sunday, Carolina isn't the easiest out. A lot has changed for the Panthers over the past offseason, so to get a better idea of what the Falcons are up against, I reached out to Panthers.com writer Myles Simmons (@MylesASimmons)
It doesn't seem like this offense has missed a beat without Christian McCaffrey, is Mike Davis really that good?
Myles Simmons: I think there are a couple of factors here. Really, this particular offense under coordinator Joe Brady has only been together for four games and had McCaffrey for only two of them. That's not to take away anything from Davis, because he's absolutely been effective in McCaffrey's stead. But the scheme and quarterback Teddy Bridgewater have been so effective through these first four games that things have been able to open up more. I'll be interested to see what, if anything, changes when McCaffrey returns.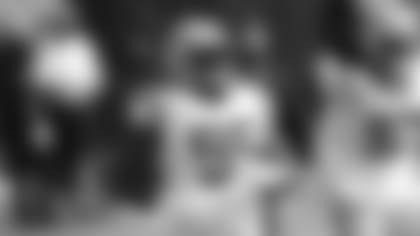 How have the defensive rookies played so far and have there been any breakout players on defense?
Simmons: Having an all-defensive rookie draft class is certainly unique, but so far it's worked out pretty well for Carolina. First-round pick Derrick Brown has started each of the four games so far, and he's come on in the last two weeks recording four tackles for loss. Carolina had a pair of second-round picks, in defensive end Yetur Gross-Matos out of Penn State and safety Jeremy Chinn out of Southern Illinois. Gross-Matos missed one game with a concussion, but got his first career sack on Arizona's Kyler Murray last week, and forced a fumble on the play. Chinn has been one of the most important defensive players, as he's been on the field for 97 percent of the unit's snaps. He also currently leads the league's rookies in tackles.
What has been the team's identity under Matt Rhule through the first four games?
Simmons: In some ways, I think they're still trying to figure it out in terms of scheme. And that's to be expected under a new coaching staff, especially one that didn't have the benefit of an offseason program.
But on a down-to-down basis, they want to be a team that plays hard — a team that you know gives relentless effort. And this is also a team that's not going to give up easily. In the first loss, Carolina rattled off 15 straight points in the fourth quarter to take a lead over Las Vegas. Eventually, the Raiders came back, but that still showed some fight. And despite being down 21-0 to Tom Brady and the Buccaneers on the road in Week 2, that game got interesting in the second half, too.
So at this point, it's a team that doesn't quit and with the wins, the Panthers are starting to get a little more confidence, too.
What's the view in Carolina of this Falcons team?
Simmons: Panthers players and coaches all week have talked about how dangerous the Falcons are. Bridgewater mentioned it on Thursday — Carolina was in a similar situation as a winless team going against Los Angeles. Especially after going a quarter of the season without a win and playing a divisional game, there's absolutely no reason to take the Falcons lightly. Despite the 0-4 record, Atlanta's played some good teams and had some tough matchups. The Panthers seem to know what's at stake here.
In your opinion, what does each team need to do to earn a victory on Sunday?
Simmons: The Panthers have committed four turnovers in each of their last three games with the Falcons. It starts there. Carolina has already gone on the road and committed four takeaways to a divisional opponent in Week 2 and that ended up as a loss. And it's going to be the result probably nine times out 10 when you end up -4 in the turnover margin.
So the Panthers can't have those giveaways. But if the Falcons are going to win, they can't just allow Carolina to march up and down the field. The Panthers have been good at sustaining drives this season. They've had a scoring drive of at least 10 plays each week, and a touchdown drive of at least 13 plays in three out of the four games.
Either way, should be a fun one in Atlanta.