The Falcons headed across the country to play the 49ers, just as they did annually when both teams were in the NFC West.
That's a wild concept to me, that the Dirty Birds were in any division designated by teams on the opposite side of the continent. The Braves used to do it, too, but it's still weird.
Trips to the Bay Area are less frequent after division realignment, but the Falcons are headed out there for as big a regular season clash as you'll find. There's a ton at stake for both squads, which will made for a fun football game.
Some of you wanted to know how this game will impact the Falcons' playoff hopes. In short: Sunday's result is monumental. We go into greater detail in Friday's Bair Mail, which addresses a number of other topics about the Falcons present and future.
Jim Miller from Brunswick, Ga.
Hey Bair, I've read your section for a long time. And I thank you. Die-hard 50-year Dirty Bird here. I don't think Matt Ryan is the problem on Offense, as I see SOME on Atlanta Falcons' posts claim. I believe it's been the lack of protection and opening holes. We see signs of the O line improving in some games, and not so in others. Depends on who they're playing. If you notice all the great pocket QBs in the league have good "consistent" protection. I've said it a thousand times "Give Matt Ryan protection and he'll pick you apart".
Bair: You and I agree, Jim, that Matt Ryan can pick a defense apart if he has time. While most all quarterbacks are better in a clean pocket, Ryan has a 96.1 passer rating without pressure. He has a 77.7 passer rating under pressure, per Pro Football Focus, and is under pressure on 37 percent of his dropbacks. His interception count, surprisingly, is split almost evenly, between clean pockets and pressure. His percentage of dropbacks under pressure ranks third highest in the league among the 12 quarterbacks who have played virtually every snap this season.
Ryan has also made a high rate of what PFF calls big-time throws under pressure, so there's a boom or bust nature to those scenarios.
I mention all that to say this: Ryan is better when well protected. He's better with a solid run game the Falcons now employ. That means his numbers have dropped, but that okay. His third-down percentage is solid, but he needs to be more precise on some throws and capitalize on all opportunities if the Falcons are to thrive in future contests.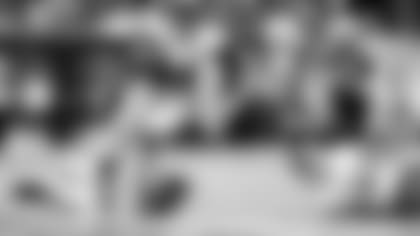 Shane Hymers from Cantebury, United Kingdom
Hi Bair, How realistic do you think it is that we retain Patterson next season? Surely we must be able to pull something off.
Bair: I don't think is a sure thing, Shane. And, as always, I enjoy hearing from Falcons fans abroad. Back to your question: Both sides probably have to compromise a bit to form a pact. Cordarrelle Patterson should be looking to cash in after a career year. The Falcons don't have much cap space, and surely don't want to use tactics that jeopardize the financial flexibility they crave. Patterson fits well into Arthur Smith's scheme and he's the offensive MVP, so a return engagement seems appropriate.
Time will tell if both sides can work out a deal, but that will be an intriguing storyline to follow through the offseason.
Katie Atwood from Woodstock, Conn.
If we win the game against the 49ers, what will we have to do to get into the playoffs and possibly win the Super Bowl? I think we're going to have to focus on Russell Gage and Kyle Pitts as major targets for Matt Ryan on Sunday. Hayden Hurst is returning from IR, so that adds another weapon for Ryan. If we beat the 49ers, the rest of the games are pretty easy.
Bair: I wouldn't say the remaining games are easy. Playing the Bills in Buffalo will be tough, and anything goes in rivalry games against the Saints. While this is the time to dream big, making them reality essentially requires a win over the 49ers.
The Falcons currently have a 12-percent chance to make the playoffs, per fivethirtyeight.com. That number skyrockets to 42 percent with a win over San Francisco. It plummets to three percent with a loss. The Falcons must win and get hotter than they've been all season, starting on Sunday.
Mack Guynn from Woodland, Calif.
Hey Mr. Bair … thx for all you do in giving us the fans, latest update and insight on the Falcons is greatly appreciated. My question to you is what is your take on Dean Pees sticking around as DC for the next year?…I've heard rumors that he came out of retirement to help Coach Smith establish a defensive scheme for the team and turn over the reins to an understudy….I hope Mr. Pees will stick around for another season as I think he is making great strides in developing a stout defensive unit…Merry Christmas to you and your family!
Bair: Dean Pees said in a Thursday press conference that he hasn't installed his entire scheme yet, that there's plenty more in the playbook to work out. There's also plenty more to teach and refine within this group, so I wouldn't anticipate him setting things up and then walking out the door. He hasn't specifically addressed his future, but I would fully expect him to see this thing through and build a strong defense like he has at so many other stops.
Jonathan Brown from Washington, D.C.
Hey Bair, We have seen the Falcons struggle in the third and fourth quarters for years. It has been a problem under three different head coaches. Is this a product Dimitroff's hiring philosophy? If so, do you see any signs that Fontenot will be able to change that direction in the near future?
Bair: While I agree that there are too many examples this season of the Falcons losing second-half leads, they're rarely gone for good. It's also hard to say the Falcons are bad in the fourth quarter, considering they're 6-2 in one-score games. That's pretty darn good, and I think Arthur Smith has a lot to do with that. They still haven't played that complete game, with lapses at inopportune times, and they'll have to be better against better opposition to realize their goals.
James Kirkland from Sylvania, Ga.
Maybe it's just a coincidence but with so many Georgia Bulldogs players drafted to the NFL the Falcons doesn't have one on the active roster. Do trends lie or our scouts don't know where Athens is?
Holiday Pack
Give the gift of Atlanta Falcons football with a Holiday Pack! Includes 200-level or 300-level tickets to the December 26 game, a blanket, and a commemorative NFT.