Modern offenses thrive on space and timing.
When you get down into the low red zone or into a goal-to-go situation there is much less space to operate. The defense essentially gets an extra defender in the end line. They know you can't run anything deeper than the end line, so they can't get beat deep and don't need to cover as much space.
All of that to say those windows of time become much, much smaller. Falcons quarterback Matt Ryan and receiver Julio Jones used nearly every inch of that space and time to connect on a 1-yard touchdown in Carolina in Week 16.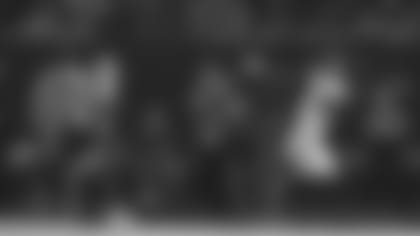 After surrendering a long touchdown drive to the Panthers to open the game, Atlanta's offense used a balanced attack, running six times and passing eight to drive 85 yards for the game-tying touchdown. The score was set up by an 11-yard pass from Ryan to Jones that gave the Falcons a first-and-goal from the 3-yard line.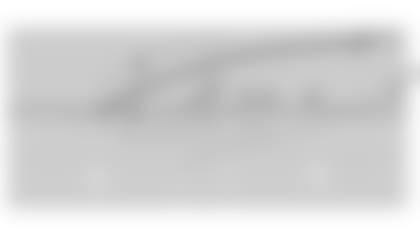 Following an incomplete pass and a short run by Brian Hill, Atlanta lined up for third-and-goal from the Panthers 1-yard line. To maximize the amount of space they had to work with, the offense came out in 12 personnel with Hill in the backfield, tight ends Austin Hooper and Logan Paulsen on each side of the line and Julio Jones and Calvin Ridley split wide to the left and right respectively.
This drew the Panthers defense down close to the line of scrimmage with nine defenders in the box.
Ridley motioned across the formation and at the snap Paulsen and the offensive line blocked left while Hill and Hooper ran underneath routes. This held Panthers Thomas Davis, Eric Reid and Mike Adams along the goal line as they needed to honor the underneath routes.
As all of this was happening, Jones flashed his game-breaking speed and screamed across the end zone to haul in his seventh touchdown reception of the season. You can watch it here:
The Falcons have been among the NFL's most successful teams in goal-to-go inside the five situations this season. Atlanta ranks sixth in the NFL, scoring touchdowns on 91.7 percent (11-of-12) of their drives inside an opponent's five, showing their ability to make the most of the limited space.
The play went down as a 1-yard touchdown, but Jones covered 41.53 total yards from snap to catch using all but 11.8 yards of the horizontal space he had to work with. The six-time Pro Bowl clocked a top speed of 21.35 mph which tied him with Hill as the fastest ball carrier in the NFL in Week 16. It was also the highest speed Jones has reached on a play this season and the second fastest any Falcon has run this year.
"He probably ran about 40 yards on that play," said Ryan. "From the backside to the back pylon on the right side, just excellent by him of staying with it and toe-tapping on the sideline. It was a great way for us to start the game."
Time and space. Those were the keys to success on this play. Jones' ability to simply run away from defenders created the space while Ryan rolling out to his right gave them time. Ryan took 3.87 seconds from snap to throw with the ball traveling an air distance of 20.9 yards and covered 9.4 air yards.
Despite Jones having to tap his toes along the sideline, the pass had a completion probability of 77.1 percent. He was able to create more than 2.5 yards of separation when Ryan's pass arrived, even though James Bradberry hit a top speed of 20.5 mph trying to chase him down.
All that for 1 yard on the stat sheet.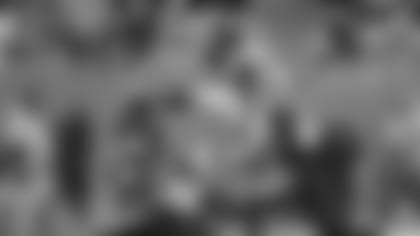 One Hill of an effort
In addition to this early score, The Falcons had a good deal of success running two tight end sets on Sunday. Atlanta ran 17 plays in either 22 or 12 personnel accounting for 35.4 percent of its 48 offensive snaps and 155 of its 427 total yards. The Falcons averaged 9.1 yards per play and scored one touchdown with two tight ends on the field.
Everyone expects Jones to make the spectacular look ordinary, but Atlanta got some unexpected production from Hill in their Week 16 win at Carolina. Hill was originally selected by the Falcons in the fifth round of the 2017 NFL Draft out of Wyoming where he ran for 4,287 yards on 775 carries (5.5 yards per carry) with 35 touchdowns.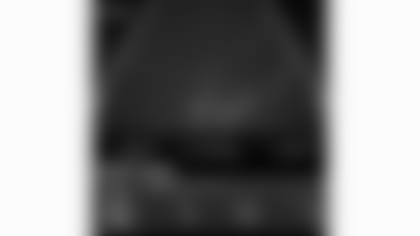 Prior to his breakout performance on Sunday, he had seen action in 16 games over the last two seasons, while totaling 49 yards on 15 carries. Hill smashed those numbers with 115 yards on just eight carries, including runs of 60 and 24 yards. The former Doak Walker Award finalist matched Jones as the fastest ball carrier in the NFL last week reaching a top speed of 21.35 mph on his 60-yard scamper.