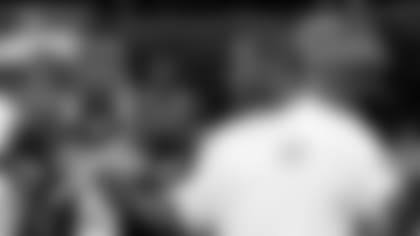 The fourth winner of the 2016 season is Bryan Lamar of Tucker High School. Lamar is now in year five at the helm of the Tigers and has compiled a 45-12 record while leading Tucker to a 3-1 start this year and the No. 9 ranking in Class AAAAAA.
Lamar holds Tucker Nation near and dear to his heart as a 1999 graduate. Upon his graduation, Lamar signed to play football at Tennessee-Chattanooga where he was a three-year starter at safety and graduated in 2004. He went on to earn a Master's Degree in Education from Central Michigan in 2008.
After serving one year as a Graduate Assistant at Tennessee-Chattanooga, Lamar made his way home and began building the Tucker Middle School program and serving on the high school staff. He moved up to Defensive Coordinator in 2007 and in 2012 was afforded the opportunity to lead his alma mater.
As an assistant on staff, Lamar has been a part of two Tucker state titles in 2008 and 2011. Taking the reins of a prestigious program with a winning percentage of .701 that Lamar helped record as both a player and coach, maintaining the Tigers' success has been an enjoyable proposition.
"I think that's always the expectation here," Lamar stated when asked if there's any pressure to win games at Tucker. "Every Friday my expectation is to come out here and get a win and for our kids to play as hard as they can. I guess there is some sort of pressure involved in that, but for me it's just expectations that I would have if I were running any program. Go out and do your best every Friday and prepare to win."
Lamar's ability to build a winner on the field and in the community has helped Tucker sustain itself as a premier program in DeKalb County.
One way the Tigers ensure progress is through their mentoring program.
"We do a mentoring program where we take our football players and cheerleaders and on Wednesday mornings we go to our feeder schools and break the kids up and they go sit and read and interact with the kids,'' said Lamar.