Akilah Kubi and Peyton Walker were buzzing with excited energy as they stood on the sideline of the University of Washington's indoor football facility. Gathered around them were 75 other Montana high school girls and their five coaches.
It only took a moment for that excited energy to become an all-out buzz as players like Kyle Pitts, Drake London, Marcus Mariota and many more wrapped up their Saturday walk through and headed over to the girls on the sideline to sign autographs and take pictures.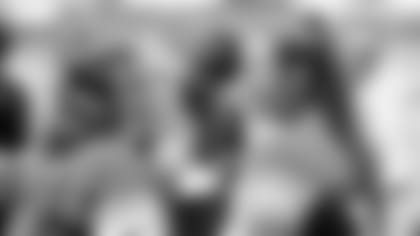 While the Falcons spent a week out in Seattle before facing the Seahawks in their Week 3 matchup, the organization invited these ladies and their coaches to make what Kubi called a "once-in-a-lifetime" trip to Seattle from their hometowns in Montanta. Traveling from Butte, Flathead and Glacier high schools in Montana, these girls took in a Falcons walk through and the Washington/Stanford game before watching the Falcons players they just met face the Seahawks a day later.
For many of these girls, traveling outside of the state of Montana is not something they had every had the opportunity to do. That is, until they began playing girls flag football.
These 75 young women all play football for their respective high schools in Montana, and they were connected with the Falcons organization as Atlanta works to spread the sport of football outside the realm of one singular gender, and state lines, too.
The Falcons have been supporters of girls flag football for years now. Having started in 2018 in Gwinnett County with 19 high schools offering girls flag, that number has now skyrocketed to 240 school across Georgia offering the sport to young women. The Falcons efforts to grow the reach of the sport has now expanding to include programs in Alabama and Montana, which is how Kubi and Walker became involved.
Now, they're watching "top secret" Falcons walk throughs with their teammates, Kubi laughed, something they never would have done if they "would have just stuck to their regular sports."
"We just met a professional football team," Walker gushed. "Like who gets to do that?"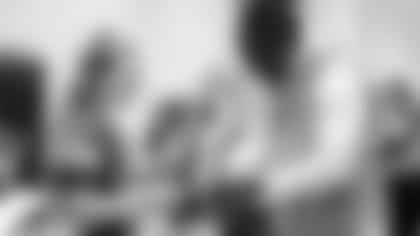 Of the players the ladies met was rookie Troy Andersen, a Montana native, too. Kubi and Walker both commented on meeting Andersen, saying that seeing him was like seeing "a little piece of home." Everyone knows who Andersen is, and to see him with his professional team was pretty exciting for the girls who have seen him from the peripheral over the past few years.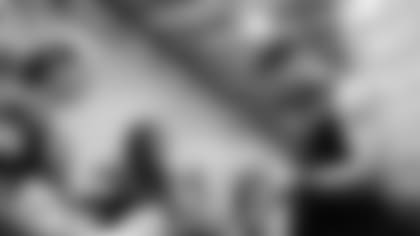 For these girls, that same excited energy that buzzed through them as they chatted with Falcons players is the same energy that courses through them when they talk about their teams and the opportunity they've been given to play the game of football.
Football, Kubi and Walker said, is the lifeblood of their high school. A lot of the energy from the school comes from the football team, Walker said.
"We saw that and we wanted to be a part of that," she continued. "We wanted to have our own version."
And when girls flag football was founded at their schools, they had it.
"I'd say it's definitely empowering," Kubi said of getting to play girls flag football at her school.
"It feels like we're the trailblazers of this sport for our school," Walker continued, "and we're hopeful to spread it so that other girls have this opportunity because it's just so awesome."
And after a weekend in Seattle, that excited energy and drive to do exactly that won't leave these girls for a long time.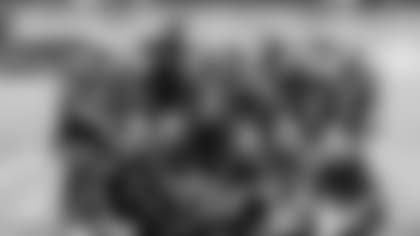 Sundays In Atlanta, GA Reserved For Dirty Birds
Doesn't get better than a Falcons Sunday in the city! Shop the Kickoff Collection today online or in-store at Atlantic Station.