There's been a lot of discussion recently about the condition of Todd Gurley's knee. On Friday, it was the running back's turn to talk.
Waking up early from his home in Los Angeles, Gurley hopped on a conference call with members of the Atlanta media. He was asked in various ways about his health and mindset after a 2019 season in which his workload was diminished and his production waned, but Gurley's confidence in himself has not been shaken one little bit.
"I know I'm still that guy," Gurley said when asked if he felt he needed to prove he could still play at an All-Pro level. "I've been doing this my whole life. It's just football."
Gurley, who will wear No. 21 with the Falcons, returns to the state where he became a household name among college football fans. While at the University of Georgia, Gurley became one of the most dominant running backs in the country and seemed destined for a bright future in the NFL.
Gurley's college career was cut short after he suffered a torn ACL against Auburn his junior year. That injury is the root cause of concern with Gurley's knee, but he's proven capable of dominating in the NFL every bit as much as he did in college.
"I didn't tear my ACL last year, this was six years ago," Gurley said of his injury and recovery. "I've just been able to try to maintain that and keep going each year."
In each of his five NFL seasons, Gurley has gained at least 1,000 yards from scrimmage. During his two All-Pro seasons in 2017 and 2018, Gurley amassed 3,924 total yards and scored 40 touchdowns.
Just one season removed from that level of excellence and still only 25 years old, Gurley is focused on continuing to build his career with the Falcons.
"Each year you've got to prove yourself," Gurley said. "It doesn't matter if you're an All-Pro or a Pro Bowler the year before or you made it the year of. Nobody cares about what you're doing in this league, you've got to prove yourself each week, you've got to prove yourself each year. … You've got to leave your mark while you can and definitely try to be the best you can. That's why I picked the Falcons to be able to still create my legacy and try to be the best player I can be. Like I said, I know what I'm capable of, I've done it before."
In Atlanta, Gurley will join an offense that does not lack for talent. The Falcons already boast two proven superstars in quarterback Matt Ryan and wide receiver Julio Jones, and an ascendant young receiver in Calvin Ridley. If Gurley can bring juice to a Falcons ground game that has been lackluster in recent seasons, it may be impossible for defenses to fully contain Atlanta's offense.
"I'm just excited for the opportunity to come play football in Atlanta," Gurley said. "To be with one of the best receivers, a great QB, an MVP. Like I said, I'm just excited, honestly. For the most part, whatever I can do as far as helping the team out, I'll just play my role."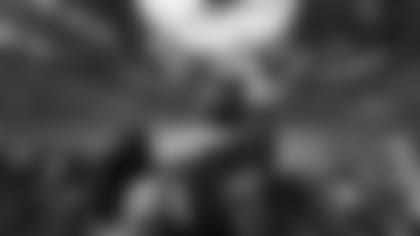 2020 Season Tickets
See the Falcons battle divisional foes along with the Bears, Lions, Broncos, Raiders and Seahawks at the best venue in sports.