Christmas will be a little sweeter for the Falcons, who are back from Charlotte after knocking off the Panthers on Sunday for their sixth win of the year. Some Falcons weren't so thrilled with the win because they're hoping the team will ultimately land a top-10 pick in this year's draft. There are questions about the game, the draft order and so much more, so let's get right to them all now. Just remember that all opinions here are mine unless otherwise noted.
Mark from Sandy Springs, GA
Let's start with a gleeful Sir Beek quote: "It ain't happening." This is in regard to your column about Falcons tanking for a draft pick or resting starters for 2019. Really, Beek? I kind of get the feeling the fans reading your blog that do not always share your highly optimistic opinion are starting to wear thin on you. Quite frankly, I could care less about the past two victories other than the losing streak has been broken and no injuries impacting 2019. Let me get this straight, did Carolina not play their Pro Bowl MVP quarterback Sunday? Forward thinkers maybe? Sir Beek, you're either a little frustrated, and I hope that all it is, or you really have disdain for the less-than-optimistic fans that follow you. Yes, we get emotional and overly so in some cases. I follow you because most of what you write is solid and entertaining. Time can be spent in more productive ways. Do late-season victories in 2018 count in 2019? Who is it that writes that teams (players and coaches) change every year? Happy holidays to the fans and to Sir Beek: "Back at You."
Matt: Mark, Mark, Mark. First, I love that brought some heat this morning, but you're firing it in the wrong direction. Go back and read the column. Falcons coach Dan Quinn said the players and coaches would (and will continue to) play to win, not play for a higher draft pick. I, in fact, asked Quinn last week if he would treat the final two games more like preseason – to evaluate his roster heading into 2019. Seemed like a fair question since the Falcons were officially eliminated from playoff contention (and that's so many of you folks ask me lately). Quinn said no, which I also noted in my column. Tons of fans, like yourself, want to throw in the towel and play for a pick. You call it forward thinking. I call it tanking. Regardless, the players want to compete and want to win. So, do the coaches. Look, I love the fans, love the Beekers here, love the passion you all bring and totally get wanting a top-10 pick. I understand! I love the draft – it's like Christmas in April. And come spring time, that's what ever fan will want, right? But credibility is far more important than a prospect, and the coaches would lose that locker room if they were to somehow convey that winning wasn't important. You see, all of them are playing for 2019, Mark. They are playing for the futures – and they want to play just as hard in Week 16 as they did in Week 1. Happy holidays to you as well.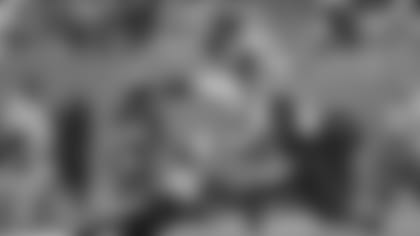 Roger from Buford, GA
Beek, I read your article about the Falcons not throwing in the towel. Let me say that you do a fantastic job of walking the fine line between keeping it real with the fans and respecting the team. I also noticed that you never once said what you would do – try to win or play for a higher draft pick. I think we know, but feel free to enlighten us. Now to my question, and I know you'll be honest with Beeker Nation. What exactly did we gain by beating the Panthers besides a sixth win and a lower draft pick? Tell me something – anything – positive. Thanks, Beek. Merry Christmas to you and your loved ones.
Matt: Thanks for the kind words, Roger. First, to your question. You want some positives from the 24-10 win over the Panthers? Here are a few:
I don't know about you guys, but I've been waiting almost two years for the Brian Hill who rushed for 4,287 yards and 35 touchdowns in three years at Wyoming to show up in an Atlanta Falcons uniform. Before Sunday, Hill had just four carries for only 12 yards. It's hard to be labeled a bust when you're a fifth-round pick, but he hadn't shown us much. That all changed on Sunday. Against the Panthers he had eight carries for 115 yards – that's 14.38 yards a pop. No Falcons back has rushed for more yards in a single game this season. Was it perfect though? Not by any means. He had a beautiful run with a spectacular hurdle – he looked like Ezekiel Elliott or Todd Gurley – but inexplicably fumbled in mid-air. Still, it was a glimpse of what he can do. The Falcons could certain use a bigger back with speed and toughness in the open field. The 6-foot-1, 219-pound Hill demonstrated that against the Panthers and Falcons fans should be cautiously optimistic about his future with the team.
Calvin Ridley reminded us all why the Falcons drafted him in the first round against the Panthers in one play that took just nine seconds off the game clock and covered 75 yards. Matt Ryan, who not only played but also moved ahead of Warren Moon for 13th-most touchdown passes in NFL history, hit Ridley streaking down the left sideline to begin the second half for the score. Ridley's touchdown tied him with former Falcons tight end Junior Miller for most touchdown catches in a single-season by a rookie in franchise history with nine.
Mohamed Sanu had his best run of the season against the Panthers. Sanu, who was lined up the wildcat formation, took the snap, faked a handoff and raced 24 yards to set up the Falcons' first touchdown of the game. The play was another reminder of Sanu's versatility and speed.
I could go on about how the defense forced a season-high four turnovers or how Julio Jones, a game-time decision to play because of multiple injuries he was nursing, gutted it out and scored the Falcons' first touchdown, but I'll stop there. There were plenty of positives – and reminders – against the Panthers. As for your comment about what I would do or what I think about the Falcons playing to win ... I think you play to win every time you step out on a football field. I'd think anything else other than their best effort would be unacceptable to everyone, including you – the fans.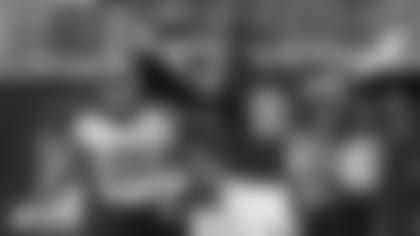 Ray from Asheville, NC
Beek, what a great win for our Falcons! Now we're in second place in our division and guaranteed a respectable division record. We have one more game against the Bucs to carry us into the offseason, hopefully with a win. There seems to be a lot of momentum and I'm already excited about next season. Austin Hooper set an example in preparing during the offseason and I hope that continues. I know all the players want to improve, but are there certain players that need to show something more against the Bucs? Thanks again for your unwavering perspective and Merry Christmas to you and all of the "Beekers."
Matt: Hey, Ray. The Falcons improved to 6-9 and are now 3-2 in the NFC South. With a win over the Bucs next week, they'll finish 4-2 in the division. If you had told me in August that the Falcons would finish 4-2 in the South, I'd have thought for sure they'd also be 10-6, 11-5 or even 12-4. It's been a weird and tough year, for sure. You're right about Austin Hooper's season, too. He has improved in virtually every statistical category in each of the past three seasons. He has more catches (66), yards (593) and touchdowns (four) right now than at any point in his career here in Atlanta. Hooper's arrow is definitely pointing up – and he just made the Pro Bowl as an alternate. As far as other players I'll be watching in the final game of the season, I'll obviously be watching Brian Hill. If he puts together another performance close to what he did against the Panthers, that'll be huge – and it'll give the Falcons something to think about as they begin to assemble the 2019 roster heading into training camp. Another player I want to see something from is Isaiah Oliver. Oliver made his first career interception against the Panthers on Sunday. There's a chance he could have an even bigger role in 2019 and seeing some positive plays from him in the season finale would be reassuring to those who made him a second-round draft pick last April. Lastly, I'd like see something – anything – from the Falcons' edge rushers against Tampa Bay. The Buccaneers, believe it or not, have one of the better offenses in the league (their defense has been a big part of their demise in 2018) and getting some heat on Jameis Winston will be key. Who will step up? The Falcons have some big decisions to make when it comes to their defensive front. It'll be interesting to see if any of those guys provide the coaching staff with a few more plays to think about heading into 2019.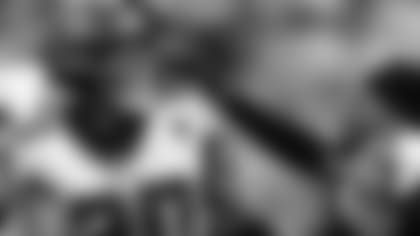 Mark from Marietta, GA
Chiding your readers is not acceptable. Done with SFTB.
Matt: Mark, I simply reminded what Falcons coach Dan Quinn said all week long – he and the Falcons have no plans for throwing in the towel. I said I understand where Falcons fans are coming from. I love the draft; it's like a second Christmas for me because draft picks are like presents – and everyone wants one. The fact that they won and played the way they did should answer all of those questions – and that's what the column was about. Can we stop already (with the questions now) was the opening line of the column for a reason. I wasn't chiding or scolding the fans. You know I'm all about the fans here.
Charles from Atlanta, GA
Matt, the time approaches where we thank you for what you do and hope that you sit football down for a minute and enjoy the holiday season with your family (not DJ and Archer!). Always look forward to your podcasts, insight and viewer responses! And the video link from Daniel from Bucharest, Romania, is on point! Didn't realize the athleticism on display or the number of picks thrown targeting Julio! Merry Christmas, to you and yours!
Matt: Thank you so much, Charles. Maybe you could talk to Mark from Marietta for me on that front. I'm glad you guys are enjoying the Falcons Audible podcast, too. It's been a work in progress and we're starting to find our groove as the season winds down. Sometimes you need time to develop that chemistry and it's been a lot of fun working with D.J. Shockley and Dave Archer. We have our moments when we disagree, but that's what it's all about – three guys (or two former quarterbacks and a longtime writer) talking football. Yes, and that video from Daniel of Romania was pretty cool. Julio Jones could have played a number of positions – and excelled. He's a gifted athlete for sure. And finally, thank you – Merry Christmas to you, too. I plan to enjoy the rest of the day and tomorrow with my family. I'm thankful for all of my readers – even the ones who disagree with me.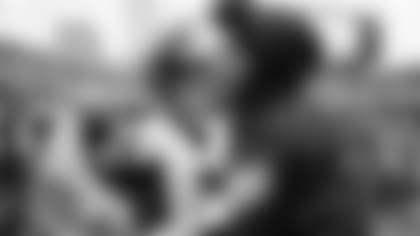 Clint from Evans, GA
Beek, Arthur Blank should fire the whole coaching staff and Thomas Dimitroff. Now we have let our two division rivals move up past us in the draft. Cam Newton was not hurt; the PANTHERS ARE positioning themselves for a better draft position. I am losing all confidence in our brain trust. They are showing they are not pro-grade material.
Matt: Clint, how do you know Cam Newton isn't hurt? If you watched him play at all during the Saints game last week it's clear that something is wrong or off with him. Former Panthers defensive end Al Wallace was begging the Panthers to deactivate Newton because he was so concerned for Panthers' quarterback's health. But I digress. So, to be clear, you think the Falcons should clean house because they're 3-2 in the NFC South and you think they should've lost those games so that the team would have a higher draft pick? Just so you know, if the draft was held today, the Falcons would be picking ahead of the Panthers. I think Dan Quinn made it pretty clear that they had no plans of throwing in the towel, Clint. I wrote about it following the 24-10 win over the Panthers. This team is going to try and win every single game and wherever they end up in the draft order, so be it. That's the message they're sending – and they backed it up.
Francisco from Macungie, PA
How do I find your podcast? I'd like to listen to it, I've heard it's good. I also heard it's where to get all the latest news for the brotherhood.
Matt: Hey, Francisco! You can listen to (and watch) the Falcons Audible podcast in a number of spots and sites. Falcons Audible is recorded every Monday morning at the team headquarters in Flowery Branch, Ga., following Falcons games. Here you go:
And with that, I'm out until after Christmas everyone. I'd like to wish you all a very Merry Christmas and happy holidays!