Welcome to Straight from the Beek! The Falcons' draft class is complete and the roster building continues. For the rest of us, the countdown to training camp is officially on – and you've got plenty of questions in the meantime. So, let's get to them. Just remember that all opinions here are mine unless otherwise noted.
Chris from Mount Pleasant, SC
Hey, Beek. Love to read your column for your answers and to see what other fans are thinking. First, I really like where we are and where we are heading as a team. That said, my primary concern is how overreactive we seem to be after rough seasons. There always seems to be a "theme" and I fear that can keep us from making the best overall football decisions. At the end of the Smitty era it was toughness, then it became speed, and now it's nastiness. I'm not arguing that it's wrong this time, it's just that history has not been kind to this thought process. I'd like to see what you think. Thanks.
Matt: In the end it all comes down to winning and losing, theme or no theme, Chris. I think the Falcons made a concerted effort to get bigger up front and I think they've accomplished that through the signings made in free agency and with their draft picks. I also think it was necessary. If you need a refresher, go back and read some of the columns I wrote last year – here's a page with all of them on it. Scroll through the headlines – especially this one – and hopefully you'll see what I'm getting at. I wrote on April 26 that the Falcons are indeed getting bigger, faster and nastier and, again, I think that's a good thing. Falcons coach Dan Quinn has his finger on the heartbeat of this team and said after the season they needed to get nastier. The fact that he said that is, I think, a big deal. It's an admission, too, that they aren't nasty enough. He's also taking over the defense. And what did Quinn say about that? "I love tough-ass, hard-nosed defensive play," he said. "I think to be championship-caliber teams, you better have an edge to you. The best defenses I have been a part of have had a good ball-hawking mindset. And that part of the game, if you can do that and eliminate explosive plays, you got a really good chance to do well." This is a physical game. Being bigger and nastier is a good thing.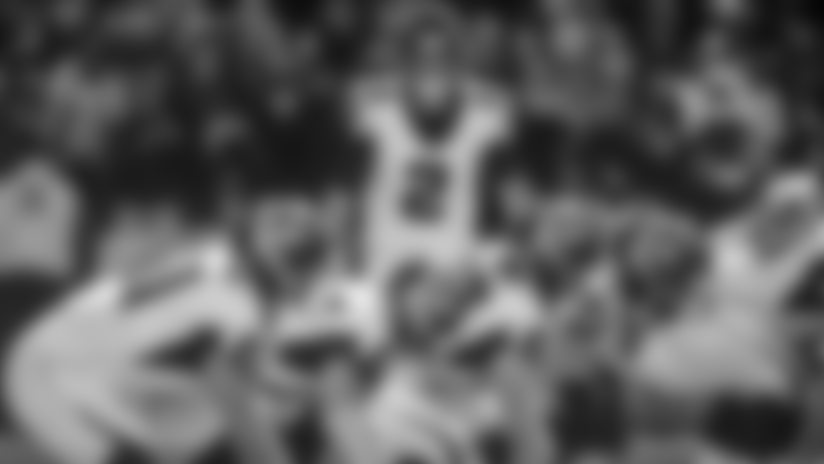 Carlos from Hephzibah, GA
Good morning from the home of the Augusta Nationals (The Masters). I noticed that the draft experts have already began discussing next year's draft and those hyped quarterback prospects like Trevor Lawrence (Clemson), Justin Herbert (Oregon), Tua Tagovailoa (Alabama) and Jake Fromm (Georgia). Are the Falcons at the point where it could be wise to draft a QB in the second or third round to begin grooming for the future or is it too early to think about life after Matt Ryan four or five seasons down the road?
Matt: The Falcons are trying to win a Super Bowl this season. They're trying to secure their better players to long-term deals and trying to find the best and most capable backups concurrently. We all saw last season what happens when two starters go down at the same position – see safety and the guards. It's not ideal. That said, the Falcons' scouting department is well into evaluating next year's draft class (and beyond in some cases). They're always evaluating players in every region, at every level. They are more than familiar with next year's quarterback class and the players you mentioned, too. Matt Ryan signed a five-year contract extension about this time last year. And how did he perform in 2018? Pretty good, I'd say. He completed 69.4 percent of his passes (422 of 608) for 4,924 yards and tossed 35 touchdowns. Ryan takes really good care of himself and is playing at very high level. This team has some needs, but I don't think quarterback is one of them, Carlos. If his level of play were to suddenly drop, then it becomes a relevant topic to discuss. Not right now.
Matt: I think the Chris Lindstrom was taken with the 14th overall pick for a reason – to make an immediate impact and help improve the Falcons offensive line. Same goes for Kaleb McGary, but I think Lindstrom will make the biggest impact. Which rookie has the highest ceiling? Hmm, good question. I'm torn between the two fourth-round picks – cornerback Kendall Sheffield and defensive end John Cominsky. I'm going to go with the former Ohio State cornerback for right now, though. The reasons why players slide into Day 3 of the draft vary (and aren't always valid), yet it happens. That said, Sheffield has very good size (he's 6-feet, 193 pounds) and has blazing speed (he set an Ohio State record with a 6.6-second 60-yard dash in 2018). You can't coach those two things. If he develops and works at his game, I think Sheffield has a very high ceiling.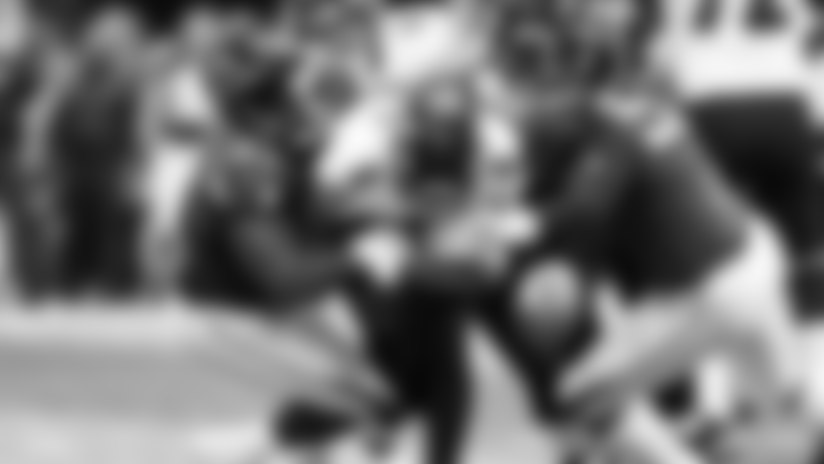 William from Alapaha, GA
Beek, I kinda think you went silent on a subject I felt you were high on. We needed a defensive tackle and there were some good ones out there. Unless we have an ace in the hole, I think it could be a problem. When we had Donatri Poe, our front was pretty good 'cause they could not push him out of the way. Your thoughts here? And thanks for the insight.
Matt: No dodging, I swear. I thought heading into the draft, the biggest needs were right tackle, defensive line (tackle and edge rusher), cornerback and running back. They solidified the line with the selections of Chris Lindstrom and Kaleb McGary. I liked the John Cominsky pick for the defensive line, too. Yes, he went to a Division II school (University of Charleston), but Cominsky more than held his own at the Senior Bowl and checked the boxes at the combine. As noted above, I think he could develop into a pretty good player in time. I also think he'll get bigger and develop into a run-stopper inside. The Falcons drafted a pair of cornerbacks in Kendall Sheffield and Jordan Miller. I like both of them, and think Miller is a solid press corner. Time will tell how they each develop and fit into the Falcons scheme. And on Monday, I wrote about running back Qadree Ollison in our roundtable discussion. The Falcons have needed at least three running backs the last two seasons, mainly due to injuries. It was not only a position of need, but Ollison can play all four downs (Dan Quinn pointed out), is big enough to move piles (he's 6-foot-2, 225 pounds) and fast enough to take it to the house. In case you haven't noticed, the Falcons have made a concerted effort to get bigger. And Ollison fits right in. Absolutely love the value he brings for a fifth-round pick. So where does that leave us on the topic of defensive tackle and edge rusher, William? Well, I think Cominsky ends up playing mostly inside and he'll join a rotation that includes Grady Jarrett, Jack Crawford, Tyeler Davison and Deadrin Senat. I still think they could add another piece or two before or after final roster cutdowns, too. The one position I most concerned about is defensive end, though. Right now it's Takk McKinley, Vic Beasley, Adrian Clayborn, Steven Means and Chris Odom. I think they're an injury away from some possible trouble. I think they'll add another piece there as well before the season kicks off against the Vikings on Sept. 8.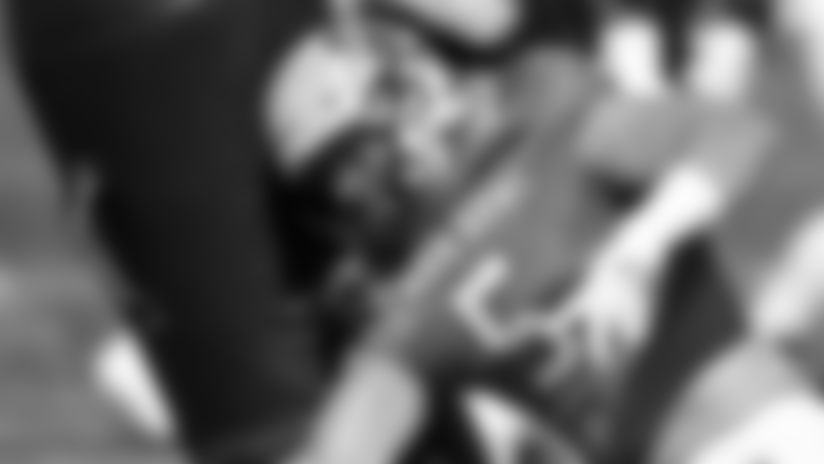 TJ from Beckley, WV
Hello, Beek. I am happy we got some O-line help. I hope great things for my team every year, and in the draft this year, I think we hit the mark. Oh yeah, I love that a player from West Virginia is on our draft roster. I think we did quite well in the draft and looking forward to the start of football!
Matt: I figured the emails from the Mountain State would start increasing after the pick of John Cominsky … and I was right. There's a lot of folks excited about Cominsky's potential and upside. He should be a lot of fun to watch once training camp kicks off.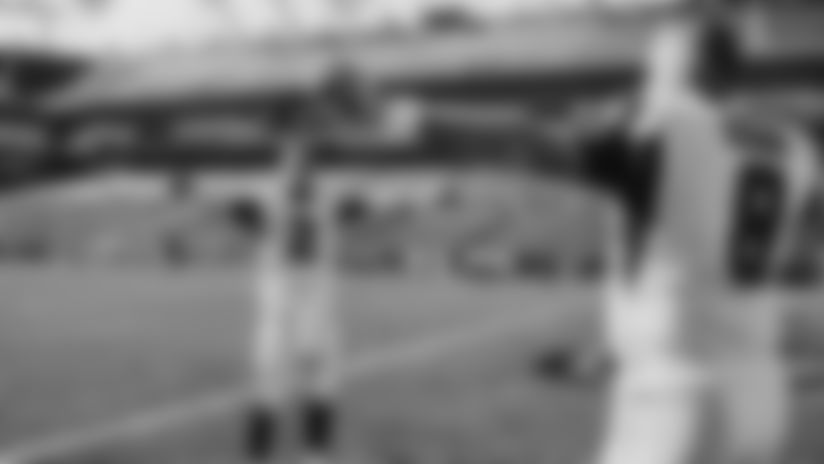 Joanne from Snellville, GA
MATT, I get all the picks and changes each year. I truly believe we have to talent in the Falcons brotherhood. But who is the backup quarterback? I'm so happy Matt is running a little more when the opportunity presents itself. But what we need is more element of surprises. If other teams are unaware of our plays they won't know what going on. Practice about three to five different new plays that is needed is critical moments, which is more often than not. And use them as the element of surprise. I'm no coach but what do you think? I'm tired of requesting Falcons medication for being on pins and needles. But I love them. Lol.
Matt: JOANNE, the backup quarterback is Matt Schaub. The Falcons gave him a two-year extension back in early March. As far as Matt Ryan running more, I don't know if that's something the Falcons want to see more of. In fact, with the massive wall they're currently building around him, I think they're more than content seeing him sit safely in the pocket dispersing the ball wherever it needs to go moving forward. MAILBAG
Do you have a question about the Falcons that you want answered? Ask a question here and it could be posted on AtlantaFalcons.com.