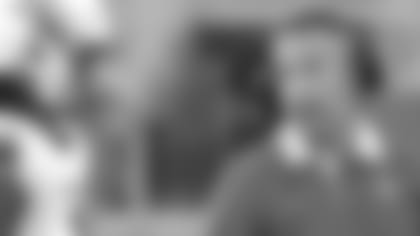 The seventh winner of the 2016 season is Chip Walker of Sandy Creek High School. Now in his 12th year at the helm, Walker took the head coaching position in 2005 following the retirement of his father, Rodney Walker. Prior to Chip taking over, his father won 300 games as head coach with nine different teams, including a 2009 state championship in 1984 at West Rome. Following in his father's footsteps, Chip, in 2009, led Sandy Creek to a state title, making the duo the first father and son to win Georgia state championships as head coaches. Chip repeated in 2010 and added his third title in 2012.
"First of all, I'm awfully proud of how supportive the Atlanta Falcons are with respect to their local communities and local athletics like the GHSA," Walker said. "I don't know how many other professional teams do what the Falcons do, but they have such a huge impact and their support has been great. I'm absolutely honored."
"Each year, we have extremely high expectations," Walker affirmed. "It's win region and state championships. We don't have any mottos or slogans, we just play our style of football and go out and compete."
Walker's players have exuded that kind of toughness and focus since he took over following his father's success. Since 2005, he's compiled a record of 123-24-1, winning 83.4 percent of his games. Those numbers and more so his coaching philosophy, have been impacted by the teachings of his father. "One thing I've taken away from how I watched my father coach, was he actually cared about his players," said Walker. "He was someone who took each kid and did his best to not only get the most out of him but to develop him on and off the field," stated Walker. "That's how I coach my guys."
Similar to how the Falcons reach out to their local community, the Sandy Creek football team volunteers Tuesdays and Thursdays to a youth league that holds practice on its field. The seniors will spend time helping out and mentoring younger players and doing their best to have a positive impact on their lives.
The Patriots toughness will be tested as Coach Walker and his players host undefeated 7-0 No. 1 ranked Cartersville this Friday night.