FLOWERY BRANCH, Ga — In a few months, the Falcons will take the field for the 2022 season, and they will look much different from how they have for the last 14 years. Matt Ryan is gone, shipped off to Indianapolis for a third-round pick that turned into Western Kentucky linebacker Deangelo Malone. Even Calvin Ridley, the Falcons' top target last season, is out for at least the 2022 season after being suspended. So while Arthur Smith and Terry Fontenot are heading into year two, it feels like this season is their first in writing the next chapter in Falcons football history.
Former Falcons receiver Roddy White is excited about that next chapter. Like Smith and Fontenot, he tells fans and media pundits not to call this team a rebuild. He expects people to be shocked by how well the Falcons do this season.
White sat down with AtlantaFalcons.com for a discussion on why he thinks fans should be extremely excited about the 2022 Falcons, Kyle Pitts, and Tony Gonalez comparisons, and why he has big expectations for Drake London and Desmond Ridder.
Editor's note: This conversation was edited for length and clarity
The Best Season Ticket Member Benefits are Back
We're offering our best season ticket benefits packages ever this year! Find the season ticket benefits that are most attractive to you.
Kris Rhim: What do you make of the Falcons' approach this offseason in what Arthur Smith and Terry Fontenot have called a "transition" period?
Roddy White: At some point, you have to transition. We've had Matt Ryan, and we had had Julio, and those guys over here for, you know, ten plus years. So, at that point, you know, a lot of teams have to transition, but it is always hard. Because those guys have been staples in our organization for such a long time, but you know, the new additions that we got, you know, drafting Drake and getting Ridder in the third round, you just hope you strike gold.
With Matt Ryan gone and Marcus Mariota and Desmond Ridder now on the team, what do you think about the quarterback room?
I like it. Those guys can move around and make plays off-script. You know, that's more of the league now. Everybody makes plays off script; everybody's got a mobile quarterback. Most of the guys can make plays out of the pocket. It's so tough now with team's ability to rush the quarterback, you have to have a guy that can be off-script, make plays out of the pocket and just turn nothing into something every once in a while and then also be able to deliver the ball from the pocket.
Did Arthur and Terry's first season give you confidence moving forward?
I mean, Art and Terry did an amazing job, you know, I really thought our team should have won maybe two or three games with the roster that we had, but it speaks volumes to those guys. We won a lot of close games last year, with a lot of young players, which is always good in the NFL because, you know, 90 percent of these games are gonna be seven points or less. Having the ability to win in the clutch, especially with the young guys, you got an opportunity to see how they would handle those situations, and a lot of times, they handled them really, really well.
I don't really look at our team as a rebuild, but we're in motion, you know? We're right there. We're two to three good drafted players away from being a solid team, being right back in the playoffs, and eventually getting back to the Super Bowl.
So you think the Falcons struck gold with Arthur and Terry?
I think they [did] man, I think those guys are a really, really good combination. They work well with each other. I think Terry's doing an excellent job getting players that fit Art's scheme and the things that he's trying to do out on the field, offensively and defensively. I think we've drafted a lot of good players here the last two years and it's a great start. It's a great foundation for us.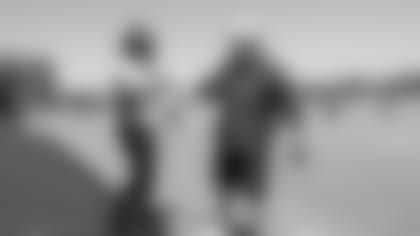 What players from this draft class are you most excited about?
I love Drake. I mean, he's a big target: tall, long, rangy, he can get up and go get the ball. He makes plays after the catch; he's a hard guy to tackle. And I love the quarterback. I think he's gonna be really good, man. He's a big kid, strong, can make all the throws all over the field, and is athletic. I really, really, think that he's gonna be a difference-maker for us for years to come.
The falcons have had exceptional stability at the wide receiver position, really, since you were drafted in 2005. What about Drake makes you think he can be next in line?
He has every tool that you need to be great at the position. His ability to just make plays over the top, pluck the ball out of the sky, and his route running ability which he'll get better at over time. But you can't teach size, length, and the ability to create separation. So he does a really good job of that. And then finishing plays, he does a lot of that. I've seen a lot of tape on him at USC, where he finished his plays, and that's important in the NFL, just getting the extra yardage and doing little things.
So Drake's really well-rounded. He's a really good player. And we're going to expect really, really big things.
Outside of Drake, why should fans be excited about the Falcons next year?
Our fans should be excited because it's gonna be youthful. They're gonna play hard. They're gonna be scrappy. They're gonna show up each and every Sunday ready to ball and be ready to fight. And it's just a different vibe.
I'm excited about our young team, and we got a lot of really good pieces around us, and I think they're gonna put it all together. We're gonna win a lot of games.
This is weird — I don't think we've said Kyle Pitts' name?
Oh, yeahhh. [Roddy laughs hysterically]
Man, the unicorn. That guy, I mean, he does everything, man Kyle. Last year he came in and just destroyed every tight end record. He's so versatile, man. He can play outside, can play inside, and create separation. He's a mismatch just waiting to happen, man. He's already a Pro Bowler, but I predict he'll be All-Pro the next 7, 8, 9, 10 years.
I played with Tony Gonzalez, who I consider the best tight end to ever play football, but this guy has everything [Tony] has and more.
Are you excited about Drake London and Kyle Pitts together on the field?
Fans should be excited about that. You're gonna see a lot of balls over the top. You're gonna see a lot of big catches. A lot of one-handed things, a lot of touchdowns. You know, we got two guys at 6' 4", 6'5", So get ready because the red zone is gonna be — we're gonna be dangerous down there.
Do you think people will be surprised by the Falcons next season?
People will be shocked and surprised by our team because I feel like we're gonna win more than seven games this year. I know everybody thinks we're in a rebuilding phase, but this is not a rebuild.
We're gonna go out there with our bright future. And we're gonna make a lot of plays with these young guys, and they're gonna be explosive, man. And I want everybody to come out and support us. You know each and every week because we're gonna shock a lot of people.
Absolutely. I'll be at games each and every Sunday sitting, with Art, you know, AB, Arthur Blank. Be out there chillin' with him, cheering on our birds.
And what's your final message for Falcons fans?
Get ready for some explosion on offense and get ready for some turnovers on defense, baby. Because we're gonna get both of them. And we're gonna win a lot of games. Interested in Falcons tickets?
Join us in 2022 for our biggest season yet! Find the best seats to watch the 2022 draft picks and your Dirty Birds in action!