Welcome to Straight from the 'Beek! The Falcons, already having a big week with the addition of Bruce Irvin and getting Deion Jones back to practice, are busy preparing for the Browns game on Sunday – and you have lots of questions. Just remember that all opinions here are mine unless otherwise noted.
Andrew from Bridgeport, CT
Greetings, Beek. After the Redskins win and the Bruce Irvin signing, things are really feeling "right" with this Falcons team. Reflecting on this signing makes me realize what a great position this franchise is now in. In years past, that would never have happened – Irvin would've gone to the Pats or Steelers or wherever. But Mr. Blank and TD had the foresight to wait through the Seahawks 2015 playoff run to land Quinn. And the team, the playing style, and the culture (and "literally" the stadium) that they have built up since, has been second to none. Now players want to come here, and that's is a good position to be in. I'm getting that feeling again, like the 2016 playoff run, like the second half of last year, where the Falcons bully the competition with passion and skill. I believe we are right at the cusp of this again – Irvin this week, possibly Debo the week after that, Saints the week after that. The rest of the NFL better buckle their chin straps. Beek, you are around the team, what is your read on where they are at right now? I know that you keep things pretty even keel, in both good times and in bad. But my gut tells me that we are in for a deep postseason run, what says yours?
Matt: Hey, Andrew. There's a growing excitement around this team right now because of the consistent play of the offense, the three-game winning streak, the improved defensive play, agreeing to terms with Bruce Irvin (he's expected to sign a one-year deal on Thursday) and the return of Deion Jones (to practice, which is still big). The Falcons, for now, are right in the thick of the wild-card chase and, even better, can still win the division. That's all you can hope for entering the second half of the season. Anything can happen once you get into the postseason, Andrew. That said, I'm not going to talk about or predict any sort of deep postseason run. At this point, especially after starting the season with a 1-4 record, just reaching the playoffs would be a masterful coaching job by Dan Quinn and quite an accomplishment after sustaining all of those injuries. If they take care of business and beat the Browns on Sunday, they'll improve to 5-4 and likely be favored to win their next one against the Cowboys on Nov. 18. For the last three weeks or so in this space that's all I've talked about – going into New Orleans with a chance at reaching 7-4 and improving to 3-1 in the NFC South and 6-2 in the conference. That would be a major statement. But it all starts with a win on Sunday in Cleveland.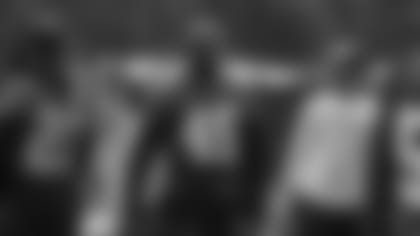 Aaron from Griffin, GA
Hey, Beek. I love what you do for the Falcons fans and just know we appreciate it a lot. I'm going to keep it short and simple. Why haven't we heard anything about Deion Jones? Has he practiced yet or is something holding him back from practicing or even holding him back from playing against the Cowboys?
Matt: Thanks, Aaron. Really appreciate that. In case you missed it, Deion Jones did return to practice on Wednesday. But keep in mind that the earliest he can return to game action is against the Cowboys in Week 11, which falls on Nov. 18. You can read more about his return right here. Jones met with the media afterwards and you can watch it here.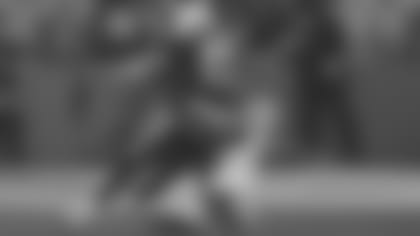 Kevan from Richmond, VA
Hey Beek! Love the column and love the way you put these fair-weather fans in their place! Season is looking up and Bruce Irvin should help our playoff push. How much do you think Irvin will improve our line, and do you think he'll have an effect on Vic Beasley and Takk McKinley as far as production goes?
Matt: Glad you're enjoying Straight from the 'Beek, Kevan! This space is all about you – the fans. Let me put it this way: I think adding Bruce Irvin will definitely help the pass rush – I think he'll bring the heat, create more pressures, more hits and more sacks on quarterbacks. I expect him to be a disruptive force in the trenches and in the opposing team's backfield. Now, does that mean Takk McKinley's or Vic Beasley's sack totals will increase? I don't know the answer to that. You would think having Irvin on the opposite side would certainly help, but there's no guarantee he will boost their individual numbers.
Kevin from Sierra Madre, CA
Hello. Beek. I just feel having Bruce Irvin here was destined to happen being that he even turned down more money to come play here and also reuniting with head coach Dan Quinn as well. Bruce is also a Georgia native, too, which makes for a great homecoming. I also feel like he will be rejuvenated like John Abraham was after he left the Jets to come to the Falcons. This was a great move by our front office and I think it was the missing piece for the Falcons to make the playoffs as well as just putting more pressure on opposing quarterbacks.
Matt: Always good to hear from you, Kevin. I'm running your comments this morning because they reflect what so many other readers are saying about the addition of Bruce Irvin to the Falcons. There's a lot of buzz right now, especially since it's a big-time reinforcement on the defensive side of the ball. Irvin, who is indeed a Georgia native who starred at West Virginia University, is expected to play Sunday against the Browns, primarily in nickel packages. Should be fun to watch him settle in on that defense. Thanks for your comments, Kevin.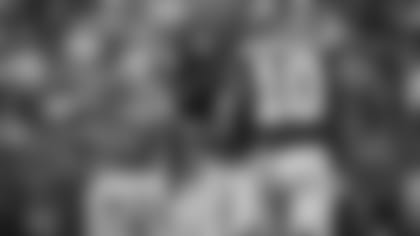 Adam from Reston, VA
Hey, Beek. First time writing in and longtime reader. Got a lot of statements and some questions so starting with Bruce Irvin. As soon as he was released by the Raiders, I had a feeling him and DQ would link up again. And as a WVU alum, I especially like this signing. He brings much-needed depth to the D-line. Looking forward to seeing him on the field. Next statement has to do with Desmond Trufant. Trade him (even though the deadline has passed). He's been a weakness for our team and has not produced anything special when guarding some of the top receivers in the league. He just seems slower and not aware at some points out on the field. I still think we can get a decent round draft pick for him. And hopefully Isaiah Oliver can fill those shoes nicely. Now onto the Aints' signing today. I do not see how anyone is going to slow down Drew Brees and the Aints with Dez Bryant signing a one-year deal there. Your thoughts? I know it's one game at a time and we shouldn't be thinking about the Aints but they are in our division and to do well in the league, you have to do well in the division. Onto the running back situation, I love all 3 of them and we have definitely needed all 3. I don't see that being the case next year though, seeing that Ito I believe has proven himself to be capable of a lot. He is a nice mix of Freeman and Coleman. I did just read the SFTB today and like what one of the writers had to say about trading Freeman and franchising Coleman. We could get quite a bit for Freeman if that were to happen. Could be a possible route to take but we will have to see what TD is thinking. I do think we need to get something for Coleman and not just let him walk at the end of the year. Looking forward to seeing what the Falcons got in store for the rest of the season. I have them going 5-3, possibly 6-2 the rest of the way. What's your prediction? And as always RISE UP!!! (P.S. How 'bout them Mountaineers? Will Grier for Heisman?)
Matt: Hey, Adam. As you probably know, I'm also a proud WVU alum and remember the Bruce Irvin years in Morgantown quite well (his 14 sacks in 2010 were second in the nation). And I agree, he'll definitely bolster the Falcons depth and add a spark to the pass rush. Regarding Desmond Trufant, I'd tap the brakes and wait until the end of the season before making any snap judgments based on the first eight games. All of those injuries affected the entire unit. As communication improves, players gain experience and others return from injury, I expect Trufant to benefit. And if Irvin can improve the pass rush, it'll only help the back end of the defense. I'd rather take a wait-and-see approach there, especially with eight games left to go. And I'm definitely taking a wait-and-see approach to the Dez Bryant signing in New Orleans, too. There's a reason why the receiver-needy Cowboys cut ties with Bryant. As physical as he can be, he just couldn't get the separation anymore. Also, he had the reputation for not being the greatest teammate as well. Now, will Sean Payton find a way to get Bryant the ball? And will Bryant be content with being option B, C or D? Maybe. But it's not like they went out and signed Julio Jones or Antonio Brown here. Regarding the Falcons' running back situation, I still stand by what I wrote earlier – the team needs all three running backs. Secondly, you can't trade a player and his salary cap hit without a willing trade partner. And finally, even though it's a longshot, I wouldn't rule out the team somehow keeping all three moving forward. The likely scenario is that two stay and the team drafts another back. Again, let's not overreact to the early season injuries. There's a lot of football left to be played. If the Falcons can finish 6-2 and finish 10-6, they'd have a fighting chance – and I think they'll need to win 10 games at the very least. That's a tall task when five of the final eight games are on the road. One thing people tend to sometimes overlook are the second-half schedules for the Panthers and the Saints. They're hardly a skip in the park. Also, the two teams face each other twice in the final three games. That'll be very telling. Will Grier for Heisman? That would be fun to see, but I'd rather see my alma mater win a national championship just once in my lifetime, Adam. "Let's goooooo, Mountaineers!" Oh, and "Bruuuuuuuce!"
Matthew from Lithonia, GA
Beek, I agree with your earlier post about Julio getting mugged by Josh Norman. The "Twitter Critters" seem to agree that it was not the classiest of plays from a guy who tends to lose his cool when he gets dominated by a receiver. Julio just tunes out Norman's noise and gives him a dose of Jet Jones Juice. But if you want to really feel better about the whole thing just look at what Jake Matthews does to Norman on the play that Julio scored on. Jake's effort on this play hasn't gotten nearly the praise that it deserves. Keep up the good work. You are truly the "Voice of Reason All Season."
Matt: I'll take that moniker, Matthew! It was a perfectly designed play, a tremendous block by Jake Matthews and the Falcons score because of Julio Jones's incredible athleticism at the end of the play. And, yes, it's that much sweeter because Josh Norman is on the receiving end of that block. You can watch it below (again and again and again).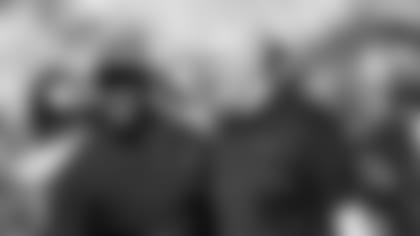 Gary from Virginia Beach, VA
Hey Matt, love the column and try to read it every day! We sure seem to have been fortunate the past couple of years with a minimal number of injuries, then this year we get hit really hard on all sides of the ball. During those years of not many injuries that prevented non-starters from getting significant playing time. Do you think that contributed to the slow start, particularly on defense, where guys are playing much more cohesively now than in the first four games?
Matt: Hi, Gary. I think that any team that experiences six starters going on injured reserve in the first eight games is going to experience a lot of different challenges, depending on the positions affected. Not only that, but a total of 12 starters have missed at least one game in the first half of the season. No matter how experienced the second- and third-string players are, they're only taking a limited amount of snaps in practice before being thrown into the fire (mid-game or whenever the injuries have occurred). So it's a challenge, and you've got to credit the Falcons for sticking to their approach and not overreacting. The coaching staff has done a tremendous job. I touched on this in my column this week. Check it out here.