Welcome to Straight from the 'Beek! The Falcons, winners of three straight, look to keep that winning streak alive as they prepare for another road game, this time in Cleveland against the Browns. In the meantime, you've got lots of questions. Just remember that all opinions here are mine unless otherwise noted.
Debbie from Charles Town, WV
Hey Beek, I love your perspective on things and I would really like your opinion on something. When Julio Jones was running to the end zone and Josh Norman grabbed him from behind, it looked extremely dangerous. I think Norman should have been severely penalized for his "professional foul," maybe ejected. I don't know if the NFL look at this sort of play after the game, but he could have really injured Julio badly. In fact, he did seem to be limping at the end of the game. This sort of play needs to be nipped in the bud just like the helmet-to-helmet rule or the Brady rule. It could be career-ending and not something that should be looked over. What are your thoughts? P.S., we are die-hard Falcons fans who live in WV, and have season tickets, who bleed red and black, and of course blue and gold! What a weekend we had!
Matt: Hey there, Debbie! Always good to hear from someone in Wild, Wonderful West Virginia (that's the state slogan in case you didn't know or haven't been lucky enough to visit the Mountain State). And, yes, you certainly had a tremendous weekend! I do remember the play you're referring to, Debbie, and it was just as dangerous as a horse collar tackle, which is illegal. The manner in which he tackled Jones wasn't penalized, though, because Norman didn't actually bring Jones down by grabbing the collar. He instead grabbed the shoulder pads from behind. But to me, there is no difference and it's just as dangerous. Jones is lucky he wasn't seriously injured on the play. If the league is going to judge intent when it comes to hits on the quarterback, they should do it for (and protect) all players. Pass interference was called on Norman. All I can say to that, Debbie, is "Horns down!" I know you'll appreciate that.
Lennox from Fort Mill, SC
Hey, Beek! I'm a big fan of your power rankings and take on each game. Something that has been on my mind lately is the game against the Saints. Considering how injured we are this year and how our defense is known to not follow through most games. (Do I really need to get into Super Bowl LI?) What do you think we'll see on Thanksgiving Day? Atlanta coming back now winning three straight games (and destroying Washington) is a wonderful surprise, but do you think we can keep up this streak till the 22nd? Thank you! #riseup
Matt: Hi, Lennox. I think it's awesome that you're a fan of my Wildly Important NFL Power Rankings! So what did you think of the latest rankings released this morning? Do you think the Falcons are too high, too low or in the right spot? Let me know. As far as your question goes, yes, I think the Falcons can win their next two games and head into New Orleans with a 6-4 record. Their first five games of the season were not only tough matchups for a healthy team but were made considerably tougher with all of those injuries. I wrote coming out of the Steelers game that the Falcons' next slate of games were not only winnable but were must-wins if they were to climb out of that early season hole and be relevant come playoff time. So far so good, winning three straight. But they must beat the Browns next. Can they? Absolutely.  Do the Cowboys suddenly look beatable? Yes. Anything can happen in the NFL and they can certainly keep this streak going. Stay tuned.
Chuck from Bel Air, MD
Hey Beek!! Just an observation. I had the privilege of attending the Falcons-Redskins game this past weekend. I was pleasantly surprised not only by the outcome of the game but by the amount of Falcons fans that showed up to support the team. We may not have outnumbered Redskins fans at the beginning of the game, but it certainly looked/felt like it once the game was under control in the fourth. I was shocked to hear "HOOOOP" chants loud and clear every time Hooper caught a pass at an opposing stadium. I will be traveling to Cleveland this upcoming weekend to watch the Browns game and hope for more of the same. Thank you for your weekly insight and Go Falcons!!
Matt: Hey, Chuck! No doubt about it – there were a ton of Falcons fans at FedEx Field for the Falcons-Redskins game and they made their presence felt. I heard them numerous times in the pressbox and could see them in different pockets of the stadium. (Check out my tweet from the game below.) I'm pretty sure they players noticed, too. At least Damontae Kazee did – and that's why he threw that ball into the stands after the interception. Great stuff!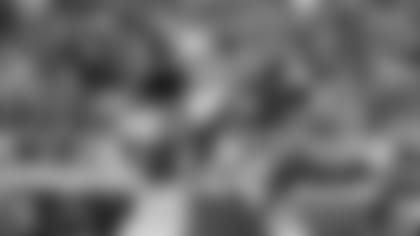 Tim from Leinefelde, Germany
Hey, Beek. I got a little question for the future. Damontae Kazee performs very good and he has four interceptions (tied first in the league, I think). What do you think as far as who will start next year at free safety? Kazee has made big plays from the preseason till now. And we don't have the biggest cap room. Ricardo Allen is expensive compared to Kazee. Who plays better when he is healthy? Who could start in 2019? What do you think? Thanks for your hard work and regards from Germany.
Matt: Hey, Tim. Yes, Damontae Kazee is currently tied with four other players for the league lead in interceptions with four. He's been making plays since the preseason and is having a solid season so far for the Falcons. You've got to remember that Ricardo Allen brings so much to this defense – he is one of this team's true leaders and someone many refer to as the quarterback of the defense. He knows where everyone is supposed to be line and is a terrific communicator when he's on the field. You also can't just cut players and avoid taking a salary cap hit – it doesn't work that way. Let's see how Kazee plays throughout the second half of the season and hope that Allen makes a complete recovery as is back in time for minicamp and OTAs. If Falcons fans have learned anything this year it's that injuries can happen at any time and having quality depth is so crucial. We talked about this some in the latest episode of Falcons Audible. You should give it a listen if you haven't already! Listen and subscribe to it on iTunes: Click here. Listen and subscribe to it on Google Play: Click here.
Stephen from Atlanta, GA
I come not with a question, Beek, but to provide information as to the outcome of the 2018-2019 season. I come from 10 years in the future with one mission, to provide the outcome of our beloved Atlanta Falcons. The first thing I will tell you, no more season-ending injuries will take place in the season or postseason. Yes, that is right, we go on to make the playoffs via wild card. We finish with a 10-6 record. I can't tell you who we beat and lose to as it may alter the course of the future but let's just say we get a much-needed rematch in the Super Bowl before declaring Matt Ryan the MVP as they move on to claim their first-ever Super Bowl. Ludacris subsequently releases an album just three months later that goes on to become double platinum. My time here is up as I must return home or be stuck in the past forever, but one last thing, aliens do exist and will reveal themselves in the year 2024 after Mark Cuban defeats George Clooney in the 2024 presidential election. Rise Up!
Matt: I have no words. Let's hope you're right, Stephen … about the Falcons part at least. If you're right, I'll be sending you an email with lots of questions. Thanks for writing in.
Vivian from Grayson, GA
Hi, Beek. Given how well the Saints and Panthers are doing, do the Falcons stand a chance to get into the playoffs? And if so, what do they have to do to make that happen? Thanks for your input. Love the podcasts.
Matt: Hi, Vivian. Always good to hear from you. And I hope that you noticed I was wearing black and red for the Black Out Monday, by the way! To answer your question, of course they can catch the Saints and Panthers. It won't be easy, but it's possible. But the real focus is to simply keep winning games, Vivian. And the only thing this team is thinking about right now is beating the Browns. Without that happening, nothing else really matters. You can't win eight games all at once. One at a time. Everything is on the table, as I mentioned in the last episode of Falcons Audible podcast (and in this space countless times).