Welcome to Straight from the 'Beek! With eight days of training camp in the books – you can read about the 10 biggest things we've learned so far here – the Falcons begin the third block of camp on Monday, and you've got plenty of questions. If you want to talk about some topics that we haven't covered or just have some general thoughts you want to get off your chest, submit those right here. Remember, all opinions here are mine unless otherwise noted.
Leo from Statesboro, GA
Hey Beek, love your column! I've been a Falcons fan since I was a teen. Back then, Steve Bartkowski and William Andrews were my favorite players. I follow the Falcons closely every year but cannot remember a year where the Falcons seem loaded at almost every position the way they appear for this year. My only slight concern is at defensive tackle, but hopefully our third-round pick will shine. Dan Quinn and Thomas Dimitroff appear to be doing a fantastic job drafting and keeping talent while working under the salary cap. Your thoughts? Also, how about the D Birds for the defense nickname? (It's easy to chant in place of "Defense!") Thanks for your wonderful column!
Matt: You're quite welcome, Leo! And as I've said all along, this space – Straight form the 'Beek – is really all about you, the fans. I agree with your point about third-round pick Deadrin Senat. Of all the draft picks, he's one that the Falcons really need to hit on, if you follow me. I like the Falcons defensive tackle rotation that includes also Grady Jarrett, Terrell McClain and Jack Crawford. And if Senat ends up being a consistent contributor, that'll be key. And you're also right about general manager Thomas Dimitroff and coach Dan Quinn. The Falcons have selected three eventual Pro Bowl players since 2015 – Vic Beasley, Keanu Neal and Deion Jones – and they've drafted a number of cornerstone pieces as well in Tevin Coleman, Austin Hooper, De'Vondre Campbell, Takkarist McKinley and Jarrett. And during the 2017 postseason alone, the Falcons had 17 starters – nine on defense and eight on offense – who were either drafted or signed by the team as college free agents. Hard to argue with the job they've done together. Your defensive nickname suggestions have been noted as well!
Nick from Cumming, GA
Hey Beek, with a month left until the regular season, what is your prediction on the record for the season. Also, I saw you've been getting a lot of nickname suggestions for the defense. I'll follow the trend and suggest the name, Best of the Nest. Rise Up!
Matt: Please write in and ask me for one heading into Week 1; so much can change during the preseason, especially with other teams (not just the Falcons). But right now I really like the make-up of this team and I think they're realistically capable of winning anywhere from 11 to 13 games. As far as your nickname suggestion goes, hmmm … it doesn't soundly too intimidating, but that's just my opinion. Think of the best defenses of all time. Monsters of the Midway. Doomsday. Steel Curtain. Legion of Boom.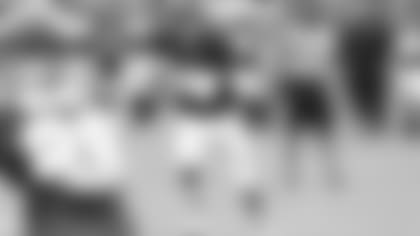 A fan from Clinton, ME
Just wondering if the offense has been running more bootlegs and roll-outs in training camp this year as opposed to last. One of the glaring differences between 2016 and 2017 is that Matt Ryan was constantly moving out of the pocket. This allowed him some much better reads and wide-open throwing windows, whereas, last season he was kept in a fast closing, condensed pocket, which had the exact opposite effect. It appeared that Ryan was overthrowing his receivers when, in fact, he just had to release the ball to soon in that pocket and his receivers just didn't have time to get the target area. Would really like to see Matt moving around again this year. He worked so hard on his footwork prior to 2016 and it paid huge dividends. Kind of sad he wasn't able to showcase that again last season, although, I get Sark was going through a major learning transition, himself.
Matt: To be honest, I can't say that I've seen more roll-outs or bootlegs during this training camp. But it's something I'll keep an eye on as we go, and certainly during the preseason games. Thanks for the comment and question.
Jermaine from Atlanta, GA
Where do you think the Falcons defense will be ranked in 2018? Will it finally become elite? And I have two name suggestions for the defense: The Falcon Storm or The Falcon Swarm. Thanks, and go Falcons!
Matt: I expect that the defense will pick right up where it left off in 2017 since the core of it returns. That said, two key contributors from last season – Adrian Clayborn and Donatri Poe – have moved on via free agency and it remains to be seen how Terrell McClain and Deadrin Senat will fare replacing them. We'll get our first look at the team in a preseason game this week when they take on the Jets on Friday. A 7:30 p.m. ET kickoff is scheduled. As far as your nickname goes, why not just The Swarm? Just my two cents.
Ken from Tallahassee, FL
Beek, thanks for all you do. Been following the Falcons since the mid 1970's and I think I can count on one hand the number of times we have had such high expectations going into a season. While our offense is so much fun to watch and so lethal, championships are won with great defense. I think we are now there in that category! My only fear is after losing Poe are we going to be able to hold up on the interior of the D-line against power teams? Also, a defense nickname suggestion ... The Black Plague!
Matt: I agree that in order for the Falcons to win that all-important last game of the year, they'll need to great on both sides of the ball. And as you saw in 2017, this team is evolving into a more balanced team. If you read what I just wrote above, it'll be key for Deadrin Senat, Terrell McClain and Jack Crawford to all play well this season along with Grady Jarrett up front. As far as your nickname suggestion goes, wow. That might be the darkest one I've seen yet.
Tony from North Las Vegas, NV
Good afternoon, Beek. First off, just want to say thanks for keeping us Falcon fans informed. I usually just read the comments, and this is actually my first post. My question (and concern) is, how much, if any, time does Matt Schaub get to work with the first team to develop chemistry? My nickname suggestion … why not refer to the defense as "Da Brotherhood"?
Matt: Hey, Tony. Thanks for writing in. Matt Schaub does get some work in with a number of the first-teamers during training camp, mainly because the coaches tend to move players around a lot more. A big reason for that is because they want to see how some guys react in different position and/or scenarios. Also, when the team scrimmages (and it has twice now), the rosters are a mix of starters and non-starters – and that gives Schaub reps with them there as well. As far as your nickname suggestion goes, well, when I think of the Brotherhood I think of the entire team, the entire organization and, really, Falcons nation.
Marvin from St. Helena, SC
Hello, Falcons players and fans. My name is Lt. Rhodan. I work for Orangeburg County Detentions Center in Orangeburg, South Carolina. I am a diehard Falcons fan. I enjoy every Sunday I can, watching Falcons games. I want to introduce the nickname 23&1 LOCKDOWN to the Falcons defense. At the jail when an inmate breaks a written violation infraction, that inmate is placed on 23&1 Solitary Lockdown. The inmate comes out of his cell for one hour and is placed back in the cell for the other 23 hours. I'm introducing this nickname to the Falcons defense "23&1 LOCKDOWN." Every team that enters the 100-yard jungle with the Falcons are in violation and deserve to be placed on 23&1 LOCKDOWN. To the Falcons defense I'm SCREAMING for the Falcons fans, LOCKDOWN, LOCKDOWN 23&1.
Matt: That is by far the most detailed submission yet. Marvin, and I love the spirit behind it. Like a lot of these, I want to see which ones the Falcons fan base gets behind.
Enjoy the whole Q&A that you've got going on here, but I have a suggestion as to why we shouldn't go with naming our defense "The Flock." The Flock doesn't even sound remotely intimidating. If someone says, "Here comes the Flock!" I'm looking for geese. And while geese can be particularly violent for no particular reason from time to time, it doesn't exactly strike fear into the hearts of other. Just my two cents. Whatever they end up being called, I will still be cheering them on from Hawaii or wherever I am. Go Falcons!!
Matt: That's a great point, Charles. OK, I've received dozens and dozens of email suggestions for the nickname, everyone. They've been colorful, original and, well, a bit odd. But that's still fantastic! Here's my running list (and if I've missed any, let me know):
Brotherhood Blockade
The Bruise Brothers
The Smother Brothers
The Bash Brothers
Falcons Flash
D Birds
The Swarm Brothers
The Flock (see below)
Brotherhood of Destruction
The Falcons Flash
Birds of Prey
Sky Stalkers
Hurty Birdz
Winged Maniacs
Red Line Defense
The Shutdown Club
Disruptors of the Hood
The Brothers of Disruption
The Club of Disruption
Eruption of Disruption
The Smack Attack
Shock and Awe
Flying Fortress
Gangbusters
The Stop Shop
Bad Intentions
Flying Fortress
Grits Blitz
Red & Black Defensive Attack
Dirty Bird Gang
Falcon Brigade
The Block Flock
The Talons
Predators
Southern Raptors
Brothers of Pain
Pain Brothers
Fierce Flock
Damage Control
Ferocious Flock
The Red Rovers
The Legion
The Dominion of Destruction
Legion of Doom
The Smotherhood
The Wall of Doom
The Brotherhood of Boom
Black Claw
The D-Train Line
The Terminus Line
Bad News Brood
The Good Feathers
The Brood
The Cauldron
The Brothers of Doom
Sonic Boom
Air Falcon
Birds of Flight
Angry Birdz
Birds of a Feather
The Demolition Flock
Flock and Awe
A-Town Hittas
The Risen Few
The Boom Boom Crew
D Block
The Bruise Brothers
The Defengers
Fowl Blitz
The Falcon Swarm
Poultrygeists
The Swarm Brigade
The Cast
Best of the Nest
Smack Attack
The Falcon Storm
Birds of Doom
The Brothers' Nest
T.A.D. — Time After Deployment
And then there's this one, which is my personal favorite (but probably won't work for obvious reasons) …
Alan from Tucker, GA
This name is justifiable based on your blog, your followers and the participation you have generated. The Beek Squad, enough said.
Matt: Enough said, indeed.